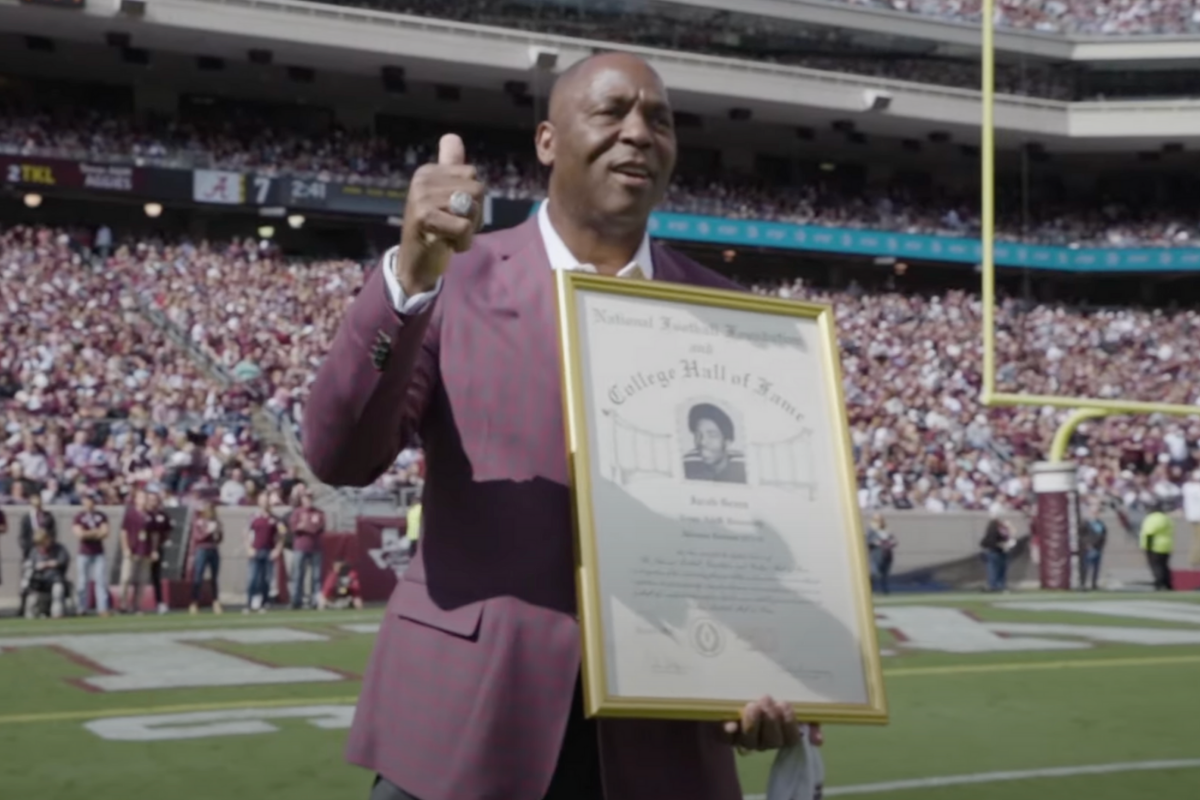 Screenshot from YouTube
Since Texas A&M defensive lineman Jacob Green left College Station, so much has changed. Kyle Field is bigger. The campus is different. Many notable alumni have come and gone, too. However, some of his records, and his impact, remain the same.
It has been 40 years since Green, now 64, left his mark as an Aggie legend forever. That 1979 season, where he racked up 134 total tackles, including 20 sacks, was one for the ages. The defensive end was a First-Team All-American that year, and it jumpstarted a sensational NFL career to follow.
To this day, Green still owns the Texas A&M school records for single-season sacks (20) and career forced fumbles (12). The two-time All-Southwest Conference selection is also in the top five of career sacks (38) and single-game tackles (22) in school history.
The only thing missing from his resume was a spot in the College Football Hall of Fame. Then, it finally happened.
Jacob Green's Football Career
RELATED: Bucky Richardson Was a Fan Favorite at Texas A&M, But Where Is He Now?
Finally, exactly 40 years after one of the most dominant seasons in Texas A&M history, Jacob Green was inducted into the 2019 College Football Hall of Fame Class.
It?s sometimes hard to imagine why it took so long for the National Football Foundation (NFF), but Green now has his rightful spot in history after the NFF Annual Awards Dinner in New York.
?On behalf of Texas A&M Athletics, I want to congratulate Jacob Green on his induction into the College Football Hall of Fame. Jacob was a legend during his playing days at A&M, and he continues to have an enormous impact on the Department of Athletics in his role with the 12th Man Foundation. We are thrilled that his legacy will now live on forever in the College Football Hall of Fame.?

? Texas A&M Director of Athletics Scott Woodward
Other player inductees that year included: Terrell Buckley ? DB, Florida State (1989-91), Rickey Dixon ? DB, Oklahoma (1984-87), London Fletcher ? LB, John Carroll [OH] (1995-97), Torry Holt ? WR, North Carolina State (1995-98), Raghib Ismail ? KR/WR, Notre Dame (1988-90), Darren McFadden ? RB, Arkansas (2005-07), Jake Plummer ? QB, Arizona State (1993-96), Troy Polamalu ? DB, Southern California (1999-2002), Joe Thomas ? OL, Wisconsin (2003-06), Lorenzo White ? RB, Michigan State (1984-87), Patrick Willis ? LB, Mississippi (2003-06), Vince Young ? QB, Texas (2003-05). Coaches Dennis Erickson and Joe Taylor were also inducted.
After he left the Texas A&M football team with several single-season records, Green was selected the the No. 10 overall pick in the 1980 NFL Draft. He played 12 seasons with the Seattle Seahawks, where he went to two Pro Bowls and was named First-Team All-Pro in 1983, and one year with the San Francisco 49ers.
A Pasadena, Texas native, which is near Houston, the star defensive player from Kashmere High School was third on the NFL?s all-time sack list when he retired and was named to the Seahawks Ring of Honor.
Green was a damn good football player and it all started as a student-athlete in College Station, too.
Jacob Green Now
Jacob Green's days of sacking NFC and AFC quarterbacks, preventing touchdowns, and going for a Super Bowl ring are over, but he has found his calling after football. He has shifted his focus to fundraising in retirement.
At the time of his College Football Hall of Fame induction, Green was listed as the Vice President of Major Gifts and Endowments for the 12th Man Foundation at Texas A&M. Today, he is the Vice President of Principal Gifts on the foundation's website.
Green is an Aggie legend, and you better believe he's cheering on head coach Jimbo Fisher's program each Saturday in the fall.
This post was originally published on December 11, 2019.