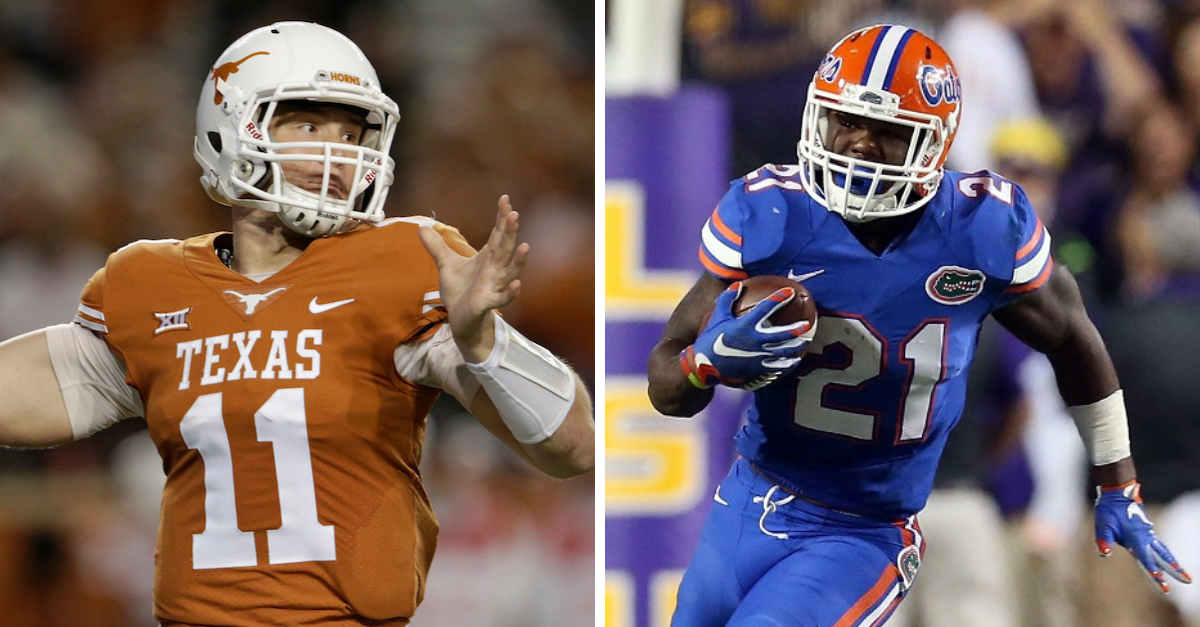 Tim Warner/Getty Images (left), Chris Graythen/Getty Images (right)
Whether you like it or not, the College Football Playoff is changing the future of this game. Millions of dollars are on the line when programs reach the postseason, but the last few years proved it's getting much harder to arrive at that elite level. One way schools can get there, and stay there, is to add huge opponents to their non-conference football schedules. You can chalk up two more all-time great programs on that list, and they'll be facing off for the first time in 90 years.
The first time these two programs played each other? Calvin Coolidge was President of the United States, the Cleveland Bulldogs won the NFL Championship, and the world's population rolled over 2 billion people. (It's over 7.5 billion people today.)
The Texas Longhorns and Florida Gators have agreed to play a home-and-home series against each other. The Gators host the Longhorns in Gainesville on Sept. 7, 2030, then Florida travels to Texas for a game on Sept. 6, 2031.
Since that first 7-7 tie back on October 25, 1924, Texas and Florida only met two other times in history with the Longhorns winning at home in Austin in 1939 (12-0) and a 1940 road game in Gainesville (26-0).
Don't look now, but the University of Texas is loading up to play several SEC teams ? LSU, Alabama, Arkansas and Georgia ? over the next decade under head coach Tom Herman.
RELATED: 5-Star Freshman Chris Steele Leaves UF Amid Terrible Roommate Mess
The Florida football program also recently announced a home-and-home football series against the Colorado Buffaloes, which will be the program's first non-conference series against an out-of-state opponent since Memphis State in the late 1980s. University of Florida athletic director Scott Stricklin teased these upcoming series on Twitter, but there may be more to come this summer.
Head coach Dan Mullen isn't planning on going anywhere, and the university seems ready to go all-in and return their national championship pedigree of year's past.
Sure, this series is still a decade away, but both games will be season-changing games for both programs when they arrive.