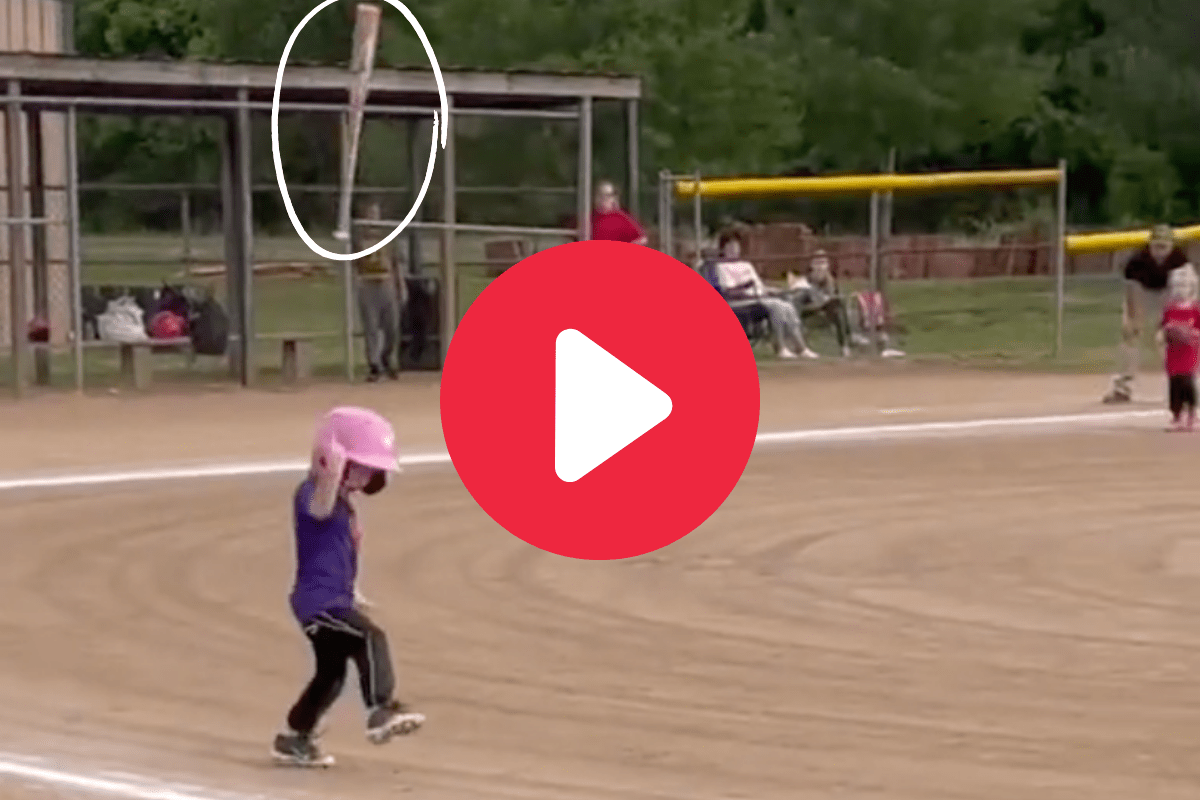 Screenshot from TikTok
T-ball is for fun. It's for drawing circles in the dirt. It's for learning why sunflower seeds and bubble gum are a baseball dugout staple. It's for dancing and giggling uncontrollably for no darn reason.
It's not every day you see a pint-sized youth softball player bat flip like she's Jose Bautista or Fernando Tatis Jr. However, this adorable little 4-year-old girl from Kentucky already has the perfect form down.
All she needs to do now is make sure it doesn't doink her in the head.
4-Year-Old Softball Player Bat Flips on Her Head
RELATED: 11-Year-Old Pitcher Snags Line Drive Like a Boss
This took place in youth softball game at Basil Griffin Park in Bowling Green, Kentucky and was posted to social media app TikTok by "@that_southern_momma."
The clumsy yet hilarious mini-Jennie Finch is still getting the hang of this whole hit-then-drop-the-bat-and-run thing. Cut her some slack.
After knocking the crud out of the ball off the tee, she hustled down the line to first base. The only problem? She didn't drop the bat. Instead, she carried it halfway to the base and propelled it into the air in epic bat flip fashion. Take that, Goose Gossage!
DOINK.
What comes up must come down, and this 4-year-old star found that out the hard way. The bat tumbled down on her pink helmet, which pushed it down past her eye brows so she could barely see where she was running. Plus, she had to pull her pants up during all of that.
Have no fear, though, because this little girl made it safely to first base. She wasn't rattled whatsoever either.
"Yes she was great! Didn't phase her one bit," her mom replied to a concerned commenter on TikTok.
The post also went viral on social media. It has more than four million views and 4,000 comments.
Something tells me this won't be her last bat flip. Let's hope she just keeps it inside the batter's box and doesn't throw it straight up.