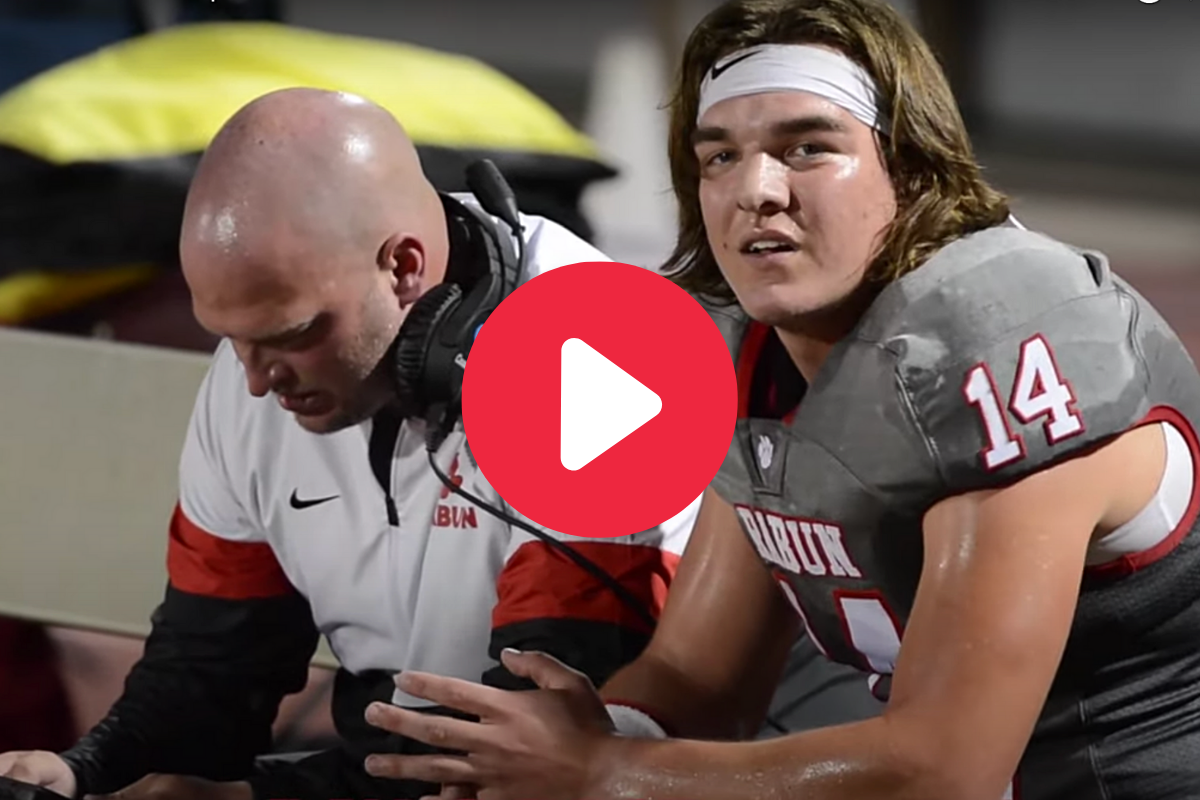 Screenshot from YouTube
Clemson quarterback Trevor Lawrence set Georgia high school football state records with 13,902 career passing yards and 161 touchdown passes while at Cartersville. Second in both categories is Houston Texans QB Deshaun Watson, who racked up 13,077 yards and 155 scores during his days at Gainesville High.
Not far down those lists is Rabun County High School's Gunner Stockton. Through three seasons, the senior-to-be is on pace to rank third in both passing yards and touchdown passes. Given his current trajectory (and the fact that seniors are a lot better than they were as freshman), the No. 1 dual-threat quarterback recruit in America could easily break both those marks before he's done.
On top of that, Stockton amassed 1,835 rushing yards and 36 touchdowns on the ground as a freshman and sophomore. His junior season? 3,128 passing yards and a whopping 1,581 rushing yards.
Get ready to witness an all-time talent when Gunner Stockton arrives in college football.
Five-Star QB Gunner Stockton
Recruiting website 247Sports rates Stockton as the nation's No. 1 dual-threat quarterback prospect among the class of 2022. Though the recruiting service lists Stockton at No. 27 overall regardless of position, it doesn't seem like long before he climbs near the very top, joining No. 1 pro style quarterback Quinn Ewers.
Two seasons of varsity football saw Stockton rack up 6,390 passing yards and 77 touchdown passes against 12 interceptions; He averaged 14.9 yards per completion and converted 68.6 percent of his passes. His legs make him even more dangerous, boasting a 1,100-yard season in 2019 and scoring 19 and 17 rushing touchdowns as a sophomore and freshman, respectively.
Stockton threw 34 touchdowns in 2018 and was named a MaxPreps Freshman All-American. That touchdown total was more than Trevor Lawrence (26), Deshaun Watson (17), and former Georgia quarterback Jake Fromm (8) managed in ninth grade.
Unsurprisingly, Stockton repeated as a MaxPreps Sophomore All-American and was tabbed Preseason All-American once more ahead of his junior campaign.
Rabun County head coach Jaybo Shaw talked about Stockton's maturity given the national spotlight he's garnered at a young age (via Dawgs Daily):
"He's got two great parents, his Dad is my Defensive Coordinator here at Rabun, and his mom is the school counselor here at the high school. He's handled it extremely well, never wants it to be about himself, wants the focus to be on our football team. He's a very, very humble young man and I can't say enough good things about how he's gone about things."
Quarterback Gunner Stockton Highlights
RELATED: Nation's No. 2 Running Back Has Over 30 Offers (And Counting)
Stockton's offer list is a who's who of high-profile college programs. Alabama, Arkansas, Florida, Georgia Tech, Louisville, LSU, Mississippi State, North Carolina, Ohio State, Ole Miss, Oregon, Penn State, USC and West Virginia tried to woo the young signal caller, but two teams stood out above the rest.
On July 30, 2020, Stockton announced on social media the two finalists he'd focus his recruitment on: Kirby Smart's Georgia Bulldogs and Will Muschamp's South Carolina Gamecocks. As of January 2021, things appear to have changed.
"Want to thank my family, my teammates, my coaches and every school that has recruited me for the last two years. With that being said I am down to my final two schools, so I can focus on my junior season at Rabun County. Please no interviews at this time. Thank you and God Bless!"
As of August 5, 2020, the Georgia High School Association reportedly planned to push forward with a fall football season despite the coronavirus pandemic and COVID-19 virus postponing major college football in the Big Ten and Pac-12 conferences.
Not getting to see Gunner Stockton chase Georgia's state records would be so frustrating, especially because the Rabun County Wildcats went 23-3 the last two seasons and look to avenge quarterfinal losses in back-to-back state playoff runs.
Until we see football back in action, it's a two-horse race between SEC East rivals Georgia and South Carolina to land a transcendent quarterback with legit NFL talent.
---
UPDATE (August 21, 2020): Good news came on Thursday for fans of the South Carolina Gamecocks as Stockton made a verbal commitment to join the SEC program in Columbia.
Stockton became USC's first commitment of the 2022 recruiting class, and it's a huge foundation piece if Muschamp hopes to build a top-10 class.
Gunner Stockton Commits to South Carolina
---
UPDATE (January 13, 2021): The 2020 No. 1 dual-threat quarterback officially backed off on his pledge to the South Carolina Gamecocks. He thanks USC fans in a tweet.
"After much discussion and prayer with my family, I have decided to decommit from The University of South Carolina. Back in August, I made the decision to commit to the University, program and staff. A lot has changed since that time, and I feel that I should reevaluate my situation. I want to thank Connor Shaw for all his love, support and understanding. Please no interviews at this time," he wrote.
According to some 247Sports experts, Stockton could be heavily considering the Auburn Tigers next. Bryan Harsin's program may be new after Gus Malzahn's departure, but a quarterback like Stockton could be a big nab for the new head coach.
Auburn would make a lot of sense considering Stockton originally committed to South Carolina head coach Will Muschamp and offensive coordinator Mike Bobo. Muschamp was fired and Shane Beamer was brought in. Bobo is now Auburn's OC.
Gunner Stockton Decommits From South Carolina
Gunner Stockton Commits to Georgia
UPDATE (January 28, 2021): Georgia has landed a commitment from the nation's No. 1 dual-threat quarterback and No. 2 overall QB in the 2022 class. Gunner Stockton officially committed to Kirby Smirt's Bulldogs on Thursday.
"COMMITTED GO DAWGS," he wrote in all capital letters.
Stockton is from Tiger, Georgia, so it's not huge surprise that he's deciding to stay home and play for UGA. The five-star recruit is also a massive get for Smart as he looks to keep the school a powerhouse in the SEC East.
This article was originally published August 12, 2020. It's been updated to track Stockton's recruitment.