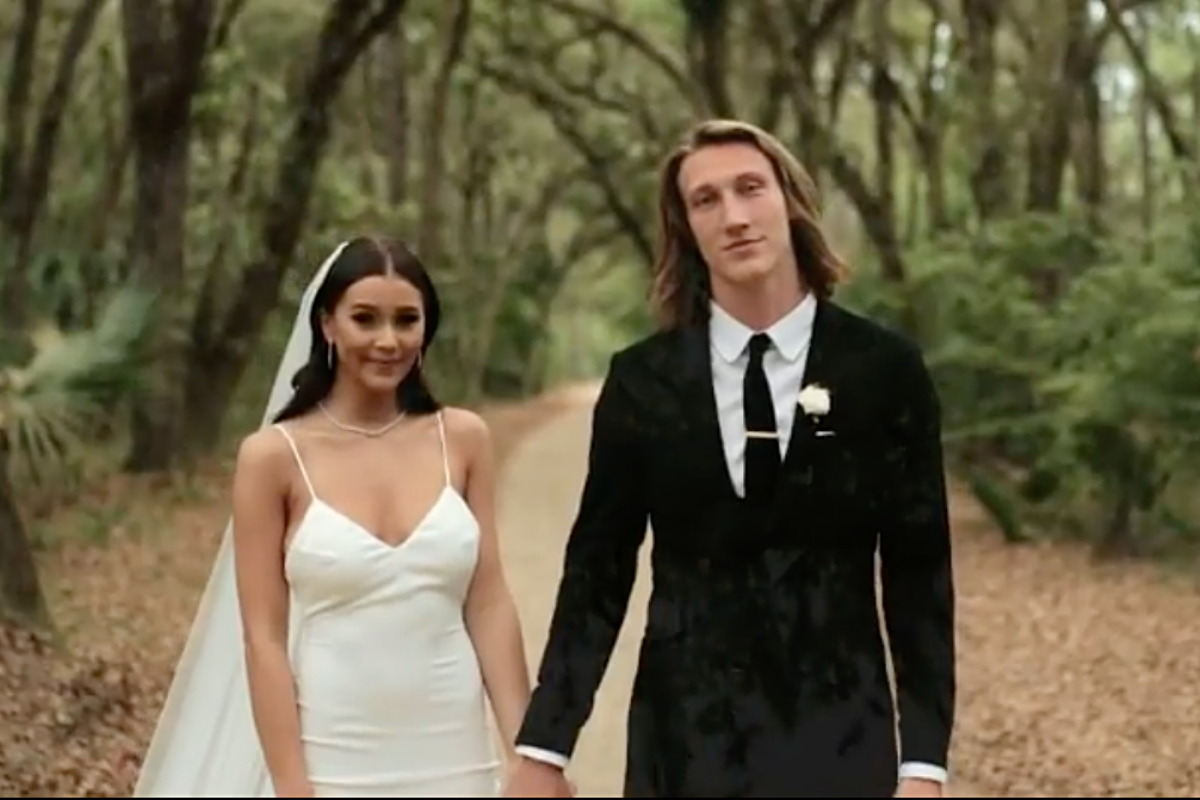 Screenshot from Instagram: marissamowry210
Former Clemson quarterback Trevor Lawrence didn't waste much time becoming a household name. The long-haired, 6-foot-6 signal caller led Dabo Swinney's Clemson Tigers to a crushing win over Alabama in the 2019 College Football Playoff National Championship as a freshman and looks all but set to be taken first overall in the 2021 NFL Draft after his junior year.
Aside from being an incredibly gifted athlete whose only bowl game appearances have been playoff games and possessing a head of hair deserving of its own Head & Shoulders commercial, not much else is known about the star quarterback whose made throwing touchdowns his career.
The dirt one can dig up on Clemson's masterfully-maned wunderkind is a short list. He grew up a Tennessee Volunteers fan and aspired to be Peyton Manning. His golf game is absolutely terrible. Judging from his Instagram, he relies heavily on his faith and his longtime girlfriend, Marissa Mowry, of almost six years.
You've probably seen Mowry in the stands cheering on her boyfriend, as she became a trending topic during the 2019 national title game. Now, they are married. But who is the woman behind one the future NFL quarterback?
Clemson QB Trevor Lawrence's Wife Marissa Mowry
Marissa Layne Mowry was born in November 1999 in Cartersville, Georgia. She and Lawrence met each other in the eighth grade and dated on and off through their years at Cartersville High School.
Scroll through each of their Instagram feeds and you'll find their faces all over it. In December 2019, Lawrence took his date to the Clemson football formal and she posted photos from the evening. It's pretty clear she's not only a Clemson diehard but Lawrence's No. 1 fan.
She's a Collegiate Soccer Player
RELATED: Trevor Lawrence's Hair is a Big Part of His Superstar Identity
While Mowry is a staple in the stands in Memorial Stadium, she doesn't attend Clemson.
Mowry is a public relations student at Anderson University, where she's also a soccer player. The private NCAA Division II university in Anderson, South Carolina, is just a short 30-minute drive from Clemson. You didn't think Mowry would stray too far from her dreamboat football player boyfriend, did you?
"I just felt at home when I was there. I love the team and the girls and it's an amazing program and school where I feel I can grow my walk with God," she said of her recruitment, according to Heavy.
Lawrence and Mowry's Coronavirus Relief Fundraiser
In 2020, Lawrence and Mowry announced they had started a fundraising campaign for coronavirus victims. While the GoFundMe page quickly racked up money (almost $3,000), Clemson's compliance department feared the quarterback was breaking NCAA rules using a student athlete's name and image in a crowdfunding campaign, according to The State.
However, after clearing some hurdles the couple relaunched the "Trevor Lawrence and Marissa Mowry COVID-19 Relief Fund" to raise money for victims of the coronavirus pandemic. Lawrence said the initial money would be donated to Meals on Wheels and No Kid Hungry.
"Marissa and I have created the Fund to help our friends and neighbors in the Cartersville and Upstate South Carolina communities deal with some of the challenges brought about by the COVID-19 situation," Lawrence wrote on their local community foundation's website. "We hope others will join us in supporting the many families in need. These are challenging times, and no one should be left behind."

"We just want to thank you guys in advance for all your support and your patience through this, because it has been pretty hectic," Mowry said on social media. "But we're really excited to see what opportunities and blessings can come from this."
They Broke Up Once in College
It hasn't always been smooth sailing for the picture-perfect couple.
Mowry told ESPN in 2019 that the two broke up for a month during their freshman year in college. It was a tough first few weeks in college for the Clemson football quarterback. He was fighting for a starting spot and stopped going to church like he used to.
But since then, the pair have been together every step of the way.
Trevor Lawrence's Proposal
With the ACC football season and a Heisman Trophy campaign up in the air for Clemson quarterback Trevor Lawrence due to the coronavirus pandemic, his love for longtime girlfriend Marissa Mowry still prevailed.
On July 17, 2020, the high school sweethearts got engaged inside Clemson's Memorial Stadium at midfield.
Familiarize yourself with Trevor Lawrence and Marissa Mowry's faces. I've got a hunch you'll be seeing a lot more of them beyond last year's College Football Playoff featuring Alabama, Notre Dame, Ohio State and Clemson.
Trevor Lawrence's Wedding
Trevor and Marissa are officially married.
The couple tied the knot in early April 2021 at a private wedding with family and friends in attendance in Bluffton, South Carolina. They shared a glimpse into their special day (and Marissa's massive diamond ring) in a video posted to Instagram.
NFL Network's Ian Rapoport reported that Lawrence skipped out on draft prospect in-person medical exams and physicals in Indianapolis to celebrate his love with Mowry.
Trevor Lawrence is set to become the first overall pick in Cleveland's 2021 NFL Draft by the Jacksonville Jaguars. He'll earn a hefty signing bonus and enter the league as a superstar rookie under former Florida Gators and Ohio State Buckeyes head coach Urban Meyer.
Now, he has his No. 1 fan by his side for the rest of his life.
This post was originally published on April 9, 2020 before updating.