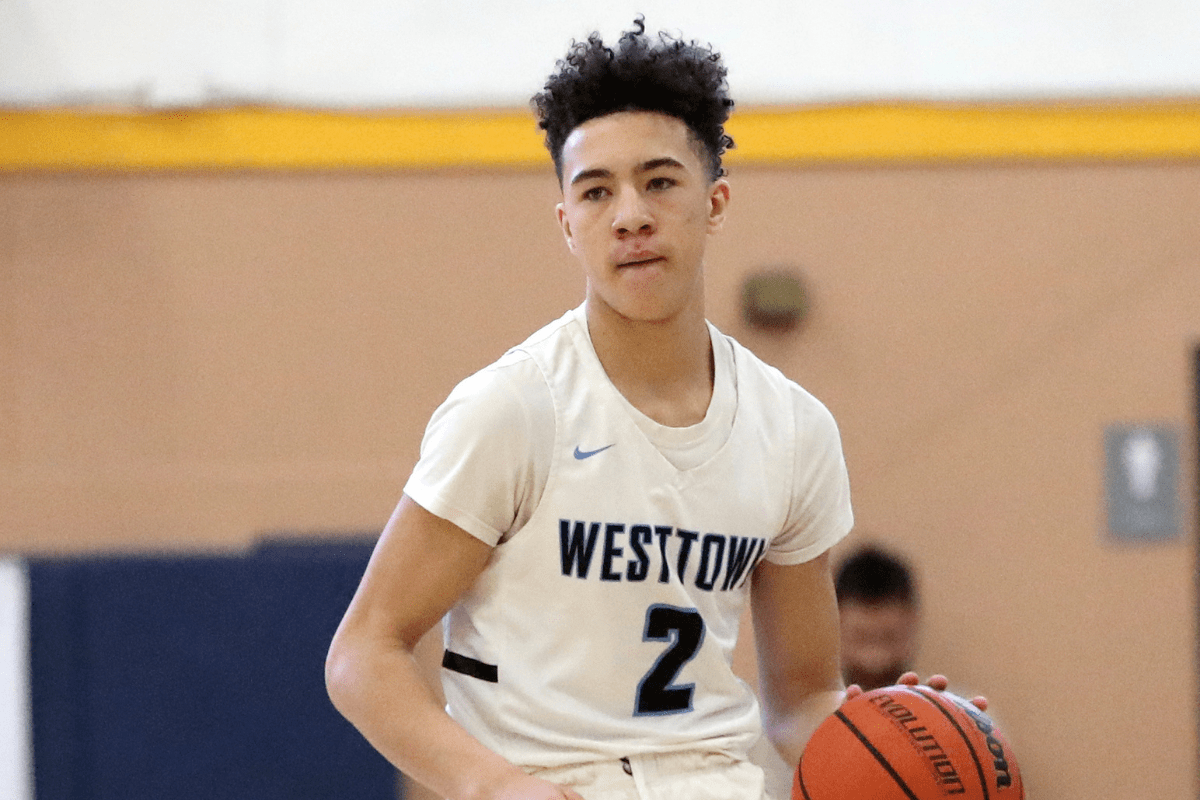 AP Photo/Gregory Payan
"Be prepared for a national championship."
Combo guard Jalen Warley's words carry weight.
The five-star recruit from Norristown, Pennsylvania adds another versatile piece to the 2021 Florida State recruiting class.
He's expecting W's, too.
Jalen Warley Highlights
At 6-foot-4 and 175 pounds, Warley is equally comfortable with or without the ball. With the rock, he excels in the pick and roll. He reads the defense and picks his spots. He's not overly explosive and stays patient, finishing at the rim with layups, floaters, and moves from a two-foot jump stop. His ability as a scorer opens up looks for teammates.
Without the ball, the high school basketball player is a consistent spot up shooter. His jumper is smooth and high arcing with a soft touch. From the wing, he attacks similarly to the pick and roll. His pull-up jumper is nice as well, and is something he can work on further to expand as a scoring threat.
Defensively, Warley's long arms and sturdy base are a strong foundation. He's capable of meeting offensive players at the rim in transition.
Overall, Warley is a solid player who doesn't have any glaring weaknesses. He's someone coaches can trust.
Jalen Warley Basketball Recruiting
The Westtown School and Team Durant player is the 25th-ranked player in the 2021 recruiting class per 247Sports Composite Rankings. ESPN ranks him 36th.
The point guard/shooting guard held scholarship offers from Clemson, Creighton, Louisville, Marquette, Maryland, Memphis, Miami, Michigan, Ohio State, Oregon, Penn State, Pittsburgh, Seton, Hall, Virginia, and Xavier.
Jalen Warley Commits to Florida State
RELATED: Patrick Williams' Parents Both Played College Basketball
Warley committed to head coach Leonard Hamilton and the Florida State Seminoles on August 9, 2020. He joins the second-ranked class in the country with five-star Matthew Cleveland, four-star John Butler, and three-star Naheem McLeod. Five-star guard Bryce McGowens was originally committed to FSU. He switched allegiances to the Nebraska Cornhuskers to play with his older brother.
The Seminoles trail only Juwan Howard's Michigan Wolverines for the best collection of 2021 talent.
Warley hasn't visited Tallahassee due to the coronavirus pandemic and COVID-19 outbreak. He cites his relationship with the coaching staff as the main draw:
"I just feel like I had a really good relationship not only with the head coach but with the whole staff," Warley told ZAGSBLOG. "And I felt like not only was I wanted, but I was needed and I'm a piece to a bigger puzzle."
On the heels of a 26-5 record and ACC championship during the 2019-20 campaign, the Seminoles are reeling in the prospects to play deep into the NCAA Tournament on a consistent basis.