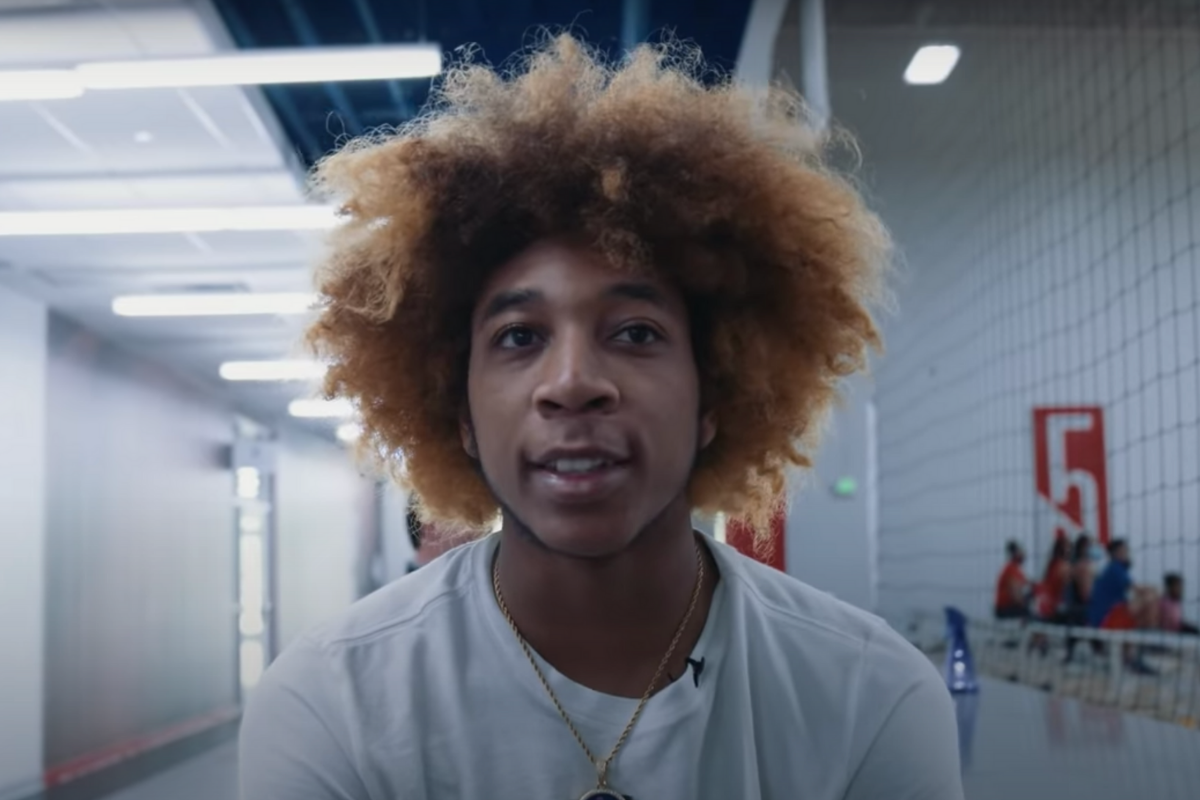 Screenshot from YouTube
The town of Letohatchee, Alabama fills the Calhoun High School gym. It's game day, and JD Davison is a sight to see.
The 6-foot-3 point guard and five-star recruit wows with high-flying finishes and slick passes.
JD Davison Highlights
The first word that comes to mind: explosive. I'm not entirely convinced JD Davison doesn't have springs in his shoes because he gets up. He takes off, floats, and booms ferocious dunks in transition or in traffic. If the dunk isn't there, he hangs in the air to finesse layups off the glass. He carries that athleticism to the defensive end, where he skies to block shots.
Dare I say he reminds me of Russell Westbrook?
Davison flourishes in transition. He has a speedy dribble that can slice through flurried defenders or zip a pass to a teammate. He's best driving downhill and rising above shot blockers at the rim. Davison's shot is decent with room to grow. He's flirted with a step back and can knock it down respectively from beyond the arc. His form resembles Collin Sexton's in high school.
JD Davison Recruiting
Davison is the 9th-ranked overall player in the 2021 recruiting class according to 247Sports Composite. Rivals ranks him as the 13th best player in the country. This past season, Davison won Mr. Basketball for the state of Alabama and led Calhoun to the Class 2A state championship.
He holds offers from Alabama, Auburn, Memphis, Mississippi State, Ole Miss, Florida State, Kansas, Louisville, Iowa State, Virginia Tech, and UNLV among others. There isn't a clear indication of where Davison is leaning, but Alabama, Auburn, Memphis, Mississippi State, and Ole Miss are listed as warm on 247Sports' interest meter.
Davison will be a senior next season and plans to reach new heights. The point guard has the pure athletic ability to leave defenders in the dust at the college level and bounce all the way to the NBA.
This article was originally published May 26, 2020.
---
UPDATE (June 26, 2020): JD Davison, a five-star prospect, unveiled on Twitter his top 10 schools heading into the summer. His list includes:
Alabama Crimson Tide
Arkansas Razorbacks
Auburn Tigers
Florida Gators
Florida State Seminoles
Georgia Bulldogs
Kansas Jayhawks
LSU Tigers
Louisville Cardinals
Memphis Tigers
---
JD Davison Commits to Alabama
A late push and offer by Juwan Howard and the Michigan Wolverines made his recruitment interesting, but five-star point guard JD Davison is officially off the board. He is staying close to home home and playing for head coach Nate Oats and the Alabama Crimson Tide.
The 2021 NCAA basketball recruiting cycle is heating up for the Tide, including the addition of four-star forward Jusaun Holt, and adding Davison during the coronavirus pandemic and COVID-19 outbreak means big things are happening in Tuscaloosa.