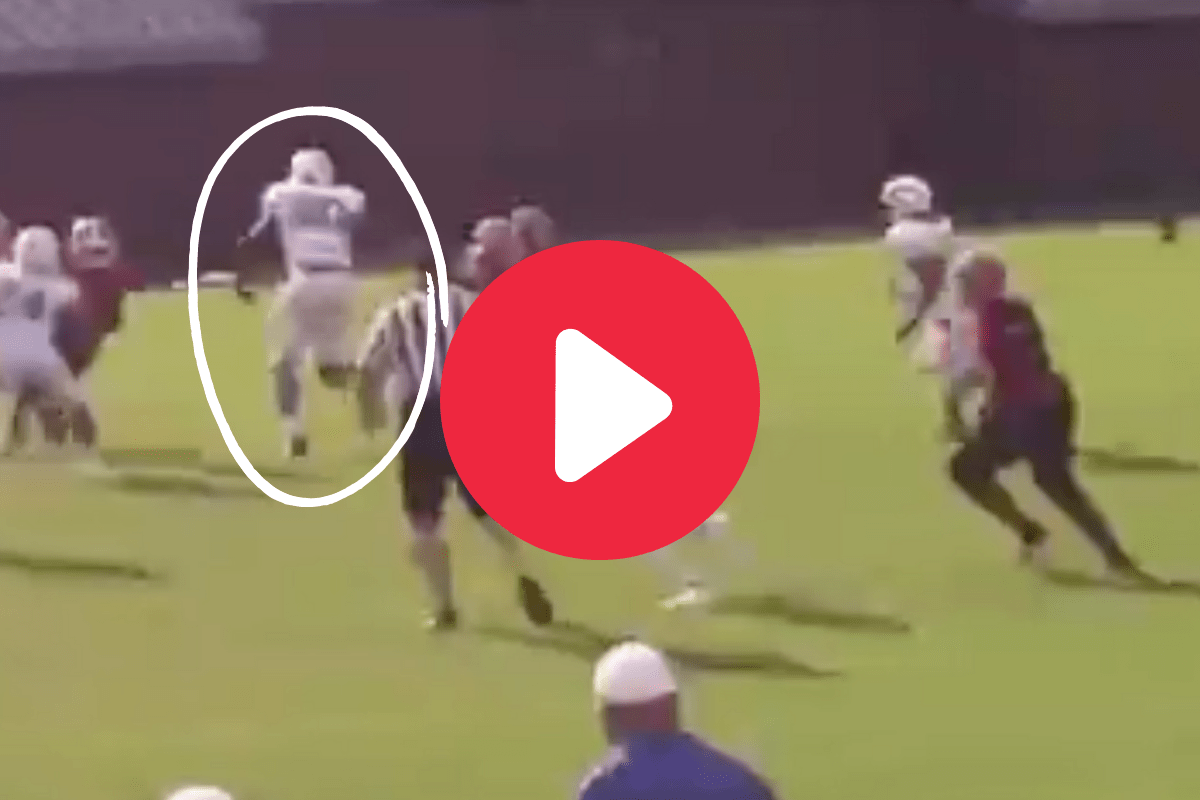 Screenshot from Twitter
Some kids are just built differently at a young age. I don't know what parents are feeding youngsters these days, but it's working.
Myles Garrett towered over everyone as a teenager on the gridiron and already owned a chiseled Hulk-like body. Cam Newton looked exactly like the same 6-foot-5 beast he was at Auburn when he was scrambling at Westlake High School.
Justus Terry may be next on that list. He's a 6-foot-5 defensive lineman who weighs 260 pounds. Here's the kicker: he's not even in high school yet. Yeah, he's an 8th grader.
Naturally, Terry went viral for his incredible size.
Justus Terry Football
RELATED: 8th-Grade QB Has Power 5 Offers & A Rocket Arm
Eighth grade. Fourteen years old. With that physique. Nick Saban and the rest of the SEC coaches must already have this kid on their radars, because DAMN!
Justus, who goes by Jay, posted a single photo on Twitter after a workout this week. It's already garnered more than 11,000 retweets and 47,000 likes on the social media app.
"After tonights workout I'm ready to start my freshman year at Manchester High School ! 9th Grade Im Coming," he wrote on Twitter.
The superhuman-looking defender likely made opponents cry while playing for Manchester Middle School in Manchester, Georgia. He's set to begin his freshman season for the Manchester High School football team in the Fall, where he will in all likelihood instill all sorts of fear in quarterbacks.
Just take a look at his ridiculous highlights from last year. One poor kid even fell victim to some sort of suplex tackle.
Justus Terry Highlights
The replies to Terry's viral tweet are too hilarious not to share:
I don't know if major NCAA programs such Alabama, Auburn, LSU, Clemson, Ohio State, Florida or in-state Georgia have offered him quite yet, but something tells me it won't take long.
Keep an eye on Justus "Jay" Terry. It won't be long until Scary Terry is one of the top high school football players in the country.