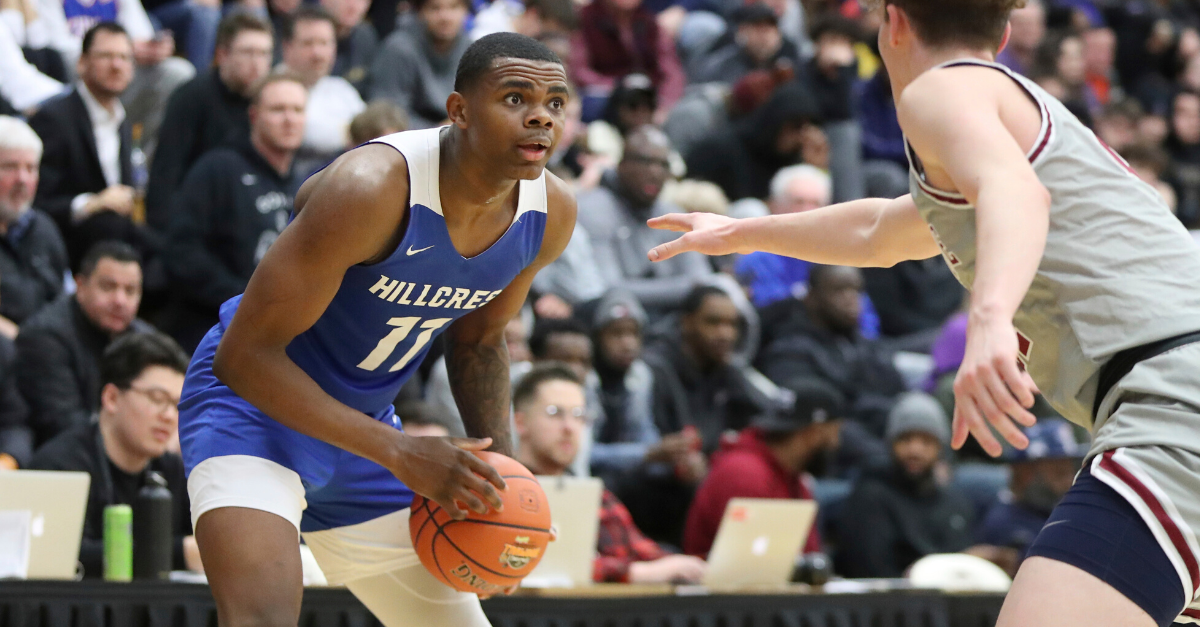 AP Photo/Gregory Payan
Wisconsin is cold in the winter, but lately, it's a hotbed for basketball talent.
Miami Heat guard Tyler Herro calls Wisconsin home — The 13th overall pick in the 2019 NBA Draft played at Whitnall High School just outside Milwaukee. Jalen Johnson, the 11th rated player of the 2020 class, is finishing up his senior year at Nicolet High School and heading to Duke in the fall.
2021 five star recruit Michael Foster is the latest elite prospect from the Badger State.
Michael Foster Highlights
Foster—a 6-foot-9 power forward and Milwaukee native—is a beast. He plays hard and efficiently, using his burly frame to bully past defenders for dunks and layups. His motor is always running, but that doesn't affect his composure. He's patient, can process the game quickly, and doesn't rush into an impulsive play. This leads to assuming the best position on the floor and making intelligent reads.
Foster is a reliable catch-and-shoot threat from beyond the arc. Smooth and with a high-release point, the forward's jumper is hard to block. Off the dribble, he has a fluid shimmy into a jump shot that keeps defenders honest. From the skinny post, he has a fadeaway jumper that creates space for a clean look.
On defense, Foster is a rim protector. He uses length and athleticism, along with good timing, to disrupt shots. He rebounds well. In the open court, he flies. He can finish in transition but needs to tidy up his ball handling.
Michael Foster Recruiting
RELATED: Chet Holmgren, Nation's No. 2 Recruit, Shoots Like Dirk and Defends Like Davis
Mike Foster played his first two years of high school at Washington High School of Information Technology in Milwaukee. He transferred to Phoenix-based Hillcrest Prep this past year for more exposure against top competition. Former NBA point guard Mike Bibby is Hillcrest's head coach.
The power forward is the ninth-ranked player in the 2021 recruiting class according to 247Sports. He sports scholarship offers from Georgia, Baylor, Florida State, Marquette, Kansas, Arizona State, and Texas A&M. 247Sports' Crystal Ball has Foster leaning towards Tom Crean's Georgia Bulldogs.
Foster projects to be a first-round NBA Draft Pick. He has the potential to be a starter-level player and motor to get there. With plenty of room to grow, a strong build, and high-basketball IQ, I would be ecstatic to have Foster on my team.
---
UPDATE (June 2, 2020): Foster told Sports Illustrated that after considering reclassifying to the Class of 2020, he'll remain at Hillcrest Prep and graduate with his 2021 class.
"I'm definitely gonna be at Hillcrest next season," Foster said. "I've got other goals that I want to accomplish with GEICO Nationals and individual goals so I'm not going to be moving up to 2020."
This article was originally published March 24, 2020. It's been updated to track Foster's recruiting and high school career.