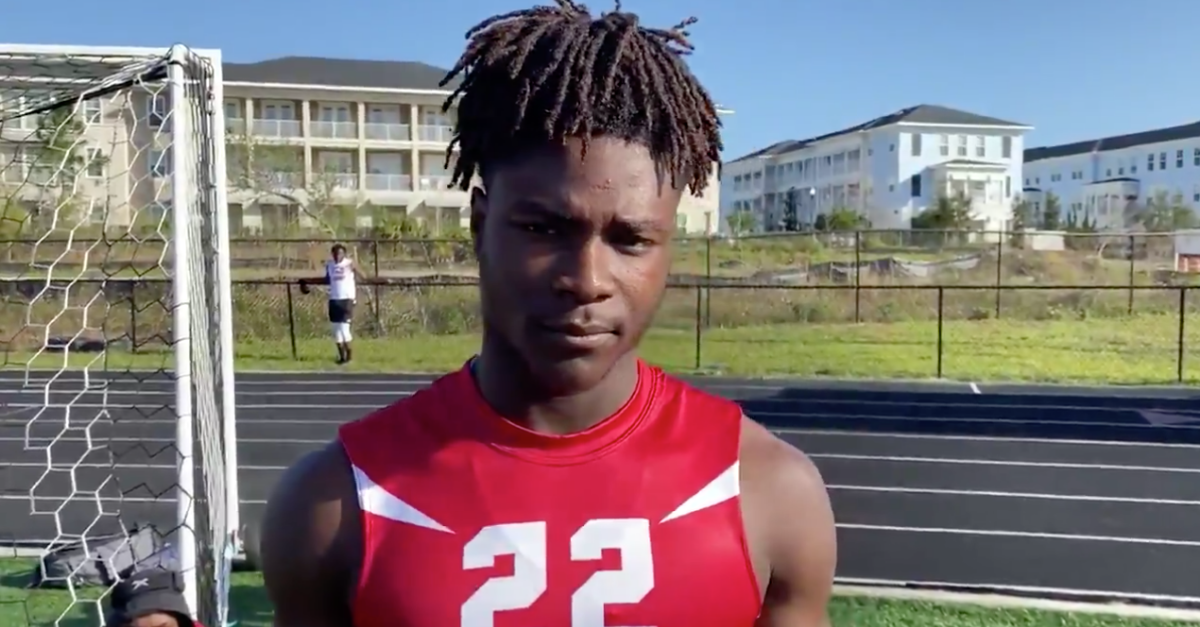 Screenshot from Twitter
The Southeastern Conference has become a hotbed for wide receivers in recent years. Alabama is sent a couple pass-catchers to the 2020 NFL Draft in Jerry Jeudy and Henry Ruggs, and LSU's corp that included Justin Jefferson was second to none last season.
Mario Williams could be next in line. The nation's No. 1 wide receiver for the 2021 class, per ESPN, is expected to join the SEC after narrowing his decision down to five schools, four of which are major SEC programs. The NCAA is currently in a recruiting dead period due to the coronavirus outbreak, so don't expect him to visit anywhere anytime soon.
The Plant City High School (Plant City, Fla.) product may stand just 5-foot-10 and weigh 165 pounds, but Williams possesses the quickness and shiftiness that will translate in college football and make him a day-one impact player. He's also a dual-sport athlete as he's played varsity baseball and received attention from NCAA coaches.
Where Williams ends up in college is anyone's guess.
Mario Williams Recruiting
Williams has received a whopping 34 offers from football programs across the country. The list includes Power 5 teams like Auburn, Clemson, Florida State, Miami, Michigan, Mississippi State, Nebraska, Notre Dame, Ohio State, Oregon, Penn State, North Carolina, South Carolina and Georgia Tech.
Pretty much every university that fields a football team is in on the four-star wide receiver. ESPN rated him the 17th overall prospect in his class, and his 247Sports Composite slots him at No. 4 wide receiver and No. 40 overall in the 2021 recruiting class.
However, the top talent had made it very clear he's heading to the SEC or the Big 12.
Williams named his top five on March 14, 2020, and it included Alabama, LSU, Florida and the Georgia Bulldogs. Oklahoma is the other school he's choosing between.
According to 247Sports' crystal ball predictions, Williams is expected to attend Oklahoma. But that could change, especially considering he's unofficially visited Florida and Alabama already and SEC coaches will stop at nothing when it comes to recruiting.
Mario Williams Highlights
RELATED: Chad Johnson Jr. Wants To Be Ochocinco 2.0, But Can He?
Mario Williams still has his senior season to look forward to, but he's already shown in three seasons of varsity football that he's the real deal.
As a junior in 2019, he caught 27 passes for 795 yards and nine touchdowns ? That's an average of almost 30 yards per reception.
Williams posted even higher numbers as a sophomore in 2018, hauling in 14 touchdowns and 950 receiving yards on 51 catches. He tallied another 703 receiving yards and 10 touchdowns as a freshman.
Look up the phrase "breakaway speed" in the dictionary and you'll find Mario Williams' videos right next to it:
According to 247Sports, he's a smaller-sized receiver but doesn't let that stop him from toasting cornerbacks:
"Quick, twitchy athlete. More quick than fast but still fast enough. Doesn't get caught from behind and flashes significant big play capability. Shows good lateral quickness and has the tools to beat press coverage at the line of scrimmage. Looks for more after the catch. Capable of making plays in contested situations down the field."
Alabama, LSU, Florida and Georgia are all battling for Williams' services. Now we wait and see where the No. 1 wide receiver wants to go.
This article was originally published March 18, 2020.
---
UPDATE (May 15, 2020): Despite the coronavirus pandemic and COVID-19 virus slowing offseason recruitment, Williams was prepared to make a verbal commitment before his final high school season.
Williams announced on Twitter that he was committing to the Oklahoma Sooners to play in Lincoln Riley's high-powered offense. Should his commitment hold, expect Williams to be an impact player in the Sooner offense from day one.
WR Mario Williams Commits to Oklahoma