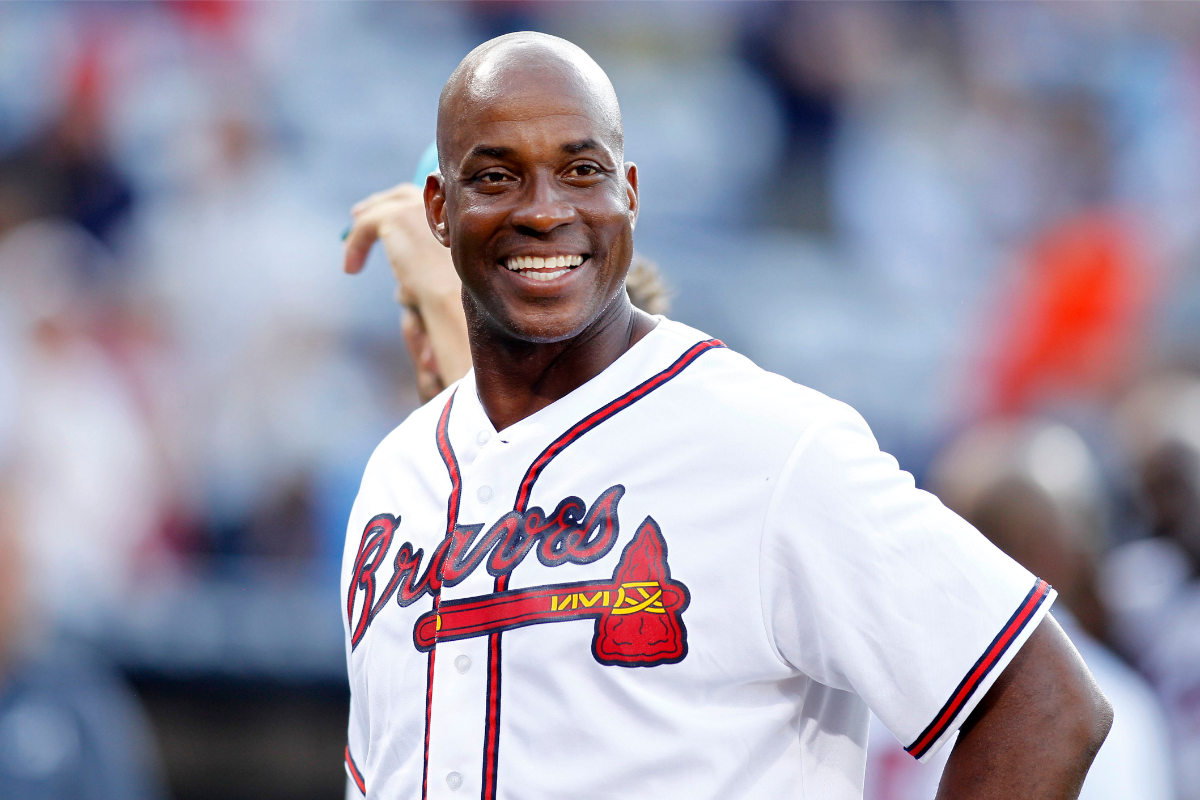 AP Photo/Brett Davis
When you think of Fred McGriff, what type of hat do you picture on his head? The Atlanta Braves? The Toronto Blue Jays? That blue hat he wore in those Tom Emanski commercials that we saw on ESPN for what seemed like five decades?
McGriff wore many hats in his career?most of which fit better than the Emanski one?but it has been several years since he played in Major League Baseball, where he hit 493 home runs. Where is Fred "Crime Dog" McGriff now?
Early Life and MLB Career
RELATED: Mo Vaughn Made $100 Million in Baseball, But Where is He Now?
The man Chris Berman gave the iconic nickname "The Crime Dog" in reference to the trenchcoat-clad canine character McGruff was born in Tampa, Florida and first rose to prominence in high school when he hit a home run off of a prospect named Doc Gooden as a senior. The ball traveled some 500 feet, according to Gooden.
?I swear, that?s still one of the longest home runs I?ve ever given up,? Gooden told the Los Angeles Times in 1992.
McGriff received an offer to play college baseball with the Georgia Bulldogs, but he decided to go pro after the New York Yankees picked him in the ninth round of the 1981 MLB Draft.
Before the first baseman could make his big league debut?and on a side note, it's odd that a guy who spent his entire career at first base or designated hitter was the spokesperson for a video about fielding fundamentals?he was dealt from the Yankees to the Toronto Blue Jays in a deal that brought Dale Murray and Tom Dodd back to the Bronx. In hindsight, it's considered one of the most-lopsided deals ever, as Murray and Dodd both flamed out for the Yankees.
"Crime Dog" made his MLB debut in 1986 but didn't stick in the big leagues until 1987. By 1989, he had emerged as a top-notch slugger. That season he led the American League in home runs with 36 and also led the league in OPS. His status as a slugger was legitimized by the fact he took home his first of three career Silver Slugger awards.
Prior to the 1991 season, McGriff was be involved in a less-lopsided trade, as he and Tony Fernandez were sent to the San Diego Padres for Roberto Alomar and Joe Carter. Alomar is now in the Baseball Hall of Fame, and Carter proved a postseason hero for the Blue Jays. You may recall one time in the World Series when Joe touched 'em all.
During the 1992 season, McGriff led the National League in home runs with 34, making him the rare player to lead both leagues in homers in their career. He also made his first All-Star Game that year.
The Padres didn't hold onto him long. During the 1993 campaign he was dealt once again, this time to the Atlanta Braves for three prospects who never panned out. In spite of the trade, McGriff hit a personal-best 37 homers and finished fourth in the MVP voting.
McGriff made three All-Star Games in a row with the Braves and was a key member of the team that took home the 1995 World Series. He racked up 107 RBIs the following year, but Atlanta fell to the Yankees in the World Series. That Murray-and-Dodd deal didn't keep them down forever, evidently.
Atlanta let "Crime Dog" go after the 1997 season, but there was now an expansion team in his hometown. McGriff joined the Tampa Bay Devil Rays prior to the 1998 season. A season later, he hit .310 and tallied 32 home runs.
The Devil Rays were terrible back then, and the team agreed to trade him to the Chicago Cubs so he could chase another World Series. Granted, the Cubs didn't exactly scream "World Series" for, oh, a century or so, and he had no luck. McGriff then joined the Los Angeles Dodgers for the 2003 season and was clearly starting to show his age.
However, McGriff was also closing in on 500 career home runs. That's a big milestone if you want to be a Hall of Famer, and McGriff definitely had his mind on Cooperstown. Despite McGriff being 40, the Devil Rays decided to sign him so that he could chase 500 with his hometown team. Hey, it's not like they had anything else going on.
Unfortunately, it was clear he had nothing left in the tank. In his final year in MLB, McGriff only managed to appear in 27 games for Tampa Bay, batting .181 and hitting a mere two home runs. Even the Devil Rays couldn't justify him taking up a roster spot and released him. This led to McGriff's retirement.
He finished his career with 493 home runs. That's the same number as Hall of Famer Lou Gehrig, but it is decidedly not 500. Would that matter when it came to the Hall-of-Fame voters?
Fred McGriff Now
McGriff was a five-time All-Star, and he and Gary Sheffield are the only players in MLB history to hit over 30 home runs for five different teams. That's impressive, but some wondered if the fact he played for so many teams would be held against McGriff when it came to the Hall of Fame ballot. Plus, there are those seven home runs he never hit to reach 500.
McGriff received 21.5 percent of the votes the first time he appeared on the ballot in 2010. That was enough to keep him on the ballot, but far from the 75 percent a player needs to be inducted into the Baseball Hall of Fame. "The Crime Dog" always did well enough in the voting to stay on the ballot. But in 2019, his final year of eligibility, he received only 39.8 percent of the votes. It was official: McGriff wasn't receiving a plaque in Cooperstown.
McGriff is now 57. After retiring, McGriff stayed in Tampa and hosted a radio show for a while, but it does not appear to still be active. He also took on a role as a special assistant to baseball operations for the Braves in 2016. His job was to travel around to the organization's minor league teams and work closely in the team's MLB Draft process.
He and his longtime wife Veronica McGriff have been married for more than 30 years and have two adult children. In 2019, they sold their Tampa Bay home for $2.45 million. McGriff reportedly made more than $65 million over the course of his 19-year career.
In the end, maybe McGriff wasn't spectacular enough for the Hall. He boasted 10 seasons with at least 30 home runs but zero with 40 or more. But hey, he's in the commercial Hall of Fame thanks to Tom Emanski. And thanks to Chris Berman he's most certainly in the nickname Hall of Fame.