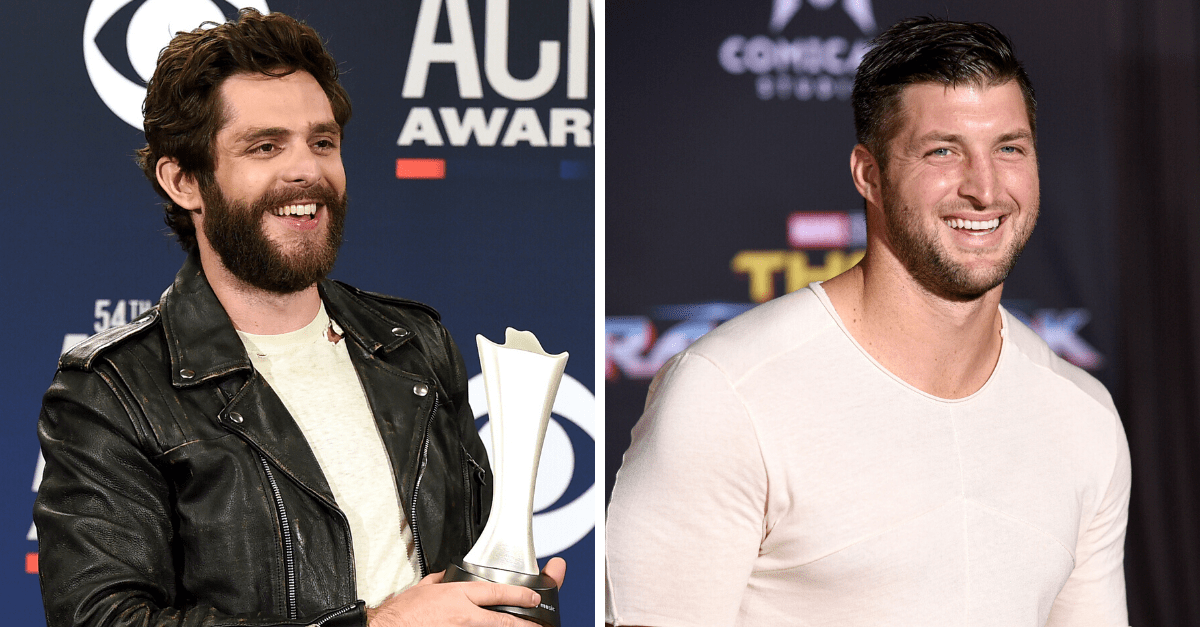 Jordan Strauss/Invision/AP (left), Chris Pizzello/Invision/AP (right)
Sensibility with one's fame is what separates a short-term celebrity from an ageless role model. For country music's Thomas Rhett, entertaining millions of fans around the world pays the bills, but that's not what he considers his primary goal.
In a candid interview with his record label, the multi-time Grammy and Academy of Country Music Award nominee talked about his inspirations to impact the lives of people, not only with his music, but in everyday life.
"I do think I was out here to entertain people and allow people to have a good time on a Friday or Saturday night," Rhett said in an interview with Big Machine Label Group, "but I think the most important reason that I was put here is to use what I have been given for good."
Rhett mentioned one of his inspirations as former NFL quarterback Tim Tebow. The pair are known for publicly championing their faith — Rhett used his platform at the 2019 CMT Artists of the Year awards show to lead the audience in prayer shortly after the death of drummer Kenny Dixon, and Tebow is famous for leading public services and prayers all over the world.
Knowing that Rhett, who's only about three years younger than Tebow, aligns himself and his goals with such a popular icon in the sports world is pretty cool.
Thomas Rhett on Tim Tebow's Inspiration
"Growing up, Tim Tebow was always such an inspiration to me because being in any sort of professional celebrity atmosphere, it's really hard to maintain level-headedness. I would assume more so being in the NFL, and so someone like him who always turned anything good into something great, I've just always wanted to try to do that.

"For us, lately, it's been really advertising 147 Million Orphans and how important it is to adopt children around the world. Or just even small things like, 'Hey, I picked this devotional book up today and it really helped me out, you should go get it.' I just think it's always good to use your platform for good rather than bad."

— Thomas Rhett, via BMLG Prep
The 147 Million Orphans foundation Rhett mentions is a faith-based, non-profit organization working to remedy the global orphan crisis in numerous countries. Rhett and wife Lauren Akins adopted their daughter, Willa Gray, with the organization's help. In 2016, Rhett hosted an event alongside Dierks Bentley and Florida Georgia Line that raised $250,000 for 147 Million Orphans, according to Wide Open Country.
Rhett and Akins welcomed their third daughter, Lennon Love, in February 2020. Ada James, the couple's second child, was born in August 2017.
The Nashville singer's mission syncs perfectly with Tim Tebow's. Even though Tebow balances full-time careers as a minor league baseball player with the New York Mets organization and a college football analyst for ESPN, Tebow never fails to make time for service. The Tim Tebow Foundation serves children all over the world with numerous annual events, including Night to Shine, a prom night for people with special needs that raises hundreds of thousands of dollars every single year.
Tebow Foundation's Night to Shine 2020
RELATED: Tim Tebow: Saving "A Lot of Babies" More Important Than Super Bowls
Rhett even surprised everyone when he performed at the awesome event back in 2018.
The 2007 Heisman Trophy winner as the nation's best college football player recently married Demi-Leigh Nel-Peters in a beautiful ceremony in her home country of South Africa.
Role models aren't hard to find if you know where to look. And when it comes to Rhett and Tebow, here are two prime examples of men changing the world around them, not because their fame told them to, but because they believe it's their duty as human beings.