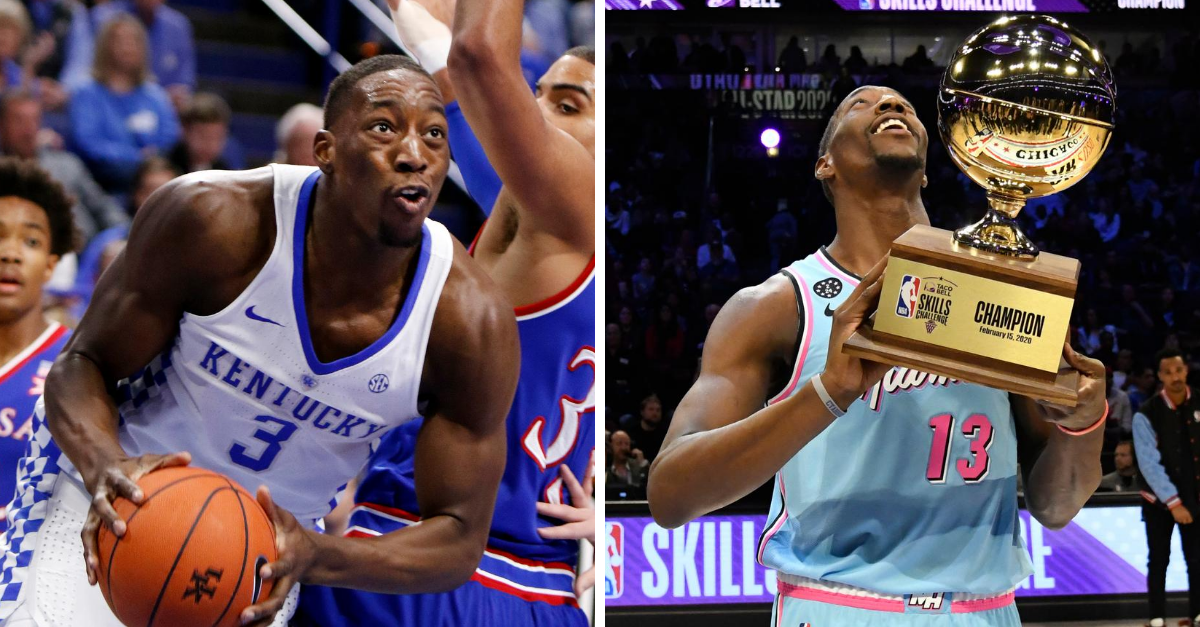 AP Photo/James Crisp (left), David Banks (right)
Bam Adebayo took his game to another level. In his third year in the league, he went from developing prospect to NBA All-Star, and, most importantly, the jump translated to wins for the Miami Heat.
His time at Kentucky forecast this leap.
Edrice Adebayo (Bam's government name) played his first two years of high school basketball at Northside in Pinetown, North Carolina. As a junior, he averaged a cool 32.2 points and 21 rebounds per game. He transferred to High Point Christian Academy for his senior year and committed to play college basketball for the University of Kentucky Wildcats in November 2015. The McDonald's All-American and 2016 North Carolina Gatorade Player of the Year led the Cougars to the state championship game behind 18.9 points, 13 rebounds, 1.4 blocks, and 1.5 assists per game.
Bam Adebayo Heads to Kentucky
Adebayo joined Malik Monk, De'Aaron Fox, Sacha Killeya-Jones, and Wenyen Gabriel to round out head coach John Calipari's 2016 recruiting class. The young men's basketball team sprinted out of the gate, compiling a 10-2 record heading into SEC play.
The Southeastern Conference ran through Lexington. Monk and Fox flew. Adebayo held down the fort. They finished with a 16-2 league record heading into the SEC tournament. Wins over Georgia, Alabama, and Arkansas secured the SEC title and a two-seed in the NCAA Tournament.
The Wildcats took care of Northern Kentucky, Wichita State, and UCLA to face North Carolina in the Elite Eight. UNC proved to be a hint too much for UK in a 75-73 win.
Adebayo established position on the offensive boards and finished with booming dunks during his college career. Defensively, his 7-foot-3 wingspan altered shots and corralled rebounds. He was named to the 2017 SEC All-Freshman team and Second-Team All-SEC.
The big man finished his college career with a 13-point, 8-rebound, and 1.5-block-per-game average. He declared for the 2017 NBA Draft following the season, and the Miami Heat selected the Kentucky basketball player with the 14th pick in the first round.
Bam Adebayo Joins Miami Heat
RELATED: LeBron James' Wife Stole His Heart Back in High School
Adebayo benefited greatly from Pat Riley and the Heat's player development system. He inserted himself in the starting lineup in the 2019-20 season after two years as a reserve. The UK product finished the regular season averaging 15.9 points, 10.2 rebounds, 5.1 assists, 1.3 blocks, and a 55.8 percent effective field-goal percentage. In addition, he finished ninth in double-doubles and triple-doubles and eighth in total rebounding.
Bam was named a finalist for the NBA's 2020 Most Improved Player Award along with New Orleans Pelicans' forward Brandon Ingram and 2019 Rookie of the Year Luka Doncic.
The hoops star is concentrated on a deep playoff run in the NBA's Orlando, Florida bubble. After sweeping the Indiana Pacers, Miami faced a potential second-round matchup with Giannis Antetokounmpo and the top-seeded Milwaukee Bucks.
The former Wildcat's talent was evident in college; and he exceeded expectations by growing into one of the most versatile frontcourt players in the NBA.