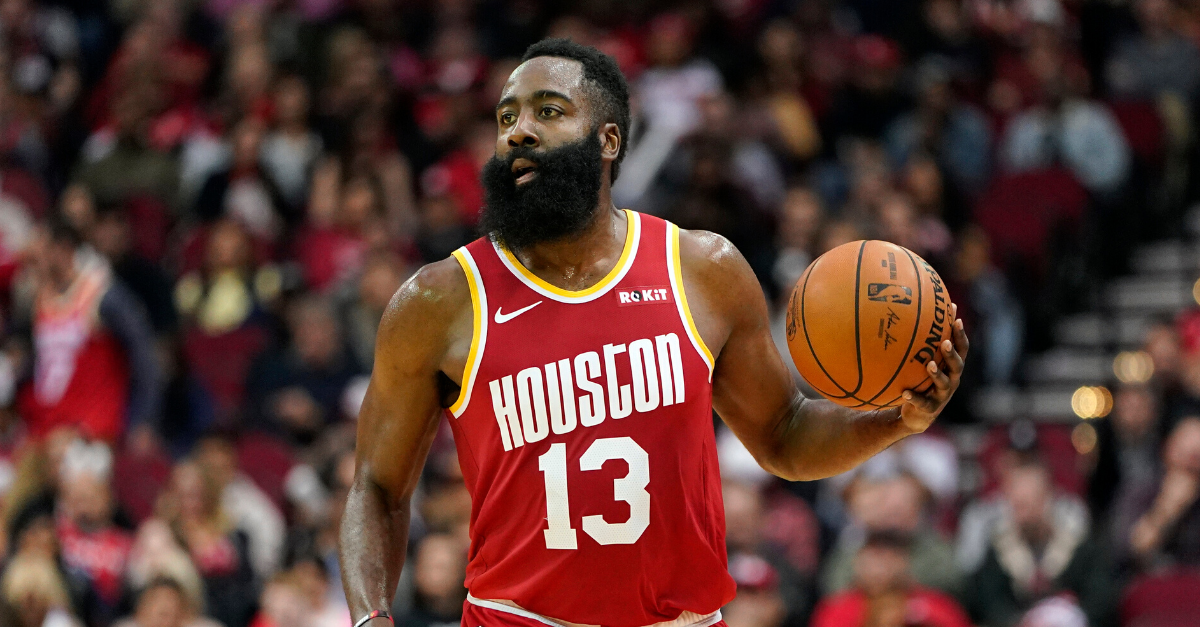 AP Photo/David J. Phillip
James Harden might be the face of the NBA right now. Renown for his iconic, burly beard and basketball moves that prove he's either traveling or is a wizard (there is no in between), "The Beard" is one of the best players on the planet, let alone in the National Basketball Association.
The 2018 NBA Most Valuable Player broke a record that even Michael Jordan couldn't touch and has elevated his game to the point where he's averaging 30 points per game and doing so effortlessly. In the 2018-19 season, he even recorded 32 straight 30-point games — the second-longest such streak in NBA history.
Unsurprisingly, the left-handed shooting guard has euro-stepped his way to the bank over his 11-year playing career. He's currently the fourth highest-paid professional basketball player in the league ahead of superstars like Los Angeles Lakers' LeBron James and Brooklyn Nets' Kevin Durant but behind teammate Russell Westbrook, Oklahoma City Thunder's Chris Paul and Golden State Warriors' Stephen Curry.
As of now, Michael Jordan is the only billionaire former athlete. Magic Johnson and former basketball player Junior Bridgeman, who made his fortune by franchising fast food restaurants, are the next closest basketball players.
Could James Harden, who has a monster shoe and apparel deal with adidas as well as other endorsement deals, be next in line? Judging from his net worth, that doesn't seem totally impossible.
Early Life and College
James Edward Harden Jr. was born in Los Angeles and went to Artesia High School in Lakewood, California. The southpaw shooter helped Artesia win two state championships and lost just three games his junior and senior seasons.
The McDonald's All-American accepted an offer to play for the Arizona State University Sun Devils, and in his freshman season in 2007-08, he earned First-Team All-Pac-10 honors by averaging 17.8 points and 3.2 assists per game.
Harden's name began to blow up heading into his sophomore season. He appeared on the cover of Sports Illustrated's college basketball preview addition and was named to the Wooden Award preseason watch list.
Against UTEP in 2008, he posted a career-high 40 points en route to a remarkable sophomore campaign in which he averaged 20.1 points per game and won the 2009 Pac-10 Player of the Year award. After the season, he declared for the 2009 NBA Draft, where he would start making his fortune.
Playing Contracts
The Oklahoma City Thunder drafted Harden in the first round (third overall) of the 2009 NBA Draft. He was instantly an impact three-point shooter as a rookie and important piece alongside Kevin Durant and Russell Westbrook during his years there.
After three seasons in Oklahoma and the team failing to sign Harden to an extension, he was traded to the Houston Rockets, where he emerged as one of the game's most prominent scorers.

In his first seven seasons with the Rockets, Harden was named an all-star and averaged more than 25 points per game in every season. Harden's list of accomplishments are pretty remarkable considering he's just 30 years old:
NBA MVP (2018)
Seven-time NBA All-Star
Five-time All-NBA First Team
NBA Sixth Man of the Year (2012)
Two-time NBA Scoring Champion (2018, 2019)
NBA assists leader (2017)
2012 Olympic gold medal
There's no doubt that Harden has a one-of-a-kind ability to finish at the rim, get to the foul line and shoot from beyond the arc. That's why teams shelled out big bucks for his services during his 11-year career, even if he hasn't reached an NBA Finals quite yet.
Including the 2019-20 season, Harden has made more than $185 million in career earnings, according to Spotrac. He's set to make more than $130 million over the next three seasons with the Rockets, stemming from his massive four-year, $228-million dollar new contract extension he signed in 2017.
Do the math on his $38.2-million annual salary for the 2019-2020 season, and you'll find The Beard makes $466,000 per game and nearly $10,000 per minute on the court.
Harden has also racked up fines and has forfeited $240,000 from them during his playing days.
Endorsements
Harden's recognizable appearance (more importantly, his facial hair) and insane ball-dribbling skills have made him one of the most marketable active NBA players.
In 2015, he left Nike and signed a 13-year, $200-million deal with adidas that Forbes estimated will pay him roughly $14 million per year. Harden isn't the only one to choose stripes over checks. Other adidas stars include Washington Wizards' John Wall, Detroit Pistons' Derrick Rose and Minnesota Timberwolves' Andrew Wiggins.
"We're a brand of creators and James embodies that more than any athlete in the game," said Chris Grancio, adidas Global Basketball General Manager, per USA Today."His addition to the adidas basketball family is a game changer. This partnership gives him the opportunity to achieve his goals and express himself in a totally new way as a creator. He's already one of the most recognizable sports figures because of his game, his look, his hunger to win and his style on the off the court. His ceiling is far from reached, which tells you the future for him and our brand looks incredible."
Only a handful of current and former players earn more per year off of shoe deals. Kobe Bryant checks in ahead of him at $16 million, Steph Curry at $20 million, while Kevin Durant, LeBron James and Michael Jordan round out the list.
As Forbes notes, Harden has also signed endorsement deals with Art of Sports (AOS), Electronic Arts, State Farm, BodyArmor and Beats by Dre headphones. His signature beard even earned him an endorsement deal with Trolli's candy, in which each gummy featured his face and beard.
Harden also has invested in the city he plays for. He became a part owner of Houston's professional soccer teams (the MLS' Houston Dynamo and NWSL's Houston Dash).
What is James Harden's Net Worth?
We don't know his spending habits, but we do know James Harden's jersey was retired in a Houston strip club and he reportedly spent $2 million on his lavish yet modest Houston home.
According to Celebrity Net Worth, James Harden's net worth is an estimated $165 million. That number figures to only rise with each year Harden is in the league, and it doesn't look like he's going away anytime soon.
It wouldn't be crazy to assume Harden makes more than $500 million during his playing career from contracts and off-the-field deals. Will the American professional basketball player ever be a billionaire like Michael Jordan? If beards are an indicator of wisdom, I'll say yes.