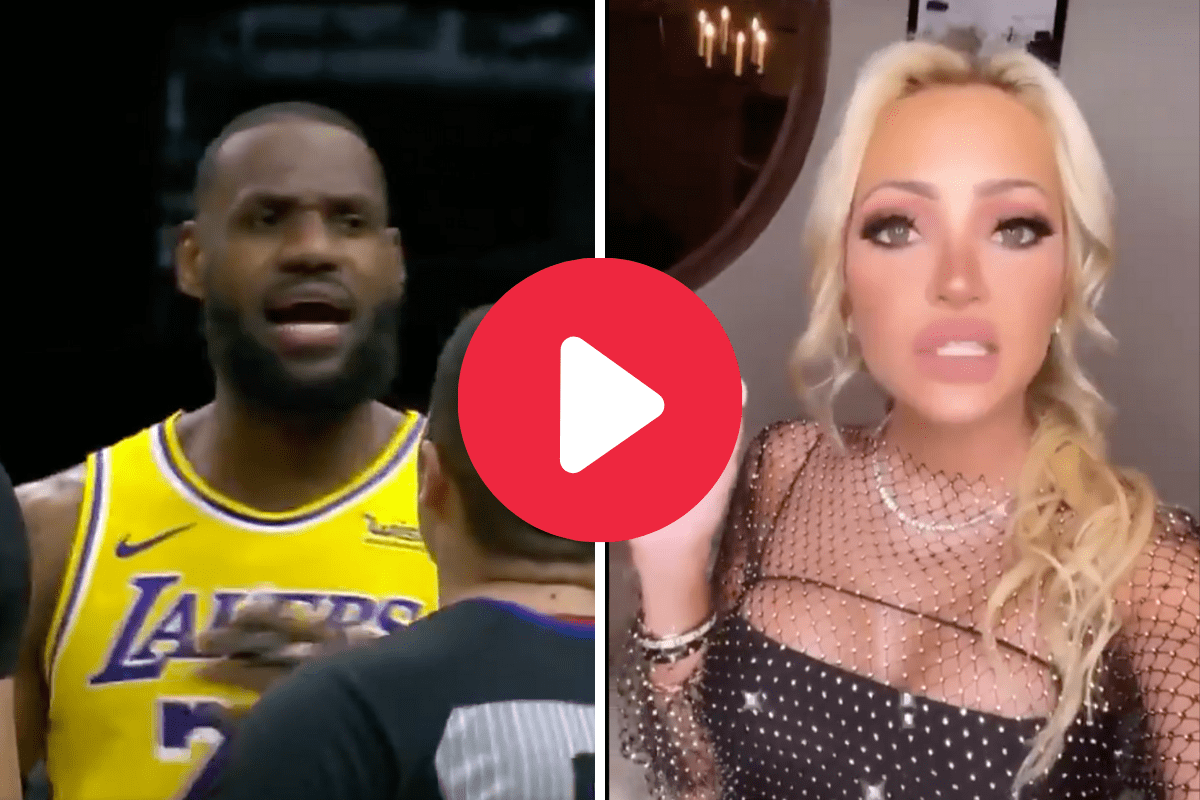 Screenshot from Twitter: SportsCenter (left), Screenshot from Twitter (right)
Look, we've all been to a sporting event and heckled an opposing player. That's rule No. 1 of being a good, loyal fan to your team. Cheering on your own players is up there as well, I suppose.
Heckling the greatest basketball player on Earth, LeBron James, is a different story. The Los Angeles Lakers superstar has endured many courtside comments from haters throughout his NBA career with the Cleveland Cavaliers and Miami Heat. He's heard every negative comment in the book and even got pissed when a fan threw trash at his son Bronny Jr.
On Monday night, LeBron couldn't let one fan's comments slide when the Lakers were taking on the Atlanta Hawks in Atlanta. That led to the woman's ejection from the stadium.
Woman Ejected For Heckling LeBron
RELATED: Fan Throws Trash at Bronny James, And LeBron Was Pissed
The blonde woman pissed off on the sidelines is Instagram model Juliana Carlos, who attended the game with her husband, Chris Carlos.
We don't know exactly what was said between the two parties in the fourth quarter, but we know things got heated. According to Juliana, LeBron yelled at her husband — a Hawks fan — and she stepped in to defend her man.
Juliana even pulled her mask down to get her two cents in, which may have been why she was tossed along with her hubby. Not a great look considering the coronavirus pandemic still very much exists.
Juliana posted numerous videos to her Instagram profile recounting the exchange.
(Warning: This content includes NSFW language.)
"Anyway, I'm minding my own business, drinking, having fun. All of the sudden, LeBron says something to my husband, and I see this and I stand up. And, I go, 'Don't f***ing talk to my husband.' And, he looks at me and he goes, 'Sit the f**k down, b*tch,'" Juliana recalled.
You can make the call if that exchange was an exaggeration. We aren't lip readers.
After the game, which the Lakers won, LeBron wrote on social media that "Courtside Karen was MAD MAD!!"
The 16-time All-Star addressed the interaction in a postgame press conference as well and was nothing but class. He said they may have had a "couple drinks" but thought they shouldn't have been ejected.
?At the end of the day, I?m happy fans are back in the building,? he said of the altercation. ?I miss that interaction. I need that interaction; we as players need that interaction. I don?t feel like it was warranted to be kicked out.?
Courtside Karen is just lucky LeBron's wife Savannah wasn't around to defend her man as well.
Who is "Courtside Karen?"
The woman in question is Juliana Carlos, an Instagram model and influencer with nearly 50,000 followers.
She lives in Atlanta and regular attends Atlanta Hawks games. She even posed for a courtside picture with rapper 2 Chainz just four days ago.
It's clear from her social media account that she enjoys traveling, expensive jewelry, fashion and showing off her husband, Chris Carlos.
Chris is a businessman and partner at the Republic National Distributing Company and the son of Michael C. Carlos, former Chairman and CEO of the National Distributing Company. He goes by "Daddy Carlos" on Instagram.