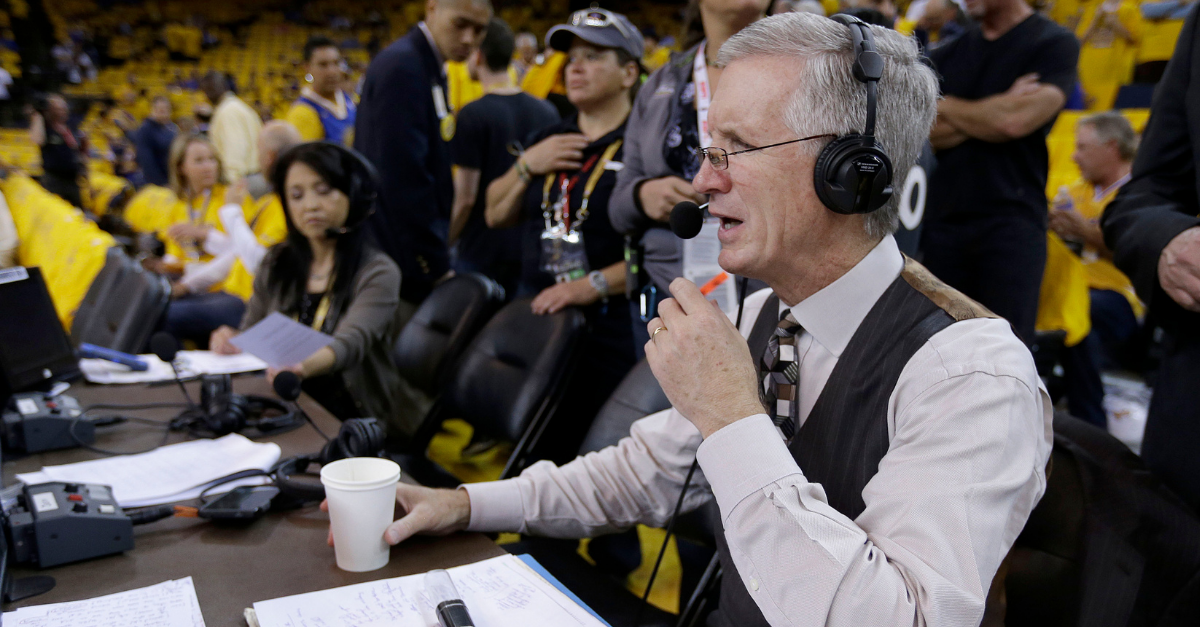 AP Photo/Ben Margot
"It's good!" "Puts it in!"
"BANG!"
Some incredible play just happened, and Mike Breen's signature call reverberates from the TV. His voice is like a cup of coffee that's warm and soothing — then the caffeine kicks in.
Mike Breen's Early Life
Michael Breen was born on May 22, 1961 in New York City. He graduated from Salesian High School in 1979 and Fordham University in 1983. He's been a fixture on our airwaves since.
Broadcasting Career

RELATED: Doris Burke Is The NBA's Best Analyst, And She's Earned Every Penny
Mike Breen began his professional career on the radio as a sportscaster for New York City's WNBC. He served as a fill-in host for Dave Sims during his time there. His play-by-play career started with the Marist College Red Foxes basketball team in 1985.
In 1992, Breen began his career calling New York Knicks games as the team's radio announcer. He was promoted to the MSG Network's TV play-by-play announcer following the dismissal of Marv Alberts in 1997. Breen served as Albert's backup when he returned in 1999, but Albert was later dismissed for a second time in 2004 and assumed full-time duties at TNT. Breen took over the lead role again and holds that position to this day.
Breen worked for NBC as both an NBA and WNBA broadcaster until the network's league contract expired in 2002. He became the lead announcer for NBA games on ABC and ESPN, including the NBA Finals. He primarily works on Fridays and NBA Saturday Primetime games to not interfere with his Knicks schedule. He's worked with multiple people who have Knicks ties including Hubie Brown, John Andariese, and Walt Frazier along with his current ESPN partners Mark Jackson and Jeff Van Gundy.
The broadcaster was the voice of NBA Elite 11 with Jackson and Van Gundy, but the series was canceled indefinitely. He lent his voice to the NBA Live series from NBA Live 14 through NBA Live 18.
In addition to the NBA, Breen's worked on the basketball broadcast team for four Summer Olympic Games and one Winter Olympics. He's called the men's and women's games for the 1996 Summer Olympics in Atlanta, the 2000 Summer Olympics in Sydney, the 2004 Summer Olympics in Athens, and the 2008 Summer Olympics in Beijing. He also called ski jumping at the 2002 Winter Olympics in Salt Lake City. He formerly called New York Giants' preseason games and has called regular NFL season games for the NFL on Fox and the NFL on NBC.
Personal Life
Breen and his wife Rosanne reside on Long Island, New York. They have three children: Michael, Nicole, and Matt.
How Much Does Mike Breen Make?
According to Playerswiki.com, the American play-by-play sports commentator's estimated salary is $500,000. With that annual salary, he has an estimated net worth of $1 million.
In April 2020, Breen was one of the ESPN talents, along with college basketball announcer Dick Vitale, who took a three month, 15-percent pay reduction due to the coronavirus pandemic and COVID-19 outbreak.
As the NBA Playoffs proceed at Disney's Wide World of Sports campus in Orlando, Breen will emphatically call the inevitable madness.