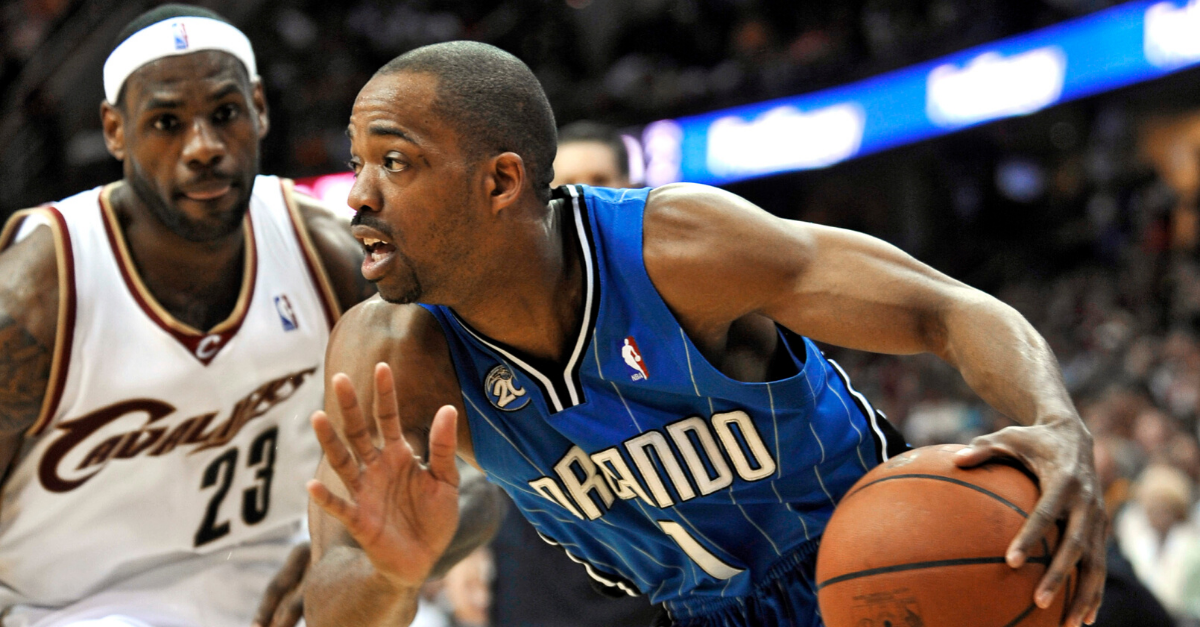 AP Photo/David Richard
Rafer Alston had a cadence to his dribble; a bounce found in hopscotch squares. His leading move in his unorthodox bag of ball-handling tricks wasn't a crossover or between-the-legs, it was a skip. Soon enough, he wasn't Rafer. He became known as Skip To My Lou.
Rhythm was a staple of playground ball in Queens, New York, Alston's hometown. His panache inspired the And1 Mixtape Tour and elevated streetball to the mainstream.
Alston climbed higher and higher on park courts, peppered with frizzy dribbles and faded sidelines. The streetball legend graduated from the pavement and skipped all the way to the NBA.
Rafer Alston's NBA Career
Alston graduated from Benjamin N. Cardozo High School in 1994. He played college basketball at Ventura College and Fresno City College before finishing his career at Fresno State. The Milwaukee Bucks selected him in the second round with the 39th overall pick in the 1998 NBA Draft.
Skip 2 My Lou floated to multiple NBA teams after three seasons with the Bucks. He suited up for the Toronto Raptors, Miami Heat, Houston Rockets, Orlando Magic, and New Jersey Nets. His precise handle and nose for sniffing out steals led to success, most notably with the Heat, Rockets, and Magic.
A career-defining moment came in the last seconds of a Heat game against the Dallas Mavericks on March 26, 2004. Alston hit a game-winning three-pointer over 7-foot-6 center Shawn Bradley with 0.5 seconds left in overtime to give Miami a 119-118 win.
Alston reached the NBA's biggest stage on the Magic when was traded to Orlando in February 2009 as a replacement for starting point guard Jameer Nelson. Alston helped the Magic embark on a deep playoff run, including series victories against the Philadelphia 76ers, Boston Celtics, and Cleveland Cavaliers, culminating in a matchup with the Los Angeles Lakers in the NBA Finals.
With their backs against the wall, head coach Stan Van Gundy controversially weaned Alston's playing time in favor of the returning Nelson. The Lakers won the series in five games.
The point guard finished his career in 2010 with a brief second stint in Miami. He averaged 10.1 points, 2.8 rebounds, 4.8 assists, and 1.2 steals over 11 seasons. Alston is currently a scout for the Minnesota Timberwolves.
"Skip To My Lou" Streetball Highlights
ESPN's Street Ball put a new spin on basketball. Hot Sauce and The Professor defied what we thought was possible on the court with unparalleled creativity. It wouldn't have captured as big an audience without streetball pioneer Skip To My Lou.
High-stepping, skating, dropping dimes, and entertaining, Alston bridged the gap between streetball and the world's highest level of competition. He inserted playground rules into NBA starting lineups.