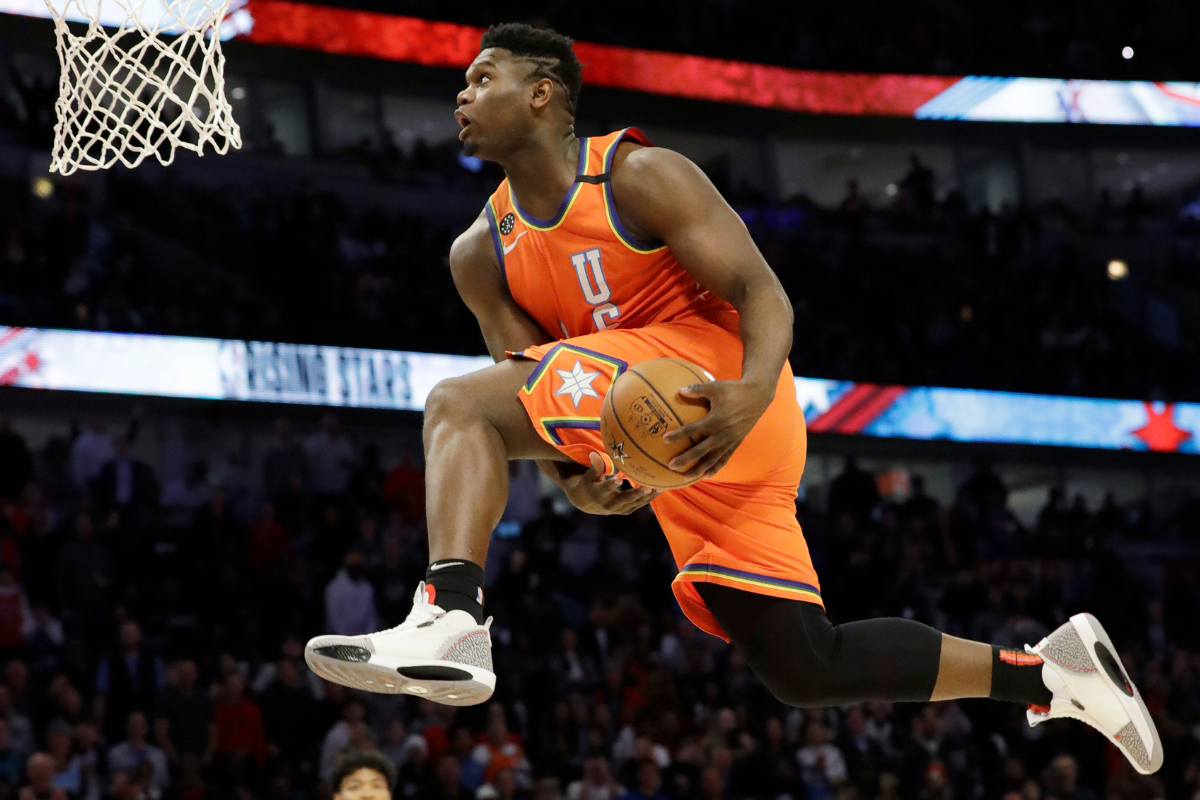 AP Photo/Nam Y. Huh
The laws of physics looked down on Zion Williamson and said, "That's gonna be a no from me, dog."
The you-have-to-see-it-to-believe-it dunker is the size of an NFL defensive end with the athleticism of LeBron James. The No. 1 pick in the 2019 NBA Draft could get to the quarterback, sure. But, I'd argue his best defense is jumping and obstructing the signal-caller's vision. It would elevate John Elway's quarterback height requirement to 6-foot-8.
Fortunate for us, Williamson uses his talents on the hardwood. He has the motor, the skills, and the feel for the game. His most precious skill?
His leaping ability.
Zion Williamson's Vertical Leap
RELATED: Zion Williamson's High School Highlights Are Terrifying
Williamson went viral on social media for his in-game dunks at Spartanburg Day School in South Carolina. He joined college basketball's top-ranked recruiting class at Duke University along with R.J. Barrett, Cam Reddish, Joey Baker, and Tre Jones in 2018. It's perhaps Blue Devils head coach Mike Krzyzewski's most talented collection of Duke freshman.
Duke holds combine testing prior to diving into basketball-related workouts. Zion Williamson's vertical jump became the most anticipated test of the day.
He cleared the rack on the first jump, then again on the second. It reached the point where weights were placed under the rack to make it more challenging. He cleared that, too.
Duke doesn't officially release the results, but Rogers Sportsnet's Michael Grange reports that Coach K is on the record saying Zion has a 45-inch vertical. He was listed at 6-foot-6 and 280 pounds.
Williamson did his best Michael Jordan impression and dunked from the free-throw line a month later.
He showcased his leaping ability in his lone college basketball season on ESPN and during his rookie campaign in the NBA.
Cassius Stanley Breaks Zion's Vertical Jump Record
Zion Williamson's feat was short lived. In 2019, freshman shooting guard Cassius Stanley broke the Duke record with a jump of at least 46 inches. The leapers keep on rolling through Durham, North Carolina.
Zion's measly 45-inch vert didn't inhibit his effectiveness for the New Orleans Pelicans. In his injury-riddled rookie season, the Jordan Brand athlete was a man among boys, averaging 22.5 points, 6.3 rebounds, and 2.1 assists in just 24 games.
Gravity is still plotting how to stop this man. As one of the rarest combinations of size and dunking ability, Williamson's health is all that stands between him defying it for a long time.