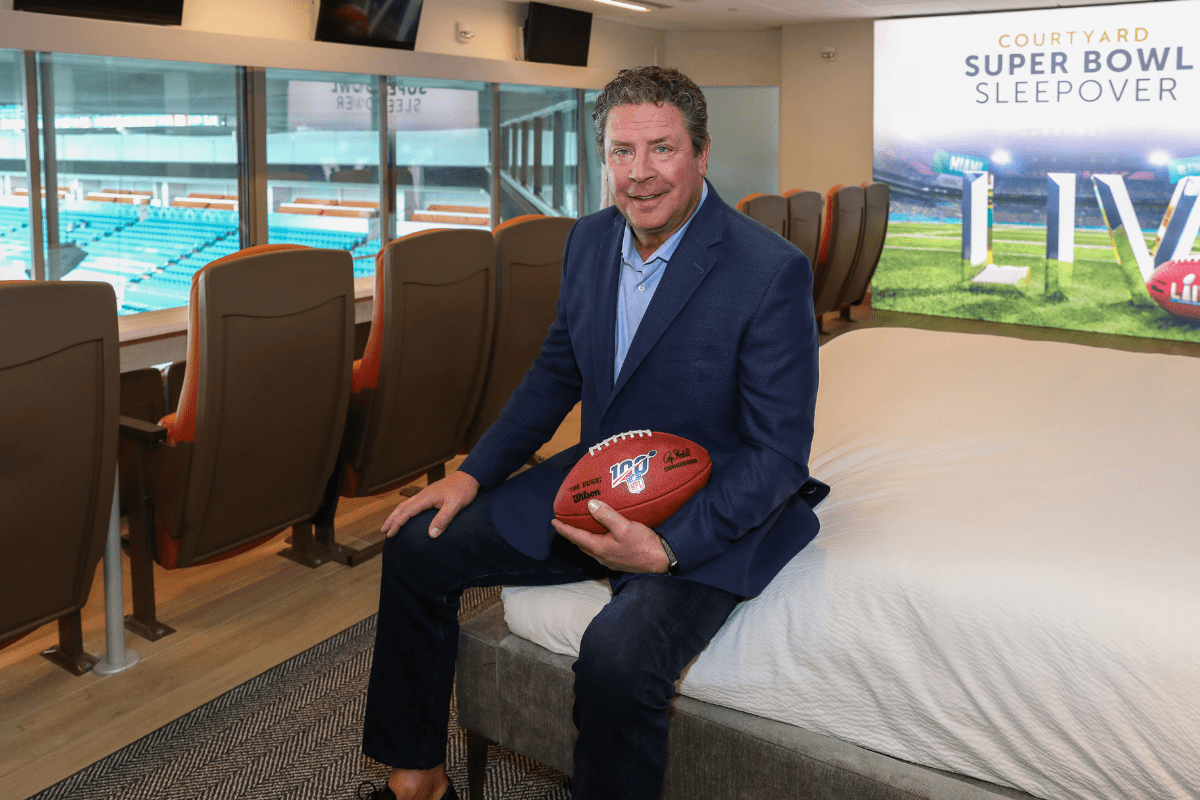 Photo by James McEntee/ AP Images for Courtyard by Marriott
Sorry, Winter the Dolphin (star of "The Dolphin Tale"); Imma let you finish, but… Dan Marino is the Greatest Dolphin of all time.
Sure, there's stiff competition for the title of "Dolphin-GOAT". The world wouldn't be the same without Don Shula, the future looks bright for young blow-hole Tua Tagovailoa, and who can forget Ryan Fitz- what's that, now? Don't list Ryan Fitzpatrick? Don't even mention him? Well, okay…- forget about Ryan Fitzpatrick! Dan Marino is the greatest!
How did a man who never won a Super Bowl become The Greatest on a team that won two, and how much did it pay?
Young Dan Marino
Daniel Constantine Marino Jr. was born on September 15, 1961, when the No. 1 song was "Michael" by The Highwaymen. He was born the only child of an Irish-Polish Family in Pittsburgh, Pennsylvania.
Veronica Marino soon had two more – Dan's sisters Cindi and Debbie.
Marino rocked a juicy fro in junior high. He played quarterback on Central Catholic High School's gridiron and pitcher on their diamond, excelling in both. The American football player was drafted by baseball's Kansas City Royals in 1979. Marino declined the invitation, opting to start quarterback for the University of Pittsburgh's college football team instead.
Marino led Pitt to four bowl game appearances in his college football career. He never won the Heisman or Natty, but he was the most valuable player on any team he played for.
His reliability and lack of interceptions got him to the National Football League; his latent talent took him to the top.
Dan Marino The Dolphin
RELATED: Dan Marino Throws Behind-The-Back 40-Yard Pass in Vintage Video
After a so-so senior season, Marino's draft stock stumbled, though he was still drafted in the first round. With the 27th pick of the 1983 NFL Draft in New York, the Miami Dolphins selected Dan Marino.
With Marino starting quarterback, the Miami Dolphins were poised to win a lot over the next 17 seasons… just never a Super Bowl. Marino dished out touchdown passes like they were hot Philly pizzas, proving to be an All-Pro from the start.
Marino was selected to the Pro Bowl as a rookie, and then again eight more times after that. He did lead the Dolphins to a 14-2 record in his second season, making previous touchdown records look childish in the process. He made it to the Super Bowl but fell to San Fransisco. He never returned again, though many predicted otherwise.
No Super Bowl? No problem. He was inducted into the Hall of Fame only six years after he retired.
"Dan the Man" made too many highlights to count during his Pro Football Hall of Fame career, including in the playoffs. His famous Clock Play is still used on playgrounds today.
Marino retired after the 1999 season. He truly won everything except a ring: an NFL Most Valuable Player, a Comeback Player of the Year, and an NFL Man of the Year award among others.
By the time he retired, the American football player was no stranger to the bright lights of television.
Life As A Star
The Hall of Famer was a household name long before he retired. NFL Most Valuable Player's boyish good looks and jock charm caught the attention of TV cameras on and off the field. Soon after joining Miami, Hollywood came a-knockin'.
Jim Carrey was ready to make it big with "Ace Ventura: Pet Detective" in 1994. The only problem was that Marino is a passer. Carrey was able to convince Marino not to pass on the film with a bit of that zany charm he's known for. It worked. Marino agreed and played himself in the film, caught up in peak-nineties hijinks.
If you haven't seen Ave Ventura then what are you doing with your life?
Allllllrighty then!
Marino revived the role of Marino in the music video for "I Only Want to be With You" by Hootie and the Blowfish. People just love watching Marino toss that rock.
Marino, how you say?, sucked in video game Backyard Football. Still, it's an honor just to make the team.
Dan Marino in Retirement
How have I never noticed how thick his accent is until this video?
The MVP continued to make money on television post-retirement. He enjoyed time on CBS's "The NFL Today" for 12 seasons. His termination may or may not have to do with Marino getting a little too comfortable at CBS, but we'll cover that later.
The former Miami Dolphins quarterback, like many in retirement, took on various roles to help pass his time (to make the Clock Play, if you will).
He finds boomers their passions as the AARP's Men's Health Ambassador. He sometimes drops in on Dolphin's practices to give tips, presumably on how to be great without being Super. He runs the Dan Marino Foundation, which helps raise money for autism support and research in South Florida. Marino also likes racecars and has owned several racing teams, including Nascar's short-lived Elliot-Marino Motorsports.
Marino boasts several commercial endorsements. We've all seen him hock Nutrisystem, but he also collects checks from Kraft Foods and AutoNation. When you learn the size of his family, I'm sure you'll understand why.
Family and Children
Marino sired seven offspring in total; six with his wife. Dan married Claire Veazey in 1985 and pumped out children like they were touchdowns.
Unsatisfied with a healthy four, Dan the Man and Claire the Woman adopted two more children named Lia and Niki Lin after his NFL retirement.
But Dan's insatiable need to spread his seed didn't end there. In 2005 he fathered a child with Donna Savattere, a CBS employee from his show, and not his wife Claire Marino. The affair remained under financially-motivated wraps till 2013, soon after Marino left "The NFL Today".
If you want to meet his children Daniel, Michael Joseph, Joseph Donald, Alexandra Claire, Lia, Niki Lin, or Chloe; I recommend starting here.
Dan Marino Net Worth?
Dan Marino, the Hall of Fame Miami Dolphins quarterback, has amassed a net worth of $50 million.
Marino collects cash from his playing days, television appearances, and multiple side-business ventures. That's pretty impressive when you consider how much children cost, times seven!