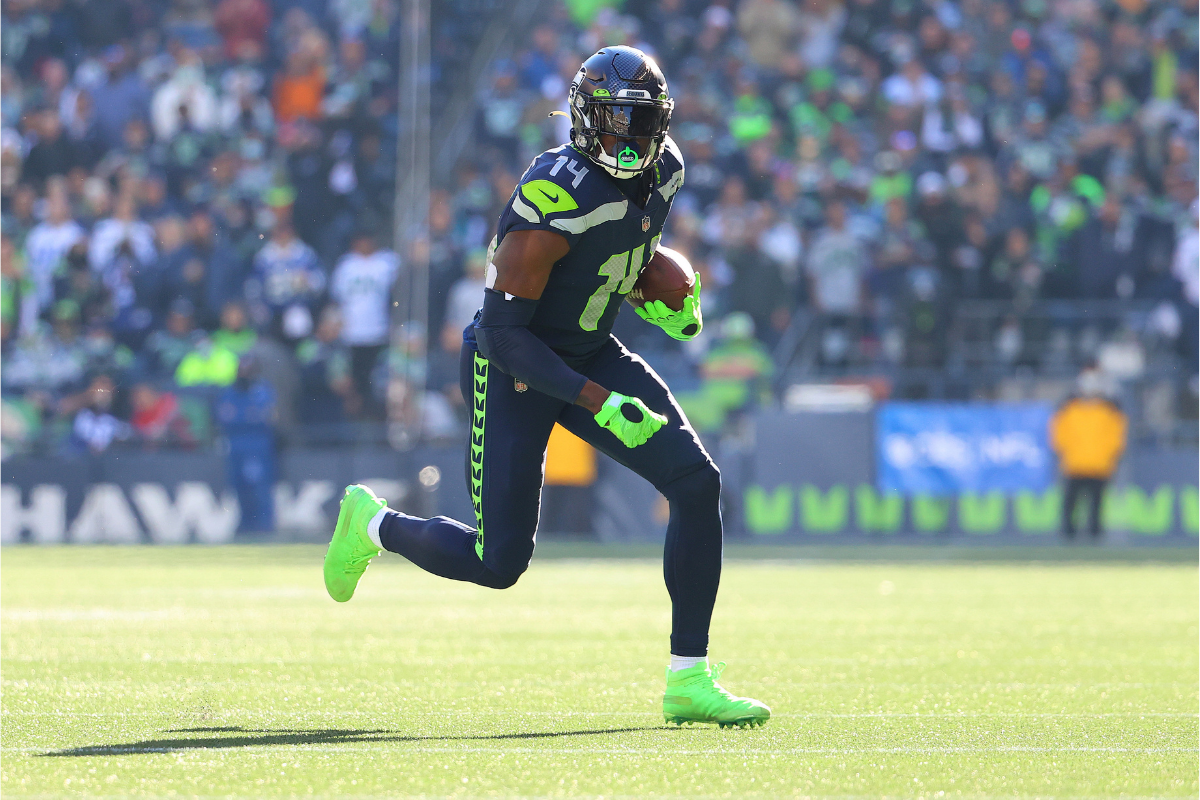 Abbie Parr/Getty Images
Arizona Cardinals defensive back Budda Baker jumped Russell Wilson's pass intended for Chris Carson. He took off in the other direction. A pick-six looked inevitable.
Near the goal line, DK Metcalf watched Baker's interception in slow motion. As soon as the Arizona DB secured the ball, he shot out of a cannon.
Metcalf started his pursuit about five yards behind the play. He caught up by the time Baker crossed into Seattle territory and brought him down at the 8-yard line.
Baker, nor the audience, could believe what they witnessed. There was one question on everyone's mind: How fast is DK Metcalf that he's able to prevent a nearly 100-yard interception return?
DK Metcalf Runs 4.33 Second 40-Yard Dash Time
RELATED: Kyler Murray's 40 Time is Reportedly One of NFL's Fastest
DK Metcalf's 40 time of 4.68 seconds out of high school was nothing to write home about. It's not slow. It's not blazing fast. It's right there in the middle.
Through growth and tough workouts at Ole Miss, he worked his way into the blazing fast category by the time he arrived at 2019 NFL Combine in Indianapolis. Scouts from all over were eager to see how the 6-foot-3, 228-pound receiver would perform physically. He didn't disappoint.
Metcalf recorded a vertical jump of 40.5-inches and 27 reps on the bench press. As for the 40-yard dash, the wideout ran it in 4.33 seconds — he dropped .35 seconds in three years. Absurd. All while looking like a linebacker.
The Seattle Seahawks were impressed enough to take the Ole Miss product in the second round of 2019 NFL Draft. His size, speed and athleticism have created havoc for the Pittsburgh Steelers, Minnesota Vikings, Denver Broncos, Dallas Cowboys, Green Bay Packers, New England Patriots, Chicago Bears, Jacksonville Jaguars and Los Angeles Rams while providing Wilson with a go-to target.
Metcalf's speed became the stuff of legends after his chase-down of Baker. According to Next Gen Stats, the Seahawks receiver reached a top speed of 22.64 miles-per-hour. It's even crazier when you realize Baker runs a 4.45 40-yard dash.
The Mississippi native wanted to put his speed to the test during the 2021 USATF Golden Games, where he ran the 100-meter dash against several sprinters who went on to compete at the USA Track and Field Olympic Trials. He finished in ninth place in his heat with a time of 10.36 seconds, showing the true difference between football speed and track speed.
Metcalf Wants to Race Tyreek Hill
Nonetheless, the football player wants to prove he's the fastest guy in the NFL. When Kansas City Chiefs speedster Tyreek Hill dusted Packers running back Aaron Jones in July 2021, Metcalf wanted a piece of the action.
Hill is widely regraded as the fastest NFL player. After all, he ran a 4.29-second 40 time at his college pro day, and they don't call him Cheetah for nothing. The race hasn't materialized yet, but you can bet Metcalf will be ready when it does.
In the meantime, wide receiver DK Metcalf will be catching touchdowns and doing what he can to help the Seahawks return to the playoffs and maybe a Super Bowl.
Related Videos