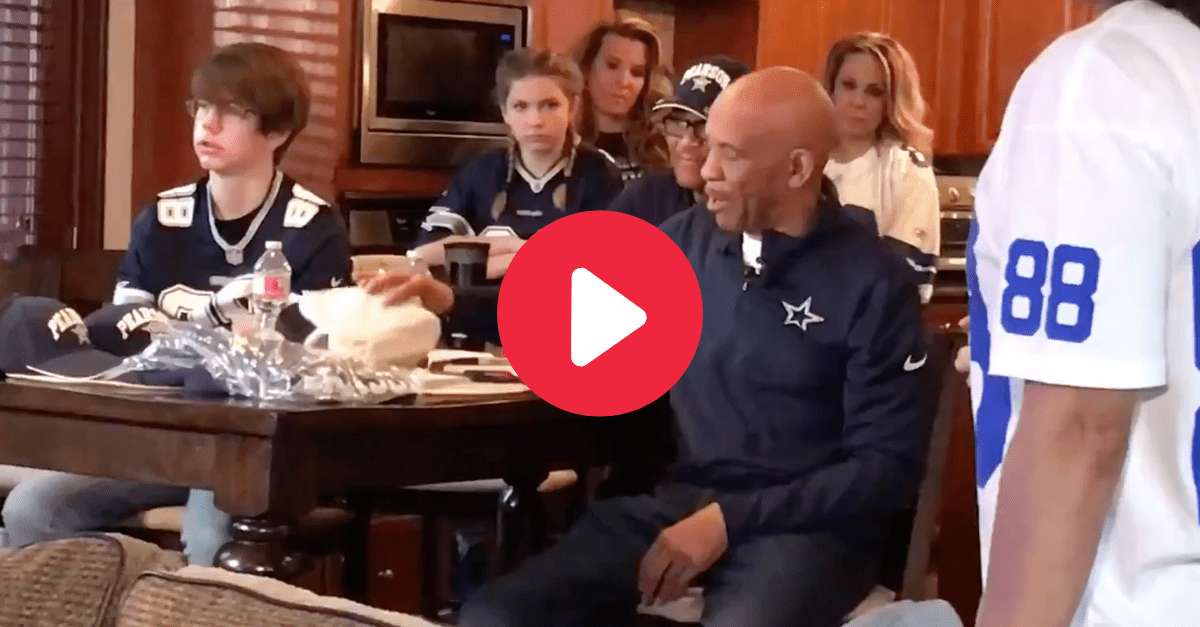 Screenshot from Twitter
For a decade, wide receiver Drew Pearson gave the Dallas Cowboys and the NFL all he had on the field. His resume is pretty impressive, too. The now 69-year-old wants to be in the Pro Football Hall of Fame, but it didn?t happen once again this year.
While the world saw coaching greats Jimmy Johnson and Bill Cowher get surprised with their invitation to Canton, Ohio last weekend, the rest of the nominees were forced to wait. A few days later, on Good Morning Football on the NFL Network, the rest of the Pro Football Centennial Class of 2020 was announced.
Pearson?s name was not called and, understandably so, he was very upset.
Drew Pearson Hall of Fame Snub
Drew Pearson?s credentials are certainly strong. After going undrafted in 1973, the former Tulsa standout became of the best players in Cowboys history. He caught 489 passes for 7,822 receiving yards and 48 touchdowns from 1973 to 1983 and turned plenty of heads playing for head coach Tom Landry.
Pearson was a three-time First-Team All-Pro, a Second-Team All-Pro in 1975, and a three-time Pro Bowl selection. He won Super Bowl XII over the Denver Broncos. He was named to the NFL 1970s All-Decade Team and was inducted into the Dallas Cowboys Ring of Honor.
The only thing missing is being called a Hall of Famer, and it absolutely crushed him to not get in this year despite being a HOF finalist.
?It hurts. They broke my heart. They broke my heart. And they did it like this. They strung it out like this. I?m sorry.?
Former Cowboys wide receiver Drew Pearson, who has worked for CBS and HBO since retiring, helped make quarterback Roger Staubach great, including in the NFC playoffs. The player many called Mr. Clutch even caught a Hail Mary pass against the Vikings in the 1975 postseason.
All he wanted was to be part of this special class. However, he will have to wait until next year to see if he will get another chance.
Pro Football Centennial Class of 2020 Inductees
Here is the list that was announced on January 15, in addition to Johnson and Cowher:
Jim Covert, OT, 1983-1990 Chicago Bears
Winston Hill, OT, 1963-1976 New York Jets/1977 Los Angeles Rams
Harold Carmichael, WR, 1971-1983 Philadelphia Eagles/1984 Dallas Cowboys
Duke Slater, OT, 1922 Milwaukee Badgers/1922-25 Rock Island Independents/1926-1931 Chicago Cardinals
Ed Sprinkle, DE/LB, 1944-1955 Chicago Bears
Steve Sabol, Administrator/President, 1964-2012 NFL Films
Alex Karras, DT, 1958-1962, 1964-1970 Detroit Lions
Bobby Dillon, S, 1952-1959 Green Bay Packers
Donnie Shell, S, 1974-1987 Pittsburgh Steelers
George Young, Contributor/General Manager, 1968-1974 Baltimore Colts, 1975-78 Miami Dolphins, 1979-1997 New York Giants, 1998-2001 National Football League
Cliff Harris, S, 1970-1979 Dallas Cowboys
Mac Speedie, End, 1946-1952 Cleveland Browns
Paul Tagliabue, Commissioner, 1989-2006 NFL