With each passing year, the fantasy football player base grows larger.
This influx of players is great as it allows for more opportunities to play with friends in your home leagues, those you've met online, or simply play on sites like Underdog or RT Sports with people you've never met before.
That said, even if you're a veteran player, the landscape changes each season, whether it's how running backs are used in the NFL or examining ADP data.
Here, we have six strategies you can deploy in your drafts right now. As we cross over into September, the final drafts will happen sooner rather than later. Let's dive in.
Don't Worry About Bye Weeks
This happens every year.
Unless this is your first year playing, you've been there before -- there's that one person who tries to avoid too many players having the same bye week or calls out another person for having too many players on the same bye week.
This really doesn't matter at all.
With fantasy football, the goal is to draft talented players that will get you into the postseason and win a championship.
During the playoff weeks, there are no bye weeks. So, sure, in theory, you may risk having one week where you need to bench a bunch of players.
However, this often isn't the case because teams look wildly different from an early September draft to Week 12, for example.
Don't even use bye weeks as a tiebreaker -- just draft the best players.
Disregard Defenses Until the Final Round
RELATED: Fantasy Football Studs & Duds: 3 Defenses that Can Win a Championship, 2 That Look like Swiss Cheese
For newer players, you may see your roster sheet and feel the need to fill out all the starting spaces before working on your bench. Still, you shouldn't consider a defense until the final round.
The D/ST position in fantasy football is the most streamable asset on your team. In fact, it may prohibit some of your success if you reach for the Los Angeles Rams or Buffalo Bills defense early because you'll be too hesitant to drop them even if they start not performing exceedingly well. Just wait until the final round.
There, you'll find DSTs like the Miami Dolphins, Cleveland Browns or the Denver Broncos, which are all stellar options to at least start the season for you.
Try To Avoid Having a WR and RB From The Same Team
We mentioned that you shouldn't put any thought into competing bye weeks, but there is one way of drafting that isn't necessarily bad but can stifle your week-to-week output.
A popular example of this predicament is drafting, for instance, Ja'Marr Chase/Joe Mixon or Jonathan Taylor/Michael Pittman. As standalone pieces, these are great players, but on the same fantasy team, it can be difficult to push your team to its highest potential. Sure, some of these players aren't so bad as they're such vital parts of their offenses it may not matter, but this could serve as that tiebreaker you're looking for. While Chase/Mixon and Taylor/Pittman are great players individually, on the field, they rely on the offense going in opposite directions, generally speaking.
So, you could have a week where one does well, but the other just does OK, which could hurt your team. There will be occasions where both players have great weeks, but those are fewer and far between.
So, take stock of your roster as the draft goes on, and keep this in mind as a tiebreaker. However, if the value is simply too good, take it and don't worry about it.
Try To Nail a Top RB Early
RELATED: Fantasy Football Studs & Duds: 7 RBs Who Can Change the Course of Any Draft
It seems like every year, the running back position in fantasy football is dwindling in terms of clear-cut reliable workhorse running backs. Heading into this season, there are fewer guys than ever that you can point to and not really have to worry about. Depending on your draft pick, it may be wise to take a top-end running back to ensure you have one on your roster.
Of course, this also depends on the league you're in. If you're in a PPR league, you may be better off leaning toward that receiver you think will get plenty of targets.
In the first round, the only non-running backs you should consider are Justin Jefferson, Ja'Marr Chase and Stefon Diggs. Other than that, aim for a running back like Taylor, Christian McCaffrey, Austin Ekeler, Derrick Henry, Najee Harris, Dalvin Cook, Joe Mixon or maybe even Alvin Kamara.
Don't Be Afraid To Punt Tight End
RELATED: Fantasy Football Studs & Duds: 4 Tight Ends to Eyeball, As Options Grow Thin
Like the running back position, there's a readily apparent drop-off in projected production at the tight end position in fantasy football.
Over the first five rounds, if you find yourself without a tight end named Travis Kelce, Mark Andrew, Kyle Pitts, George Kittle, Darren Waller or Dalon Schultz, you're better off just waiting.
A prime late-round target is Cole Kmet of the Chicago Bears. He may not be on the best team, but he'll be high in the pecking order for the team and is a great PPR sleeper.
In rounds eight and nine, where Dallas Goedert, Zach Ertz and Pat Freiermuth are going, there are other values to take there, like DeVonta Smith, Cordarrelle Patterson or even Trey Lance and Tom Brady if you have yet to take a quarterback.
Don't force the tight end just because the top talent gets taken ahead of you.
Wait on Drafting a QB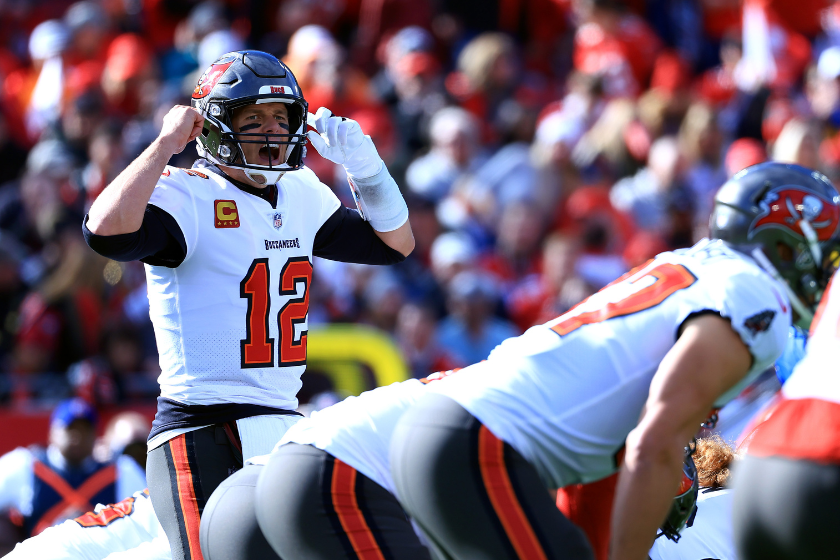 RELATED: Fantasy Football Studs & Duds: 8 QBs Who Will Make or Break A Perfect Fantasy Draft
This strategy is pretty well known, but again, there are plenty of new players. It's quite tempting to take someone like Buffalo Bills quarterback Josh Allen toward the end of the second round because of how good he is. What you need to keep in mind is the overall point differential between these options.
Looking at 2021, Allen finished with 417.7 points playing in all 17 games. The QB10 was Kyler Murray, who finished with 310.48 but missed three games. In taking a quarterback in the early rounds, you're sacrificing value on positions where they'll matter far more weekly and for end-of-the-year point totals.
For context, here is a list of quarterbacks going in round seven or later that you could target:
Aaron Rodgers

Tom Brady

Matthew Stafford

Kirk Cousins

Justin Fields
Some of these players may not be as glamorous as Allen or Lamar Jackson, but they'll play well enough to compete for a top-10 spot.
Or, in the case of Prescott, Brady and potentially Lance, inside the top five.
Enjoy all things sports?
Don't miss a story! Sign up for daily stories delivered to your inbox.