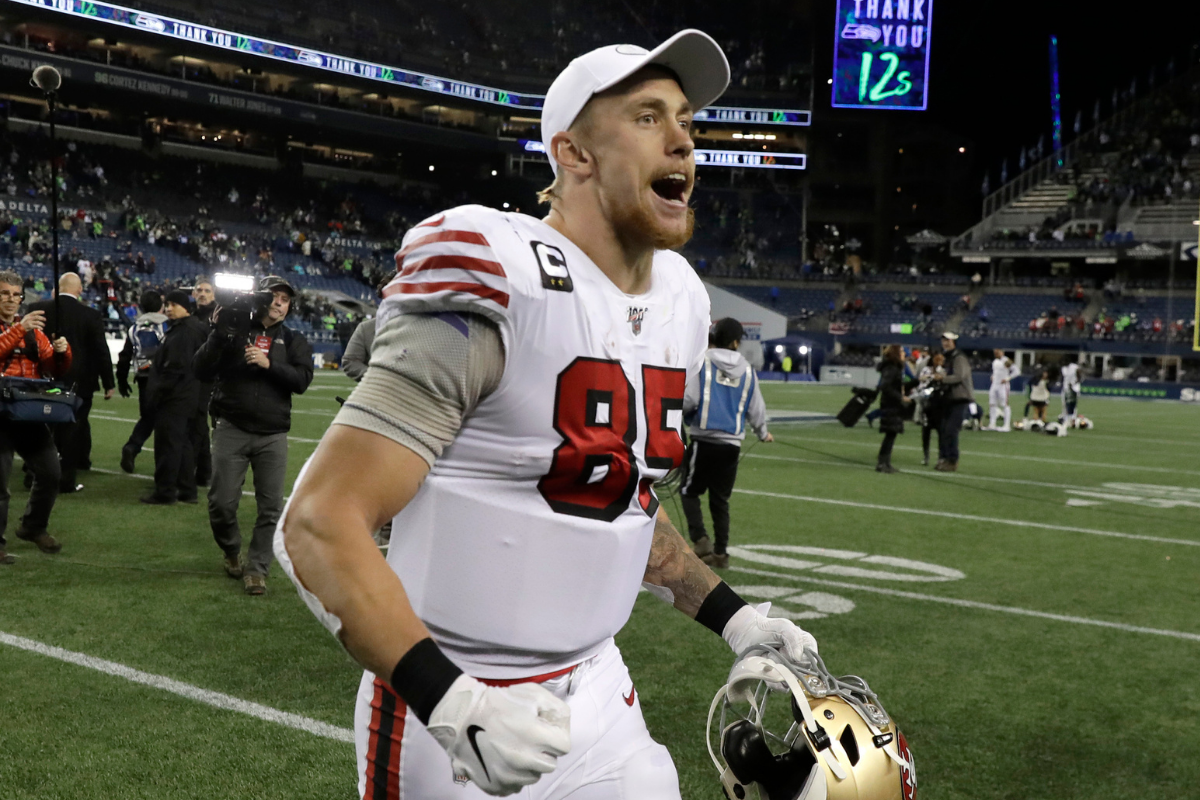 AP Photo/Ted S. Warren
George Kittle has emerged as arguably the best tight end in football over the past few seasons. The San Francisco 49ers? star helped lead the team to a Super Bowl appearance last season, and has seen his popularity skyrocket amid his ascension to stardom.
Across his first three seasons with the team, Kittle, a fifth round pick (146th overall) in the 2017 NFL Draft, has impressed. He enjoyed back-to-back 1,000-plus receiving yard seasons in 2018 and 2019, earning First-Team All-Pro honors and two trips to the Pro Bowl. His 1,377 receiving yards in 2018 is a single-season record for tight ends. He hauled in 12 touchdowns across his first three years in the NFL and logged more than 200 receptions during that span.
His 2020 campaign was unjustly cut short by a brutal injury which will require the Niners? star to go under the knife. Kittle suffered a small fracture in his left foot, and head coach Kyle Shanahan suggested the University of Iowa product would miss eight weeks. Kittle, on the other hand, is hoping to be back in as little as two weeks.
While 49ers tight end George Kittle may be itching to get back out onto the field, he has a special someone waiting at home who will make his time on Injured Reserve a bit more bearable.
George Kittle?s Wife
RELATED: Travis Kelce Breaks Up With Girlfriend of 3 Years
George Kittle is married to wife Claire Kittle, formerly Claire Till. Till comes from Dubuque, Iowa and attended the University of Iowa where, like Kittle, she was a collegiate athlete. Till was a four-year player for the Iowa Hawkeyes women?s basketball team from 2012-2016.
After dating for a while, Kittle proposed to Claire in August 2018 and the pair were married in April 2019. The proposal is a special moment for the tight end, who recounted the events in an interview on the Damon, Ratto and Kolsky Podcast.
Kittle explained that he convinced Claire they were headed to a whole photo shoot for 49ers' couples at the beach in Santa Cruz. It turned out to be a fake photoshoot, which Kittle had planned with the head photographer of the event in order to capture his proposal candidly.
Kittle's wife Claire frequently posts pics of her and her husband on social media, particularly on Instagram where the Kittle?s dropped an album of their wedding photos.
Naturally, Kittle went to Claire for comfort after the San Francisco 49ers lost to the Kansas City Chiefs in Super Bowl 54 in Miami. The game was the Pro Bowler's biggest outing as an NFL player, so it makes sense Kittle was feeling down after the loss.
George Kittle's Personal Life
Despite being born in Madison, Wisconsin, Kittle grew up in Iowa City, Iowa. He attended three different high schools, Iowa City West High School, Cedar Falls High School, both in Iowa, as well as Norman High School in Oklahoma.
His father, Bruce Kittle was also a football standout from the University of Iowa and previously worked as a college football coach.
Kittle worked his tail off at Iowa to get a chance in the National Football League. After scrapping for touches as a freshman and sophomore, Kittle stepped into a larger role in his latter two years with the Hawkeyes. He logged 10 touchdowns and over 600 yards in his final two seasons before declaring for the NFL Draft.
His NFL debut came against the Carolina Panthers in 2017. The 49ers struggled to a 1-10 start in his rookie year, but ended the season 6-10 after the acquisition of quarterback Jimmy Garoppolo — Tom Brady's former backup — from Bill Belichick and the New England Patriots.