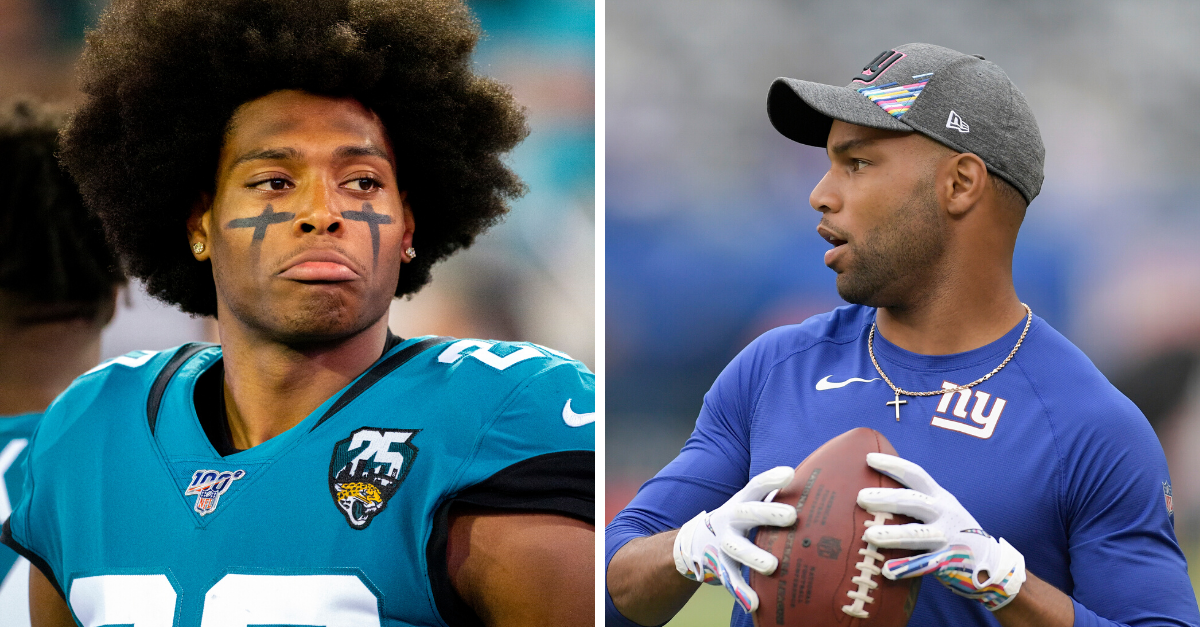 AP Photos/Stephen B. Morton (left), Bill Kostroun (right)
Break ups are never easy. Lives are forever changed, shared possessions need divided amongst both parties, and complex emotions need sorted through. Now, add a pregnancy and two NFL players to that relationship, and you've mixed up a megaton bomb waiting to explode at a moment's notice.
It all started with an Instagram photo by newly-acquired Los Angeles Rams cornerback Jalen Ramsey. The picture of the All-Pro defensive back and new girlfriend Monica Giavanna isn't much at the surface. That is, until you realize that Ramsey's ex-girlfriend Breanna Tate, the mother of Ramsey's two children and sister of New York Giants wide receiver Golden Tate, isn't in that picture.
Jalen Ramsey's Ex-Girlfriend Breanna Tate
RELATED: Paul George Once Dated (Then Cheated On) His Coach's Daughter
Ramsey's relationship with Breanna Tate ended sometime in July 2018, according to Complex, while Tate's pregnant sister was carrying the couple's second child. During that time, Ramsey — a former standout college football player at Florida State — started a long-distance fling with a "Las Vegas dancer" while still with the Jacksonville Jaguars.
Shortly after being "injured" and miraculously recovering following his trade to Los Angeles, Ramsey made his new-found love with Giavanna public in an Instagram post. Just like that he had moved on from his pregnant girlfriend.
That, according to Golden Tate himself, isn't sitting well with the family Ramsey left behind.
In a tweet on social media, the Giants receiver said Ramsey knows "he gonna have to see me" down the road.
Golden Tate on Jalen Ramsey
"I'm not happy at all with the disrespect that he's shown towards my sister, and the things he's done in the past, but I don't really want to go too much into it," Tate told The New York Post.
Ramsey, 25, forced his way out of Jacksonville and is in the shadow a monster contract extension that could make him the highest-paid defensive back in pro football. Tate, 32, played for the Detroit Lions and Philadelphia Eagles before signing a four-year, $37.5 million contract with the G-Men in 2019.
It's fair to say Tate and Ramsey haven't exactly left things on good terms between each other, either.
Back in 2018, Ramsey bashed nearly every quarterback in the NFL, including Tate's former Detroit teammate Matthew Stafford. The veteran wide receiver defended his QB as media members reminded him that the last time both players met, Tate's team won and Ramsey cried on the sideline.
New York and Los Angeles don't meet on the field in 2019, but both teams play on October 4 when the Giants travel west to take on the Rams.
Something tells me this story will rear its head once again, and some Tate vs. Ramsey action will get chippy during the football game, too.
Jalen Ramsey's Kids
At least it appears Ramsey has been an active dad to his children. Though you won't see Giants receiver Golden Tate's younger sister in any of Ramsey's Instagram posts, you will see plenty of the babies.
They're pretty adorable, too.