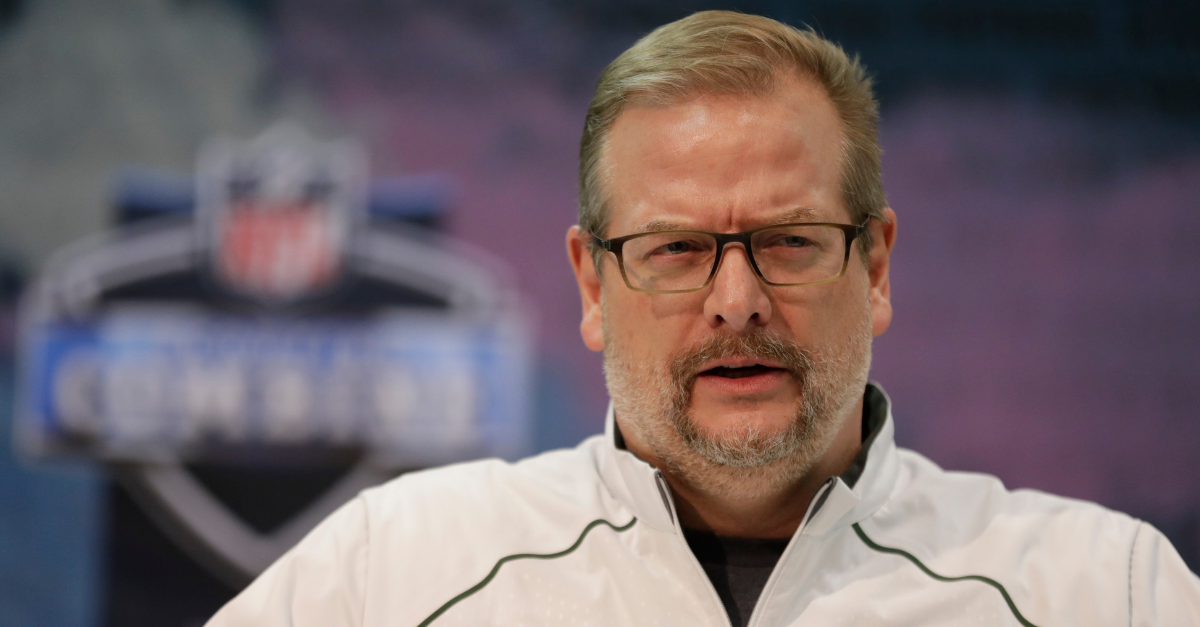 AP Photo/Michael Conroy
The 2019 NFL Draft came and went, and the New York Jets seemed pleased. The struggling franchise, which hasn?t made the playoffs for almost a decade, was finally starting to collect the right pieces to become a solid football team. Then, they decided to clean house in the front office.
A year after drafting quarterback Sam Darnold, the Jets used their top two draft picks on Alabama?s Quinnen Williams and Florida?s Jachai Polite to bolster their defensive line. They even got running back Le'Veon Bell in free agency. All was well and quiet in the Meadowlands until CEO and chairman Christopher Johnson dropped the hammer.
New York Jets general manager Mike Maccagnan has been fired after four years with the organization, effective immediately.
WATCH: Jamal Adams Injures New England Patriots Mascot With ?Painful Attack?
The Jets also fired VP of Player Personnel Brian Heimerdinger.
This literally came out of nowhere. It?s one thing to fire a GM before the draft. It?s a completely different story to do so just weeks after the most important week of his year. Perhaps this year?s picks weren?t enough to make up for some past draft busts. Maybe Maccagnan and new head coach Adam Gase had tension and couldn?t ever see eye-to-eye.
Whatever it was, it was definitely shocking.
?This morning, I informed Mike that we has being relieved of his duties as General Manager of the team, effective immediately. Mike helped to execute the strategic vision of the organization during the last four seasons and especially the past few months. However, I came to the decision to make a change after much thought and a careful assessment of what would be in the best long-term interest of the New York Jets. I will start a search for our new General manager immediately. In the interim, Coach Tase will be the acting General Manager. I would like to thank Mike for his time and effort during his tenure, and I wish only the best for him and his wife Betty.?

? New York Jets Chairman & CEO Christopher Johnson
So there you have it. GM Mike Maccagnan is out. First-year coach Adam Gase will fill in the blanks until someone new is hired.
After a 4-12 season, the Jets fired coach Todd Bowles. It was certainly the right move at the time, but apparently he wasn?t the only one on the hot seat in New Jersey.
As for a replacement, only time will tell, but ESPN?s Adam Schefter seems to be onto something.