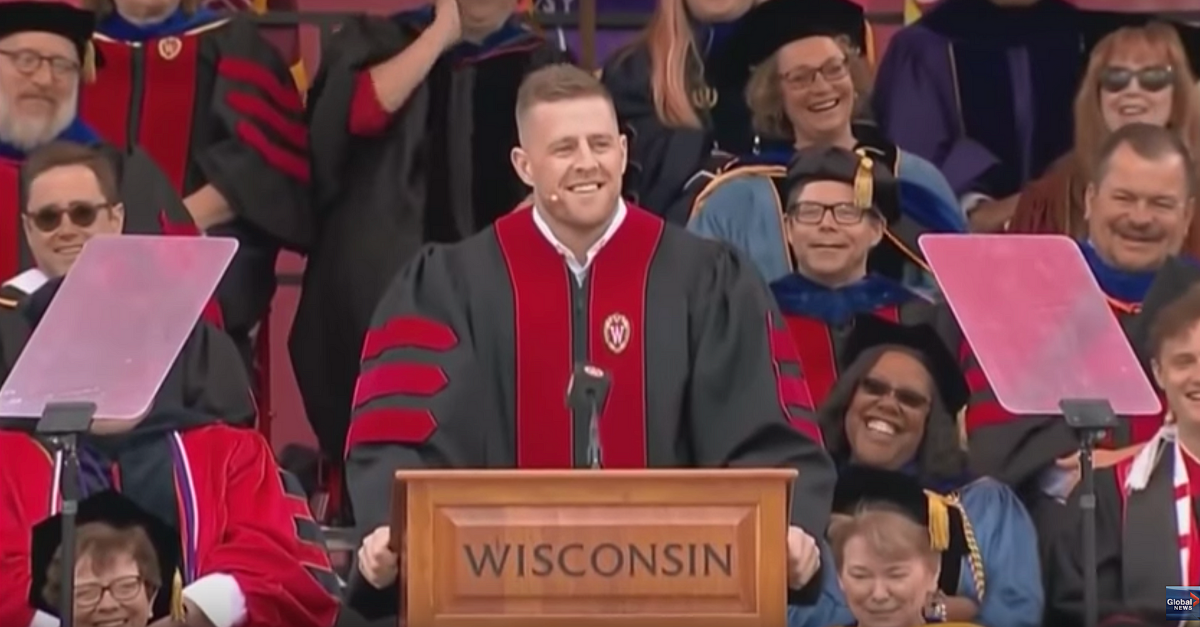 YouTube: Global News
J.J. Watt was introduced, stepped up to the microphone, and broke the podium. His commencement speech started exactly how you would envision in your nightmare. But in classic fashion, Watt overcame the adversity, calmed everybody down, and continued on with grace and elegance like he'd given thousands of these speeches before.
He raised $41.6 million for Hurricane Harvey relief efforts. He holds charity events around Texas and all over the country that improve thousands of lives. He's a Walter Payton NFL Man of the Year, five-time Pro Bowl selection and one of the most impactful athletes off the field of this generation. Still, Watt had never given a graduation speech before, yet he looked like the perfect candidate to give a talk on the lessons he's learned after 30 years.
The Houston Texans defensive end rose to stardom playing for the Wisconsin Badgers from 2009-10. Watt became the No. 11 overall pick in the 2011 NFL Draft. He's yet to graduate with his degree from the University of Wisconsin-Madison, but one of the university's most-respected sons was welcomed back with open arms for its spring commencement ceremony.
Don't worry, though. Watt does own an honorary doctorate degree from the Baylor College of Medicine.
"I have to admit," Watt began his commencement address, "that it's great to be back in a place where I can order fried cheese curds and chocolate custard, and not get looked at like I have three heads."
It was just one of the several candid moments Watt delivered to the group of 2019 college graduates. From his time as a walk-on transfer from Central Michigan through two injury-plagued years, Watt delivered his "Four Life Lessons" like a professional commencement speaker. He didn't write a copy of his speech, nor did he need to. Watt spoke from the heart and left everyone inside Camp Randall Stadium at UW-Madison wanting more from the NFL great.
Here are some of Watt's best quotes:
? "I think, and I hope, that you want to hear what I've learned throughout my time and what the University of Wisconsin taught me, what my career has taught me, what some of the things that I've been through in my life have taught me."
? "I once had a teacher who told me that my dream of one day playing in the NFL was 'unrealistic.' Well, hello."
"I grew up 45 minutes from this stadium in Pewaukee, Wisconsin."

*Cheers erupt from the stands*

"O.K. We don't have that many people in the town, so I know you're lying."
? "[Here's] the first lesson that I learned about chasing your dreams: The path to your dreams often never goes the way you imagine it will."
? "It will be difficult. It will not look the way you want it to look. But in the end, if you stay focused, if you stay true, if you have the passion for your dream, you will get there no matter how difficult that path may be. And that leads me to the second lesson that I learned, and that's that nobody accomplishes their dreams alone."
? "No matter how big you are, no matter how strong you are, no matter how tough you may be, everybody needs to ask for help at some point in their lives. We could all use a helping hand."
? "There is reason. There is good. There is true humanity out there in the world, we just shined a light on it. That [Hurricane Harvey] fundraiser, for me, shined a light on how many good people there are in the world."
? "Even on your darkest days, even throughout your nightmares when the sky is literally falling, you can learn from it. You can grow from it. There is a silver lining that you can find."
? "Remember that there's still a whole lot left for you to learn. Nobody has all the answers; you probably never will, but that's O.K. Keep learning. Keep inspiring. Keep striving to be the best version of yourself."
? "This is an incredible place that we live in. It's an incredible time. If we each do a little bit, if we each try and help each other out, if we're each not afraid to ask for help, we can do some unbelievable things."