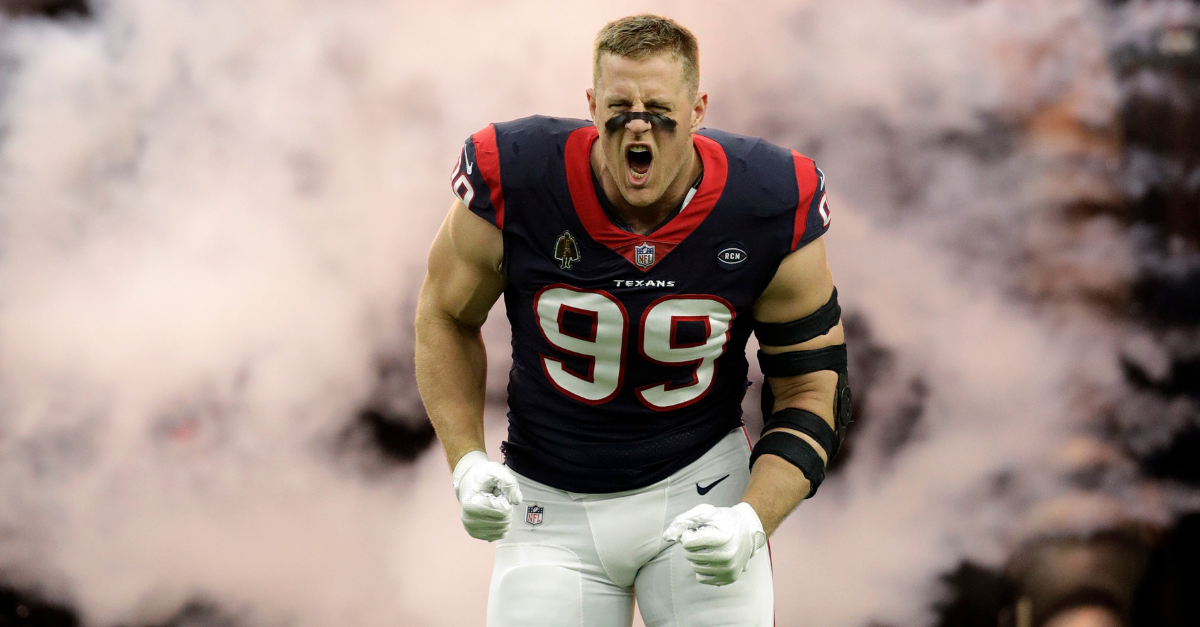 AP Photo/David J. Phillip
Ever since the Houston Texans took him No. 11 overall in the 2011 NFL Draft, the name Justin James Watt has meant so much. From his on-field dominance to his incredible charity work, there aren't many athletes in the sports world that make a community impact quite like the All-Pro defensive end. It's safe to say nobody wants any of that to end anytime soon, either.
Unfortunately, Watt's 6-foot-5, 295-pound body hasn't always cooperated with the NFL superstar. From a groin injury to a fractured left hand to back surgery to a leg left leg injury, J.J. Watt has battled through some tough times since his All-American college football playing days with the Wisconsin Badgers.
At the young age of 30, Watt could easily hang up his football cleats and retire. Several players have left the game early. New England Patriots tight end Rob Gronkowski just did it, and he's younger than Watt.
So is there a timetable for Watt to call it a career? Not so fast.
RELATED: Fractured Neck Puts NFL Star's 2019 Season in Serious Jeopardy
In an interview with ESPN following his charity softball game, Watt, a five-time Pro Bowl selection, admits the injuries have led to thoughts about life after football, but with a healthy offseason ahead, he's not looking to calling it quits at all.
It's great news for football, especially if you are a Houston Texans fan. The only people it's bad news for is NFL quarterbacks who have to face the man with 455 total tackles and 92.0 sacks in his career.
"I don't want to leave the game any time soon. I love it. Hopefully, we can say that I had two less years of pounding on my body, I had two less years of wear and tear, so that means two more years on the back end. I feel good right now. I'm excited about the season ahead. I'm excited about the team that we've got and the guys that we've got. I love it. I wouldn't trade it for anything in the world. I get to go around and chase a ball for a living and they pay me to do it. I couldn't be luckier."

— Houston Texans defensive end J.J. Watt, via ESPN
So there you have it. The three-time NFL Defensive Player of the Year and 2017 Walter Payton NFL Man of the Year is feeling good after Houston won the AFC South, and he recorded 61 tackles, including 16.0 sacks, and seven forced fumbles last year. The only thing that stings is the Texans lost to the Indianapolis Colts in the AFC Wild Card game.
In order to reach the coveted Super Bowl, Watt and the Texans have to go through the likes of Tom Brady and the Patriots and the Kansas City Chiefs.
It doesn't matter the NFL team, though. The former first round pick from Pewaukee High School in Wisconsin is ready to keep playing for as long as his body allows him.