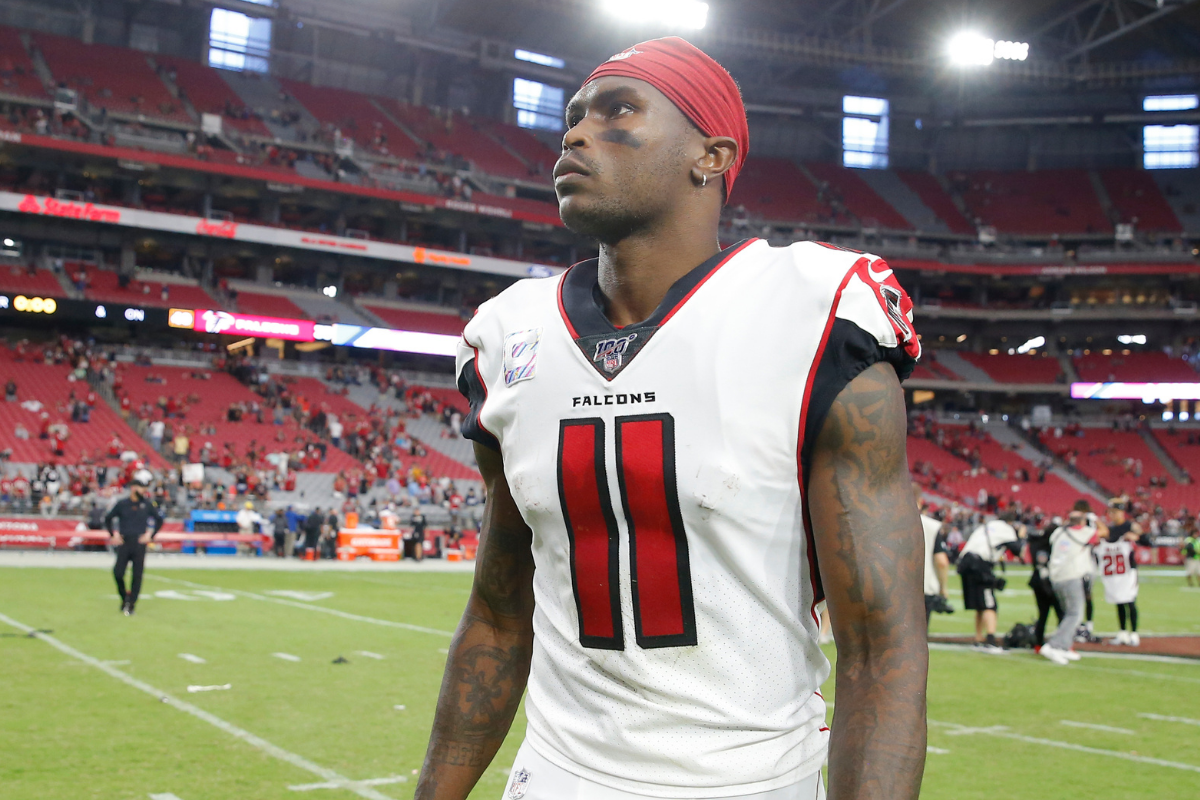 AP Photo/Rick Scuteri
From the moment he arrived on the NFL scene, Atlanta Falcons wide receiver Julio Jones has cemented himself as one of the elite pass catchers in the league.
Jones has spent his entire career in Atlanta, having been drafted by the Falcons in the first round (sixth-overall pick) of the 2011 NFL Draft out of the University of Alabama.
That has led to some money, too.
High School + College Career
Quintorris Lopez Jones, better known as Julio Jones, has earned a plethora of accolades during his time on the gridiron as a star football player, dating back to his high school and college football days. Jones attended Foley High School in Alabama where he was named Gatorade T&F High School Athlete of the Year and was honored as a USA Today High School All-American football talent. After his phenomenal Foley High School football career, Jones took his talents to Tuscaloosa.
As a member of the Alabama Crimson Tide, Jones continued to shine. He was featured on the All-SEC second team in 2008 and All-SEC first team in 2010. He was the first true freshman to start a season opener for Nick Saban's Alabama squad, and fittingly took home SEC Freshman of the Year honors.
RELATED: 20 Famous (And Infamous) People Who Went to Alabama
As a sophomore, Jones helped the Alabama Crimson Tide lift an SEC Championship victory over rival Florida, and during his junior season at Alabama, Jones led the Crimson Tide to a BCS National Championship victory.
Throughout his college tenure, Jones racked up 15 receiving touchdowns and more than 2,600 yards before opting to forgo his senior year.
NFL Career
Julio Jones took the leap to the National Football League in stride following his junior season. The Atlanta Falcons' 2011 first-round draft pick transitioned seamlessly to the NFC and continued to dominate at the game?s highest level.
Jones has been selected to the Pro Bowl seven times, including in each of the past six seasons. Additionally, Jones has earned First-Team All-Pro honors twice in his 10-year career. He has two seasons under his belt in which he was the NFL's receiving yards leader, including a stellar 2015 campaign that saw him pile up a league-high 136 receptions for 1,871 yards.
Throughout his time in Atlanta, Jones has proven year after year that he belongs in the conversation of the best football wide receiver, all the while racking up 59 career touchdown receptions as of October 2020.
Jones was a key cog in the Atlanta Falcons team that was stunningly upset in Super Bowl LI by the New England Patriots. During that playoff run which featured one of the best Falcons football team's in franchise history, the Pro Bowler recorded three touchdown receptions and 334 yards as quarterback Matt Ryan's go-to target.
While the Falcons ultimately fell short of a Super Bowl victory, Jones put up some memorable performances to help Atlanta squeeze by the Green Bay Packers and Seattle Seahawks.
Julio Jones Endorsements
Being one of the best players in the game attracts a ton of attention both on and off the field, so naturally Jones has been highly sought after in terms of endorsements. The Falcons' All-Pro wideout has landed endorsement deals from some major companies including Bose, Visa, Chevrolet and Under Armour.
Still just in his early 30s, Jones has a few years under his current contract before becoming an unrestricted free agent. If he can continue to shine on the gridiron, he can expect another lucrative payday when his deal with the Atlanta Falcons expires.
That's something that will put a smile on the face of his mother, Queen Marvin.
Julio Jones? Net Worth
The former Crimson Tide star turned Atlanta Falcons ace has an estimated net worth of $50 million, according Celebrity Net Worth.
Having been such an esteemed wide receiver throughout his days as an NFL player, it only makes sense that the Alabama product would be rewarded with a substantial contract extension.
The Falcons extended him on a three-year, $66 million deal in 2019 that will see the 31-year-old Jones pocket $64 million in guaranteed money, including a $25 million signing bonus. The deal is set to run through the 2023 season.
His current salary sees him pocket $22 million annually. Throughout his 10-year NFL tenure, Jones has amassed more than $125 million in career earnings, according to Spotrac. That figure is set to rise to as much as $163 million when his contract with the Falcons is up.
With at least three more seasons as a member of the Atlanta Falcons, Jones has plenty of time to continue to create matchup nightmares for division rivals such as the Carolina Panthers and Tampa Bay Buccaneers.