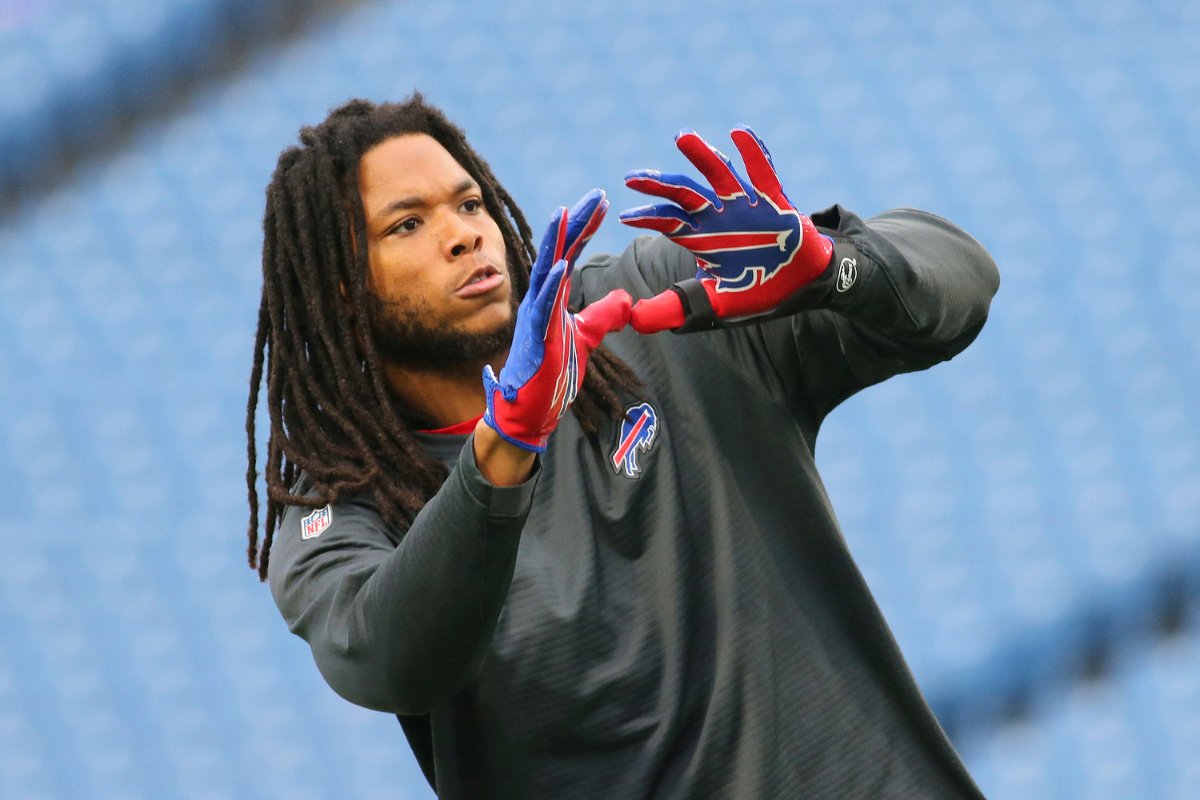 AP Photo/Jeffrey T. Barnes
Wide receiver Kelvin Benjamin doesn't want you to call it a comeback.
Let me rephrase that: tight end Kelvin Benjamin doesn't want you to call it a comeback.
More of a sabbatical, a quick run to Popeyes to bulk up for the season with his buddy Booger McFarland.
It's been three years since the former Florida State product appeared in a regular-season pro football game.
This go around, the New York Giants are giving him a chance at a new position.
Kelvin Benjamin Attempting NFL Comeback
RELATED: What Happened to Plaxico Burress and Where is He Now?
Benjamin came into the league as the 28th overall pick by the Carolina Panthers in the 2014 NFL Draft. At 6-foot-5 and fresh off the 2013 BCS National Championship with the Seminoles, he was a big-bodied receiver who used physicality to create space.
He seamlessly fit into the Cam Newton-led offense as a rookie, totaling 1,008 receiving yards and nine touchdowns.
From there on out, he was the guy you stashed on your fantasy roster because "he's due" and "he has a great matchup this week."
Even though "this is his breakout year" and "if he got the targets he would be a bona fide WR1" was said repeatedly, Benjamin gradually declined and never returned to form after tearing his ACL prior to the 2015 season.
Stints with the Buffalo Bills and Kansas City Chiefs noticeably displayed his lack of effort and production.
McFarland ended up being prophetic when he said Benjamin is "probably a Popeyes biscuit away from being a tight end" in 2018.
The 30-year-old earned a tryout as a tight end with the New York Giants this offseason and performed well enough at rookie minicamp to ink a one-year deal.
The contract reunites Benjamin with general manager Dave Gettleman, who drafted the former wideout when he was with the Panthers.
Benjamin is the second player to attempt a comeback at tight end in recent weeks, following Tim Tebow's reconnection with his old Florida coach Urban Meyer and the Jacksonville Jaguars.
The former first-round pick is already getting personal instruction from head coach Joe Judge.
Making the roster won't be a cake walk. Pro Bowl tight ends Evan Engram and Kyle Rudolph hold the top spots on the depth chart.
If Benjamin can adjust to the position and showcase some of his old skills, he'll provide another receiving threat for quarterback Daniel Jones.
Based on history, that's a big if.