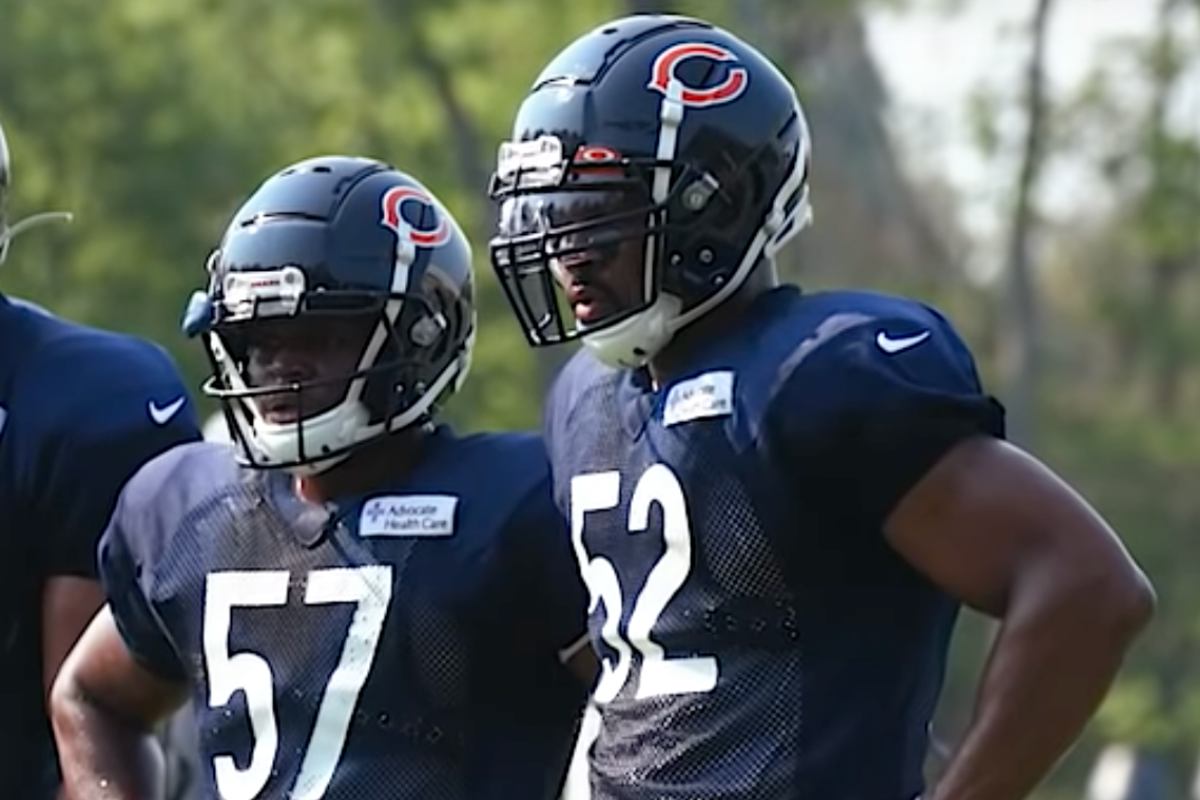 Screenshot from YouTube
Khalil Mack is one of the most-feared pass rushers in the NFL today.
After starting his career with the Oakland Raiders, the edge rusher extraordinaire was traded to the Chicago Bears in a mammoth deal that reconfigured the NFC North. Mack has made Green Bay Packers quarterback Aaron Rodgers sweat more than Jordan Love ever has.
However, Mack isn't the only football player in his family, or even the Windy City. He is the older brother of Ledarius Mack, who is trying to forge a football legacy of his own.
Khalil Mack's Football Career
RELATED: Trevor Lawrence?s Brother is His Artist Look-A-Like
We don't want to give Ledarius Mack a younger brother complex, but before we get to him, we want to talk about his brother a bit. After all, Khalil has earned it. After all, he's the guy who put the University of Buffalo Bulls on the college football map.
Seriously, did you think about them for a second before Mack showed up and started tearing through MAC quarterbacks?
Mack's 2013 campaign was enough to earn him a Second-Team All-American honors. He racked up 100 tackles, 10.5 sacks, and five forced fumbles in his last year as a college player. In fact, when he graduated Mack held the record for most career forced fumbles with 16.
The Raiders took Mack with the fifth-overall pick in the 2014 NFL Draft. It was the first time a Buffalo player was selected with a first-round draft pick, much less a pick in the top five. His rookie year was a bit unremarkable, but then his career really took off.
In 2015, Mack picked up a whopping 15 sacks and 23 tackles for loss. In addition to making his first Pro Bowl, Mack made history by becoming the first player selected to an All-Pro team as both a defensive end and outside linebacker.
While his sack total dropped to 11 in 2016, Mack was still named Defensive Player of the Year.
During the 2018 offseason, Mack held out for a hefty contract, which led to an impasse with the Raiders. General Manager Ryan Pace of the Bears decided to go all-in on Mack, trading an abundance of draft picks for the pass rusher, and then signing him to a contract for six years and $141 million, which made him the highest-paid defensive player in NFL history.
In his first season as a lineman for the Bears, Mack tallied 12.5 sacks and six forced fumbles, showing off why Chicago gave him that big deal. He has made the Pro Bowl the past two season as well.
Khalil Mack's Brother Ledarius
It's now time to focus on linebacker Khalil Mack's younger brother Ledarius. While the brothers went to different Florida high schools, Ledarius would eventually follow his brother's footsteps in college.
After a spell at ASA College in Miami, Ledarius turned his shorts in for a parka to play up in Buffalo. While he wasn't as successful as his older brother, Ledarius did have eight sacks in 2019.
Ledarius was not selected in the 2020 NFL Draft, but he was not deterred. He signed as an undrafted free agent with the Bears — his brother's team — to try and grab a roster spot. Ladarius made it to training camp and into the preseason, but was cut before the regular season began.
All was not lost, however, because Ladarius signed to join Chicago's practice squad.
Ladrius is trying to make a splash and get out of his brother's shadow, which is hard given that Khalil is one of the titans of pass rushing in the NFL (though not a Tennessee Titan, to be clear).
Still, Ladarius is only 24, and he could potential contribute on special teams, if not as a pass rusher.
While guys like Khalil Mack and Justin Fields will get all the love by the likes of ESPN, and with good reason, every NFL team needs reliable guys down the depth chart.
Maybe Ladarius can do that for the Bears. Or maybe he can hang out with Aaron Rodgers' brother Jordan and lament being second banana in the family.