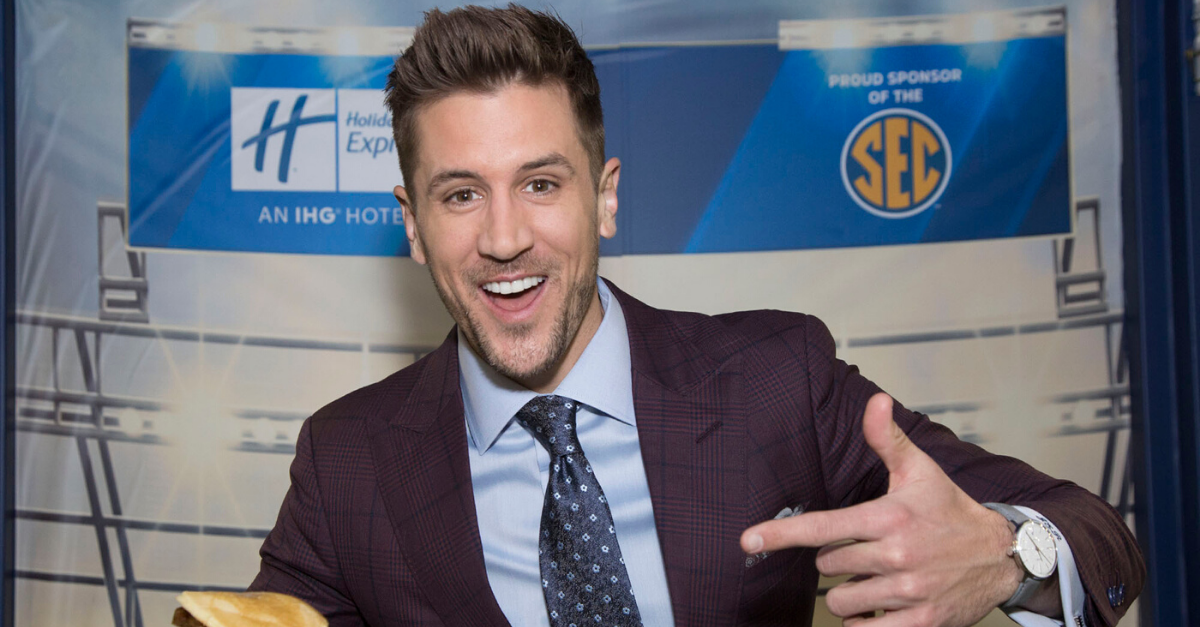 Photo by Phil Skinner/Invision for Holiday Inn Express/AP Images
To many, Jordan Rodgers has his own celebrity identity. To others, he is the younger brother of Green Bay Packers quarterback Aaron Rodgers. Both of them are correct — as each played college football and carved out successful lives and careers — but the amount of tension and family drama between them has more to unpack than moving into a new house.
Aaron Rodgers is best known for his NFL career and, secondarily, his dating life with Olivia Munn and now Danica Patrick. Jordan Rodgers is most famous for starring on ABC's "The Bachelorette" TV show and his engagement to JoJo Fletcher.
Jordan is close with brother Luke Rodgers, including being the best man in the oldest sibling's wedding in 2019, but not his brother Aaron.
When it comes to Rodgers family matters, it's complex and something not a whole lot of people across the United States, or world, could ever truly understand.
Jordan Rodgers Football Career
RELATED: Aaron Rodgers' Signature Plays Prove He's the 'Hail Mary King'
A Chico, California native, Jordan Rodgers is son of Ed Rodgers and Darla Rodgers. His older brother Aaron Rodgers starred at Pleasant Valley High School, played his college football at Butte Community College and the University of California, and is a two-time NFL MVP quarterback with the Green Bay Packers.
Jordan, much like Aaron, played quarterback at Pleasant Valley and started his college football career at Butte College. He then transferred to Vanderbilt University and led the Commodores in back-to-back bowl game appearances for the first time in school history.
He went undrafted in the 2013 and spent time with the Jacksonville Jaguars, Tampa Bay Buccaneers and Miami Dolphins in the NFL and the BC Lions of the CFL.
Although his football career wasn't as glamorous, Jordan has a life that extends beyond being just Aaron Rodgers' brother.
Jordan Rodgers on "The Bachelorette"
Jordan Rodgers was a contestant on "The Bachelorette" season starring Joelle Fletcher in 2016. The two hit it off well, and JoJo was getting ready to go with Jordan to California for the hometown dates portion of the TV show.
Right before the trip, Jordan told JoJo who would be there. It was everyone but Aaron Rodgers, the middle child and his famous NFL brother. He admitted they didn't have much of a relationship and weren't exactly on speaking terms.
That, of course, made JoJo (and the rest of social media) sad, but that didn't stop their relationship. The happy couple got engaged during the Season 12 finale.
Their wedding was postponed due to the coronavirus pandemic and COVID-19 outbreak, but they still plan to get married in 2021.
The Rodgers Family Feud
Aaron Rodgers and his younger brother Jordan Rodgers haven't been on speaking terms for a while. That came out during Jordan's time on "The Bachelorette", then confirmed by their father Ed Rodgers to The New York Times.
"Fame can change things," Ed Rodgers said in 2017.
Aaron told WISN 12 Sports that he didn't watch the show and felt it was "a little inappropriate to talk publicly about family matters." Just as the initial comments were starting to fade, it picked back up in a pretty nasty way.
After the Paradise, California, wildfires in 2018, Aaron donated $1 million toward community relief and recovery efforts. It was well-received on social media, but not necessarily to Jordan, who wrote a scathing message on his Twitter account, @jrodgers11.
"PLEASE DONATE, SPREAD AWARENESS & SEND LOVE. But when your own Mom is home alone during the fires, car packed ready to evacuate, & you miss the fundamental first step of compassion; calling your parents to make sure they are safe…. Everything else just feels like an act."
Whether or not they are included in the rift, the entire family is involved and these kinds of things on social media are likely only a small glimpse into the situation.
Jordan Rodgers on SEC Network
Jordan Rodgers was hired by ESPN in July 2016 to be a college football analyst on the SEC Network. He was in the SEC Saturday Night booth the following season and his role has expanded over the years.
According to Andrew Marchand of the New York Post, Rodgers will join Tim Tebow on "SEC Nation" during the upcoming college football season. Laura Rutledge is also returning to be the program's host, while Paul Finebaum and Marcus Spears will leave to focus on other programs, including Spears on NFL Live.
The 31-year-old Rodgers will have a "Kirk-Herbstreit-type position" on SEC Network, according to The Post. Herbstreit, of course, is a big part of ESPN's College GameDay each Saturday in the fall.
SEC football is now his career focus. Breaking down touchdowns of Alabama, Auburn, Florida, LSU, Georgia, Tennessee during NCAA games will be his specialty.
Just don't ask the SEC Network analyst about his NFL star brother. That's personal information best kept between them.