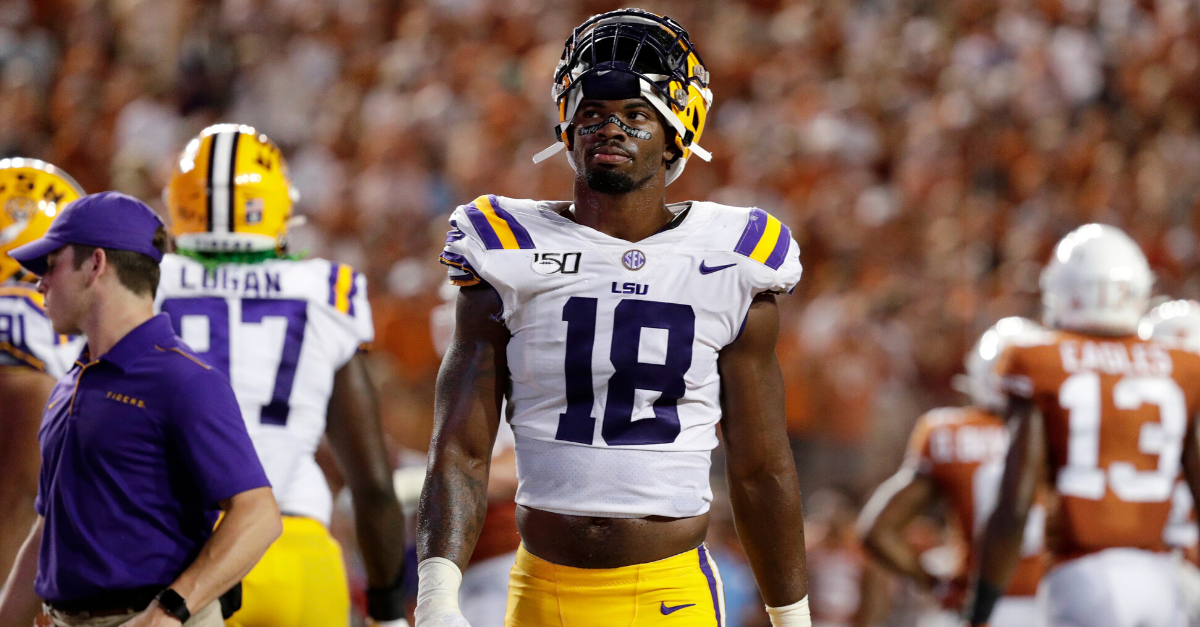 AP Photo/Eric Gay
Former LSU outside linebacker K'Lavon Chaisson isn't motivated by money. He isn't motivated to buy his mother a new car, like Alabama's Jerry Jeudy. In the same way that LSU's Joe Burrow pushes himself to make his former football-playing father proud as he watches from the stands, Chaisson wants to make his former linebacker father proud.
The only difference is Kelvin Chaisson isn't here.
That doesn't mean the elder Chaisson hasn't been with his son throughout his high school and college football career. He likely shed tears when K'Lavon committed to the LSU Tigers in 2017. He probably clapped when the outside linebacker recorded his first NCAA sack against Chattanooga as a freshman. And you can bet Kelvin was jumping for joy when his son earned Defensive MVP honors in the College Football Playoff Semifinals against Oklahoma, a game before winning a national championship in New Orleans.
Kelvin Chaisson has been cheering for his son all along the way, and he'll do so when his son's name is called during the 2020 NFL Draft. Not from the stands. Not from home watching TV. From up above, in a better place. That's what K'Lavon believes, and it's what motivates him to be great.
"That's my biggest motivation, because I always want to make him proud," he told The Houston Chronicle in April 2020.
Chaisson's Dad Was Shot and Killed
RELATED: Russell Wilson?s Mom Building ?Portable Hospitals? to Fight COVID-19
It was after midnight one night in November 2014 when police responded to a fatal shooting in Houston. The man dead was Kelvin Chaisson.
The woman, who neighbors said was Chaisson's girlfriend, had shot him and claimed self defense. The two reportedly argued before things turned deadly.
"Both individuals had weapons. The female shot her boyfriend, killed him," Houston Police officer Cory Sharp told KHOU 11.
Chaisson was 33 and had four children. K'Lavon is the older brother to Kirrian, Kiyah and Kydric.
With his father gone, K'Lavon told himself he knew he had to make it to the NFL to provide for them. At the very least, he'd need to attend college and leave with a degree.
?I want to make sure I?m wealthy enough to take care of my family,? he told The Advocate. ?It?s not really, ?Aw man, I've got to make it (to the NFL) and if I don?t, I won?t succeed in life.?

?I?m going to LSU to handle my business."
Chaisson Motivated By Father's Death
K'Lavon Chaisson was still a four-star prospect who'd kept his lips tight regarding his recruiting when he wore Baylor gloves and a Baylor towel at The Opening regional in Houston, Texas, in 2016.
Some thought the North Shore High School (Houston, TX) star was choosing the in-state Baylor Bears. He was simply honoring his late father, who played linebacker at the Big 12 school from 1999 to 2001.
"It's all because of my father," K'Lavon told Bleacher Report in 2016. "He went to Baylor, and he was a big fan of where he went. I was, too, when I was little. I just decided to do this for him and wear all the Baylor things he had."
Of course, K'Lavon could've played for Baylor and followed in dad's footsteps.
By the time he was a senior, he was rated a five-star recruit and the No. 11 recruit in the nation. He fielded scholarship offers from major SEC and Power 5 programs like LSU, Florida, Georgia, Florida State, Texas A&M, Nebraska, Oklahoma and…Baylor.
He committed to head coach Ed Orgeron's LSU Tigers in 2017 and stepped foot on campus in Baton Rouge that same year.
Since then, Chaisson has blossomed into one of the more gifted pass rushers and defensive ends in college football. The 6-foot-4, 250-pounder racked up 9.5 sacks, 19 tackles for loss and 92 total tackles in 24 games across three seasons.
Despite suffering a torn ACL in LSU's 2018 opener against Miami and missing the entire season, Chaisson came back stronger than ever in his junior season to post 6.5 sacks, 60 tackles and a forced fumble. He was an instrumental part of a Coach O-led Tigers defense loaded with NFL talent.
A setback like that was nothing compared to what he had gone through already.
?I know my dad doesn?t like excuses and he always wanted me to work my hardest in everything I do and give 100-percent,? Chaisson told 247Sports. ?He always stressed playing hard on every play and just go out there and do what you. I know my dad would be happy with how I?m doing if he was here right now."
Many NFL mock drafts have pegged Chaisson as a first-round pick. Where the NFL draft prospect ends up at the next level isn't as important as the fact that he's simply made it to the next level.
And Kelvin Chaisson will be right there with him.