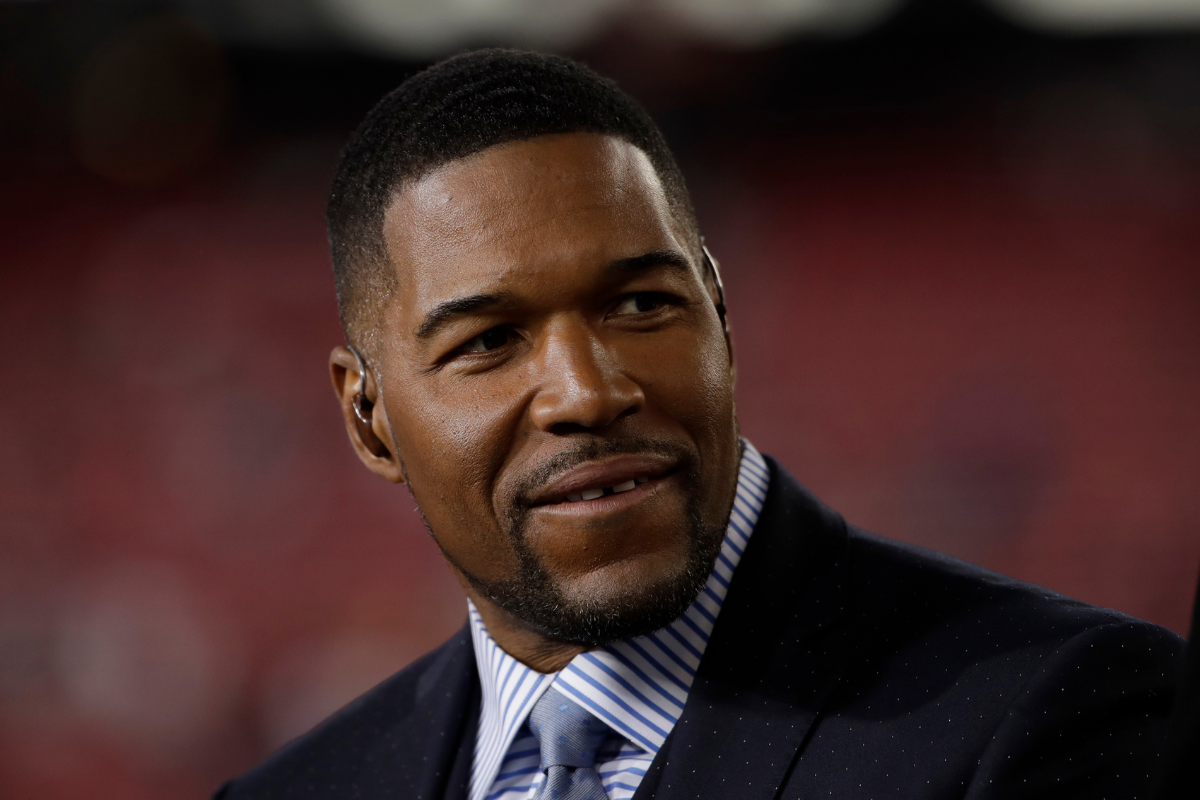 AP Photo/Marcio Jose Sanchez
Once upon a time, former New York Giants defensive end Michael Strahan was one of the baddest dudes playing in the NFL. He was a sack machine, the league's most-feared pass rusher and one of the highest-paid players. He's successfully turned his retirement career into a multi-million dollar cash cow on television, too, but there was a big fight for some of that money.
A nasty divorce with ex-wife Jean Strahan back in 2006 continues to get even uglier. The split agreement back in 2006 originally gave Jean $15.3 million plus $18,000 per month in child support for their twin daughters, Sophia and Isabella. The child support was decreased to $13,000 in 2009, but there was still a big court battle over a decade later.
According to Yahoo! Finance, Jean Strahan claimed Michael Strahan owed her over $500,000. She was looking for over $320,000 in back child support and another $225,000 to help cover half of their daughter's horseback riding bills, something Jean says Michael agreed to pay.
The Pro Football Hall of Famer accused his ex-wife of physically and emotionally abusing their daughters and sought sole custody, according to documents obtained by TMZ.
Later in 2020, Strahan and his ex-wife settled on the custody claims, agreeing to joint custody. As of this writing, though, the financial battle continues.
However, even if the former American football player is forced to pay the insanely large bill, he definitely has the money to do it, thanks to a massive net worth.
Michael Strahan's NFL Career
RELATED: Odell Beckham Jr.'s Net Worth: One-Hand Catches & Handfuls of Cash
Michael Anthony Strahan, a Houston, Texas, product and graduate of Westbury High School, was born to Louise Strahan and Gene Willie Strahan. He spent a good chunk of his early life living in Mannheim, Germany, where he began playing football until he moved back to Texas during his senior year.
After a strong career at Texas Southern University, Strahan became a second round pick (No. 40 overall) in the 1993 NFL Draft by the New York Giants. He spent his entire football career in the Meadowlands and has one of the best resumes in National Football League history.
Across his professional career 1993 until his retirement in 2007, Strahan compiled over 850 tackles and 141.5 sacks. He was named to seven Pro Bowls, made First-Team All-Pro four times, won the NFL Defensive Player of the Year in 2001 and helped the Giants win Super Bowl XLII against Tom Brady and the New England Patriots.
For his efforts, the superstar football defensive end was named to the NFL 2000s All-Decade Team, the New York Giants Ring of Honor and the Pro Football Hall of Fame.
According to Spotrac, Strahan earned over $76 million in total cash as a professional football player, including $4.5 million during his final season.
Michael Strahan's TV Career
View this post on Instagram
View this post on Instagram
After retirement in 2008, the American football player joined the "Fox NFL Sunday" crew and was a big part of "Fox NFL Thursday." Although the gridiron is his love, Strahan has made a big splash on talk shows.
Strahan got his big break when he was the co-host of "Live! with Regis and Kelly" in 2010 and took over the full-time role two years later on "Live! with Kelly and Michael" alongside Kelly Ripa when Regis Philbin left. Strahan left the show in 2016 and has been on ABC's "Good Morning America"—where he won a Daytime Emmy award for Outstanding Talk Show Host—as well as "Strahan and Sara." Most recently, the show was rebranded "Strahan, Sara, and Keke" alongside Sara Haines and Keke Parker.
The former NFL player has also been hosting "The $100,000 Pyramid" game show since 2016.
Strahan's salary, which include his TV shows such as GMA and endorsements, is approximately $17 million each year, according to Celebrity Net Worth.
Personal Life & Family
View this post on Instagram
Strahan split from his first wife, Wanda Hutchins, in 1996. They have two children together—Tanita Strahan and Michael Strahan Jr. Strahan then married Jean Muggli in 1999 and had twin daughters together. They divorced in 2006.
He was also engaged to Nicole Mitchell—Eddie Murphy's ex-wife—for five years before they broke off their engagement.
Michael Strahan Net Worth
View this post on Instagram
From professional football superstar to football analyst to media personality, the 49-year-old Strahan has tackled a lot since his days of breaking the NFL's single-season sack record.
Michael Strahan's net worth is estimated around $65 million, according to Celebrity Net Worth.
So no matter what happens in court, there's no doubt Strahan can cover it.
This post was originally published on February 4, 2020.