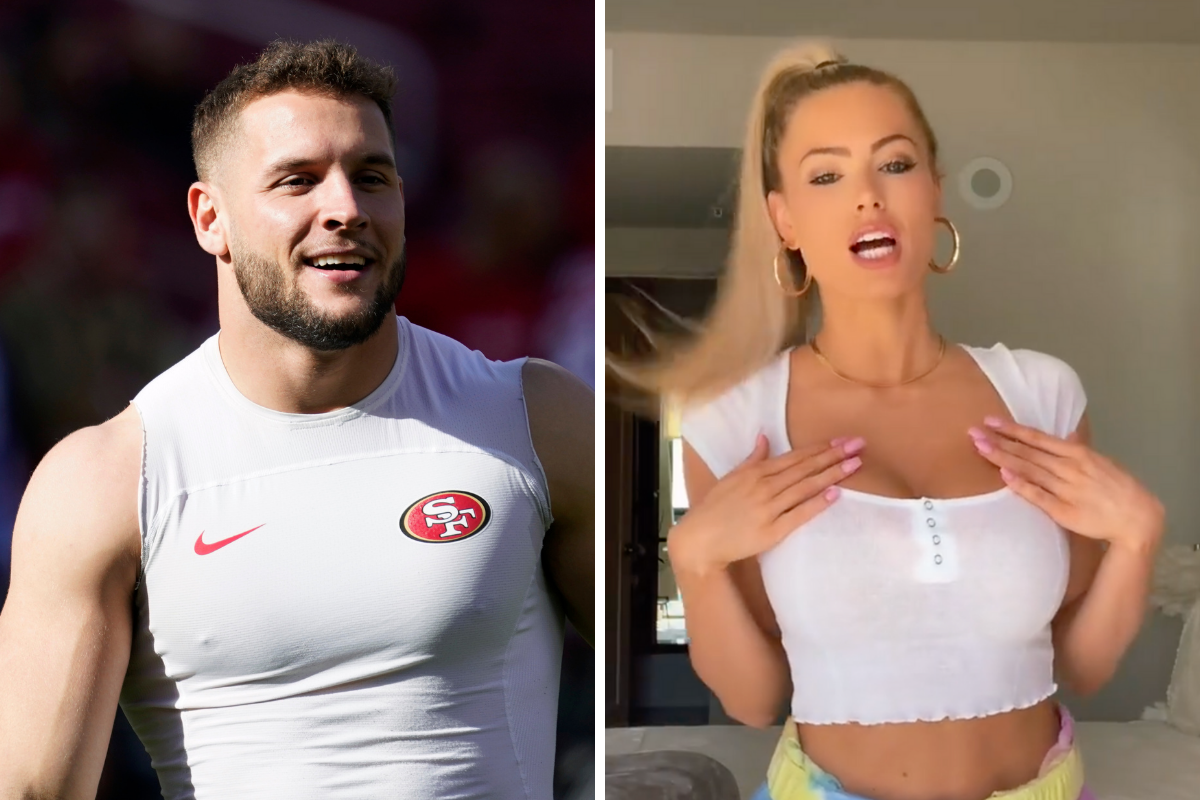 AP Photo/Tony Avelar (left), Screenshot from TikTok
Nick Bosa is a young football star with talent, money and fame. It should come as no surprise, then, that in today's age of social media influence, the San Francisco 49ers defensive end has found himself an online cheerleader who is a TikTok influencer and Instagram model.
Her name is Jenna Berman, and you might not recognize her in a crowd. That's not to say the bombshell model goes unnoticed; Berman is sure to turn heads in any setting. Somewhere along the way, she got the attention of fellow South Florida native Nick Bosa, and the two have been hotter than a Miami summer ever since.
So, just who is Nick Bosa's model girlfriend?
Nick Bosa's Girlfriend Jenna Berman
View this post on Instagram
View this post on Instagram
RELATED: Justin Verlander?s Supermodel Wife Kate Upton Helped Save His Career
Jenna Berman is a social media influencer who previously dated high-profile athlete and St. Louis Cardinals star pitcher Jack Flaherty. No, she is not related to ESPN personality Chris Berman.
She's from South Florida and attended Florida Atlantic University in Boca Raton, Florida. She's currently working toward becoming a physician assistant and co-founded a dessert shop called Berman Sisters Cookie Co. with her sister Jordan.
Berman also likely makes money from apps like TikTok and Instagram, where she has some serious followings.
The model boasts over 250,000 followers on Instagram and another one million followers on TikTok, where she both dances and shows off her NFL boyfriend.
Are Bosa and Berman destined to fade or last forever? Perhaps their fate is written in the stars.
Are They Instagram Official?
A lap dance is as official as anything, I suppose.
Though Bosa was reportedly with Madison Gesiotto during the 2019 NFL Draft, Bosa and Berman have been together since at least April 2021. Bosa and Berman were trending in the TMZ circuit after posting pics together to Instagram, taken on a boat in Miami. San Francisco 49ers teammates Dre'Mont Jones and Solomon Thomas congratulated Bosa on the relationship, and that's all the confirmation available.
Berman apparently lives and works in Miami, near Bosa's native Fort Lauderdale. The pair have been an item during the 2021 offseason, but things may not be so easy once Bosa returns to the Bay for the NFL season. Then again, she's a TikTok influencer and Bosa has a net worth valued at over $28 million, so I'm sure they can scrounge up a few plane tickets between the two of them and work something out.
Nick Bosa NFL Career
Nick Bosa is an American football player for the San Francisco 49ers. The 23-year-old defensive end has so far played two seasons in the National Football League. Bosa is the younger brother of Los Angeles Chargers defensive end Joey Bosa and the boyfriend of Instagram model Jenna Berman.
Bosa was born and raised in Fort Lauderdale, Florida. His defensive end play at St. Thomas Aquinas High School made him a five-star recruit. He committed to head coach Urban Meyer at the Ohio State University.
Bosa's destructive first two seasons at Ohio State gained him All-Big Ten Team honors and a Big Ten Defensive Lineman of the Year Award in 2017. The Buckeyes performed well during Bosa's tenure, culminating in a Cotton Bowl victory over USC. (However, the year prior, Clemson creamed OSU in the Fiesta Bowl, 31-0).
The talented edge rusher underwent core muscle surgery during the 2018 college football season after only three games. With months of rehabilitation ahead, Bosa declared for the 2019 NFL Draft.
With the second overall pick in the first round of the 2019 NFL Draft in New York, the San Francisco 49ers selected Nick Bosa. During the NFL Scouting Combine, Bosa met with the top eight teams of the draft, including the San Francisco 49ers, New York Jets, New York Giants, Jacksonville Jaguars and Detroit Lions. Bosa did his due diligence, but the Bay Area won the Bosa Lottery. The NFL player paid it forward, earning the Defensive Rookie of the Year and a trip to the NFC Pro Bowl in his first season.
As a unit, San Francisco went as deep into the playoffs as you can go. The team beat Aaron Rodgers and the Packers in the NFC Championship and played in Super Bowl LIV. They lost to Patrick Mahomes and the Kansas City Chiefs, but who could fault them for that? The future looked bright for Nick Bosa. Then 2020 happened.
Bosa tore his ACL in Week 2 of the 2020 NFL season against the Jets, ending his sophomore campaign. Adding insult to injury, the Niners went 6-10 the rest of the season. Bosa remained a loyal teammate and committed to his rehabilitation process, determined to come back stronger than ever.
Hopefully, Nick Bosa returns to his dominant self. He'll have one fan in the stands, too: Jenna Berman.