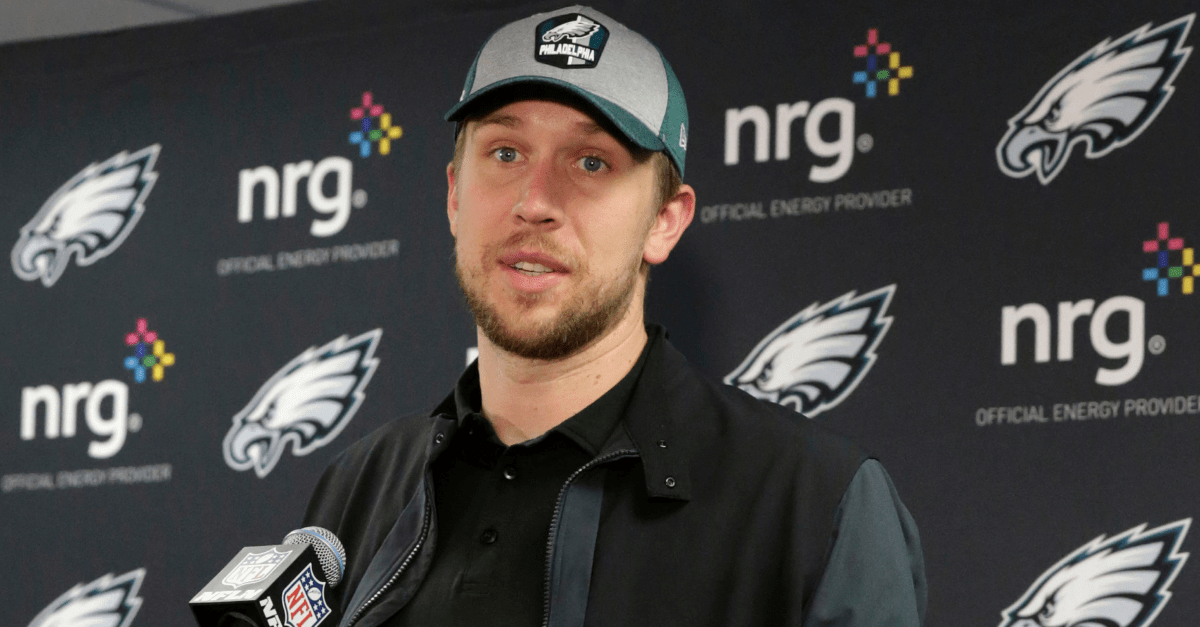 AP Photo/David Banks
Philadelphia Eagles coach Doug Pederson has made a decision. It certainly wasn?t an easy one, but the choice had to be made. Carson Wentz will be the starting quarterback going forward, and Nick Foles will likely exit the City of Brotherly Love this offseason.
The NFL can be a cruel business at times, and this is one of the most glaring examples. There?s no doubt the 6-foot-6 Foles is the league?s most decorated backup quarterback, but there was no way the Eagles could keep both signal callers after losing in the NFC Divisional Round to the New Orleans Saints.
RELATED: Nick Foles Has a "Self-Destruct" Clause in His Contract
Foles, a fan favorite and legend in Philly with a Super Bowl LII MVP to his name, earned $9 million guaranteed this season, and he was worth every penny. A base salary of $4 million, a roster bonus of $3 million, and a signing bonus of $2 million was a nice reward for winning the Super Bowl against the New England Patriots last season and to be around just in case Wentz got hurt again.
Then, it happened. Wentz was sidelined with a back injury and Foles Magic appeared again, with Philadelphia winning the NFC Wild Card game against the Chicago Bears. The season is now over after losing to the New Orleans Saints, and Foles will be looking for some real estate somewhere else in the coming months.
The reason for Foles leaving is simple: The Eagles simply cannot afford him. If they wanted to keep him, and needing to exercise the option on his contract, they would have to pay him $20 million next season. No matter how good he is, especially in the playoffs, or how injury prone Wentz has been, that price tag is not worth it.
So Philadelphia will likely let Foles, an Austin, Texas native who completed 72 percent of his passes for 1,413 yards with seven touchdowns and four interceptions, enter free agency and watch him play for the highest bidder next season.
The top destination? It has to be the New York Giants.
With 38-year-old Eli Manning in the winter of his career, it makes the most sense for the Giants to pony up the cash and make this happen. Sure, teams such as the Denver Broncos, Miami Dolphins, Jacksonville Jaguars, Oakland Raiders, and Washington Redskins might need a new quarterback, but the soon-to-be-30-year-old Foles would have better playmakers with running back Saquon Barkley and wide receiver Odell Beckham Jr. than any other potential destination.
And what better way to get back at your NFC East rival than to steal the quarterback that won them a lot of big games over the last two seasons?
It wouldn?t necessarily be fair for Manning, who is still expected to play in 2019, but it isn?t exactly fair Foles is seemingly getting kicked to the curb, either. Plus, Giants owner John Mara and head coach Pat Shurmur can start planning for the future.
There is no reason to take a gamble on a quarterback at No. 6 in the 2019 NFL Draft and hope he?s ready to play when Manning retires. The entire NFL knows what they?d get with Nick Foles, who will be a free agent. So it?s time for the Giants to make it happen before it?s too late.