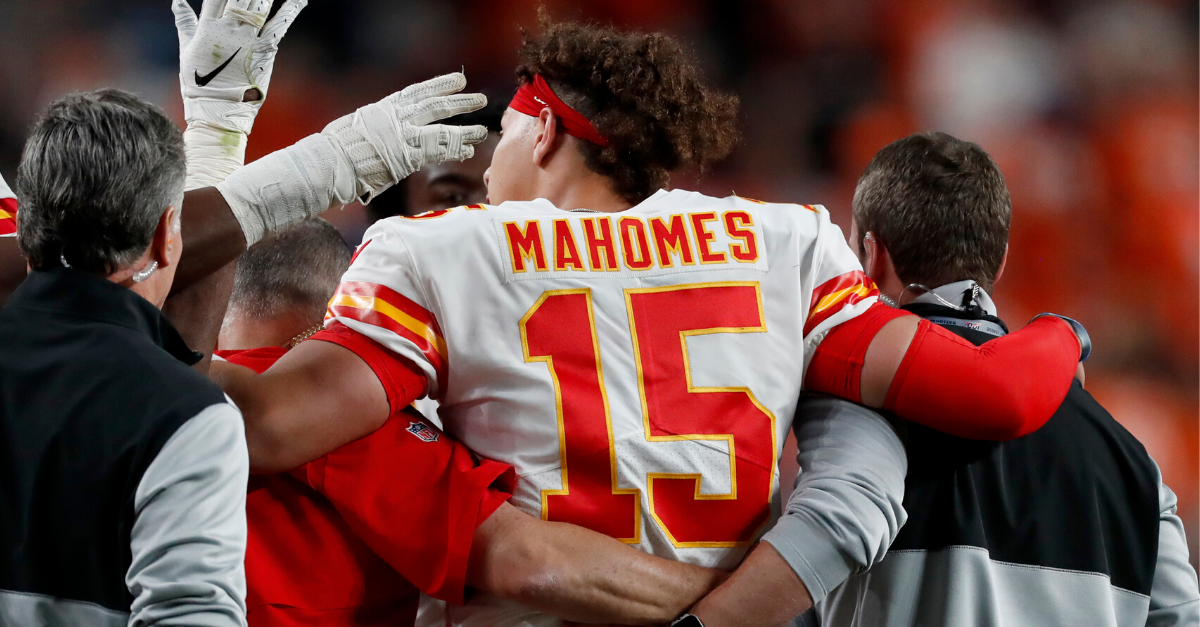 AP Photo/David Zalubowski
Growing up in an Irish Catholic family, Sunday school followed by mass was a weekly appointment you could not miss. Prayer services during the week, especially ones focused on people in the community, were my mom's favorite way to get out of the house and offer whatever we could. Truthfully, some services seemed a little odd through the eyes of a 10-year-old, but hey, I figured if it would help someone else, then it's worth the time.
But for Asbury United Methodist Church, there's a chance everyone in Chiefs Kingdom will descend on the Kansas church with plans for God to heal the most important person in Kansas City.
Leading up to Thursday Night Football on October 17, Kansas City Chiefs quarterback Patrick Mahomes nursed an ankle injury. Many downplayed the severity of the injury, but others were concerned things were worse than it seemed.
In order to get the NFL MVP healthy and ready for a postseason run, Dave Burton, facilities director at Asbury United Methodist Church in Prairie Village, set up prayer services for locals to come and save their savior.
"With the last two games, we kind of thought that they may need some type of help," Burton said, via FOX4KC. "We knew that his ankle was injured so we decided to possibly have a healing service to help him heal that ankle quicker."
Those services were set up for Sunday morning following Kansas City's divisional game versus the Denver Broncos. But before the Lord's blessings could be bestowed on Mahomes, tragedy struck.
On a quarterback sneak in the second quarter, Mahomes was trapped under a mass of bodies, where the superstar QB suffered a patella dislocation of his right knee cap. Even before MRI results determined if the knee injury would require season-ending surgery, Mahomes was expected to be out several weeks.
For those who aren't squeamish, the video of medical staff snapping Mahomes' knee cap back into place before limping to the locker room is a grim look at what he's dealing with.
Patrick Mahomes Injury Video
RELATED: Alex Smith's Gruesome Leg Injury Needed 17 Surgeries to Fix
Backup QB Matt Moore entered the game, threw a touchdown pass to Tyreek Hill, and led Kansas City to a 30-6 victory over the team's AFC West rival. The Chiefs, now 5-2, extended their division lead over the Oakland Raiders with sights set on another playoff berth.
Mahomes' grim diagnosis has Chiefs fans on edge. This was supposed to be the season the third-year superstar and head coach Andy Reid finally led Kansas City to the Super Bowl for the first time since 1970.
It was encouraging to see Mahomes ease the minds of NFL fans everywhere with a tweet that included the hashtag #GodIsGood.
Even better news for Chiefs Kingdom, ESPN's Adam Schefter confirmed that Patrick Mahomes' MRI and X-rays revealed "a best-case scenario" and that the star QB should miss about three games with no serious ligament damage of his right knee injury. The Associated Press reported that Mahomes could be back within "4-6 weeks."
Patrick Mahomes Knee Injury Update
When Asbury United Methodist Church's prayer services begin on Sunday morning, something tells me there's going to be a HUGE wave of Mahomes jerseys showing up to offer whatever they can as the franchise's most-prized asset begins his recovery.