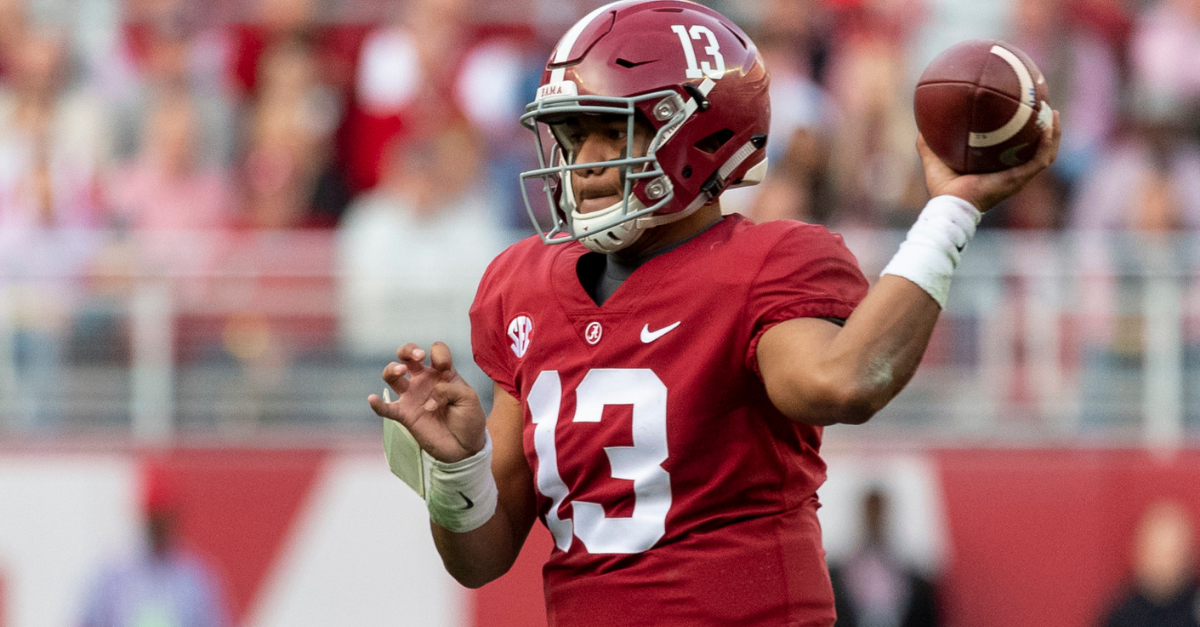 AP Photo/Vasha Hunt
AP Photo/Vasha Hunt
Alabama quarterback Tua Tagovailoa may have struggled in the Crimson Tide?s loss to Clemson, but that hasn?t stopped scouts from drooling over him. Apparently, last year's Heisman Trophy runner-up is already being looked at heavily for the 2020 NFL Draft by the Miami Dolphins.
According to Barry Jackson of the Miami Herald, Dolphins owner Stephen Ross has been telling people in private that he is very interested in Alabama's star quarterback and would seriously consider drafting him if he makes himself eligible for the draft after next season.
The Dolphins may also be interested in Heisman Trophy winner and former Oklahoma quarterback Kyler Murray, who will enter the 2019 NFL Draft and become an NFL quarterback full-time. Still, the #TankForTua campaign is alive and well, and the Dolphins would create a huge buzz by adding the southpaw quarterback in two years.
RELATED: Tua Tagovailoa's Biggest Competition? That'd Be His Little Brother
When asked about him, Tagovailoa's former quarterbacks coach at Alabama, Dan Enos, praised his elite-level talent for a college football player.
"Here?s why he?s going to be successful. He?s very talented, he?s got arm strength, he?s got feet, he?s athletic. He also has tremendous instincts. Maybe the best instincts of any player I?ve ever been around. His ability to make quick decisions, unscripted, is what separates him from others I?ve been around.

"He will be [excellent], man. He?s a great player. But every bit what a great player he is, he can match it with his character. Tua is an A plus player and an A plus person. Great integrity, great character, team guy. He was so coachable, never satisfied with the way he played and always wanted to get better."

? Dan Enos, via Miami Herald
The Dolphins have really struggled at quarterback since NFL Hall of Famer Dan Marino retired. The ironic thing is that had current New Orleans Saints quarterback Drew Brees passed his physical, Nick Saban might still be the Dolphins head coach with Brees at the helm as Miami's quarterback.
The Dolphins blew their chance to land one of the best quarterbacks in football and the restl as they say, is history.
Now, they have a chance to right a wrong by drafting a quarterback that could change the direction of their franchise. If the Dolphins are to make some noise in the AFC East and finally dethrone the New England Patriots, it is time for them to decide do they want to be contenders or pretenders. Oregon's Justin Herbert will likely be on new head coach Brian Flores' radar next season as well, but Tua could easily steal his thunder.
Until then, the Miami Dolphins are on the clock.