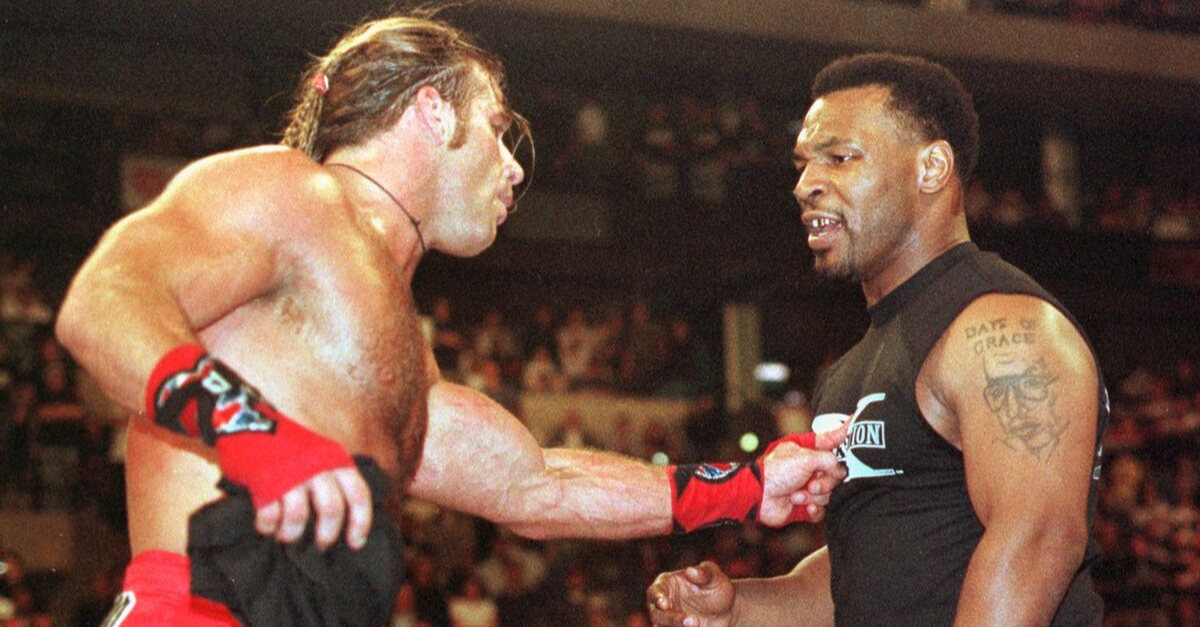 AP Photo/Winslow Townson
The year 1998 was undoubtedly one of most successful runs in pro wrestling history. After Monday Night Raw struggled to overcome the ratings war with WCW Monday Nitro, Vince McMahon recruited a a celebrity from the world of boxing to add greater star quality to WrestleMania 14.
Heading into the pay-per-view, McMahon brought in Mike Tyson to announce his involvement at WrestleMania, as he was coined the "baddest man on the planet."
All of a sudden, the glass breaks, and "Stone Cold" Steve Austin walks furiously to the ring. The end of the segment resulted in a brawl between Austin and Tyson, which became one of the most memorable moments in WWE history.
Tyson went on to be the special enforcer for the main event match, with a lot of tension built between him and Austin. However, at the end of the match between Austin and Shawn Michaels, Iron Mike clocked Michaels with a right hand and celebrated Austin in his first WWF Heavyweight Championship reign.
This moment at the end of the title match made WrestleMania XIV one of the most referenced in the history of the series, and propelled the WWE's attitude era to regain momentum in the Monday Night Wars.
Mike Tyson on Monday Night Raw
After Tyson's appearance at WrestleMania as a part of the Austin vs. Michaels storyline, the former multi-time pro boxing heavyweight champion returned in 2010 as a guest host of Raw.
Tyson competed in his first-ever (and only) bout, forming a tag team with Chris Jericho to face Shawn Michaels and Triple H. Similar to WrestleMania 14, Tyson turned on his heel ally, and became an honorary member of D-Generation X.
Does Mike Tyson Deserve to be in the WWE Hall of Fame?
In 2012, Tyson was inducted into the WWE Hall of Fame in the celebrity wing. The celebrity wing was initiated in 2004, and also includes names such as Pete Rose, William "The Refrigerator" Perry, Bob Uecker, Drew Carey, Donald Trump, Mr. T., Arnold Schwarzenegger, Snoop Dogg, and Kid Rock.
Out of the aforementioned names, Tyson is on par with the contribution to WWE that every other celebrity has done, and one can even make a strong case that he was an even greater contribution. This is due to how important his celebrity presence was during the Monday Night Wars, and how important it was in helping WWE regain steam in the ratings battle.
In fact, WWE did not defeat WCW a single week in 1997 during the Monday Night Wars. However, on April 13, 1998, WWE regained the lead and defeated WCW, 4.6 to 4.2.
The advent of Steve Austin winning the WWE Championship, compared with the celebrity influence of Mike Tyson, led WWE to regain the lead, but also maintain the lead for the majority of the head-to-head weeks until WCW folded in 2001.