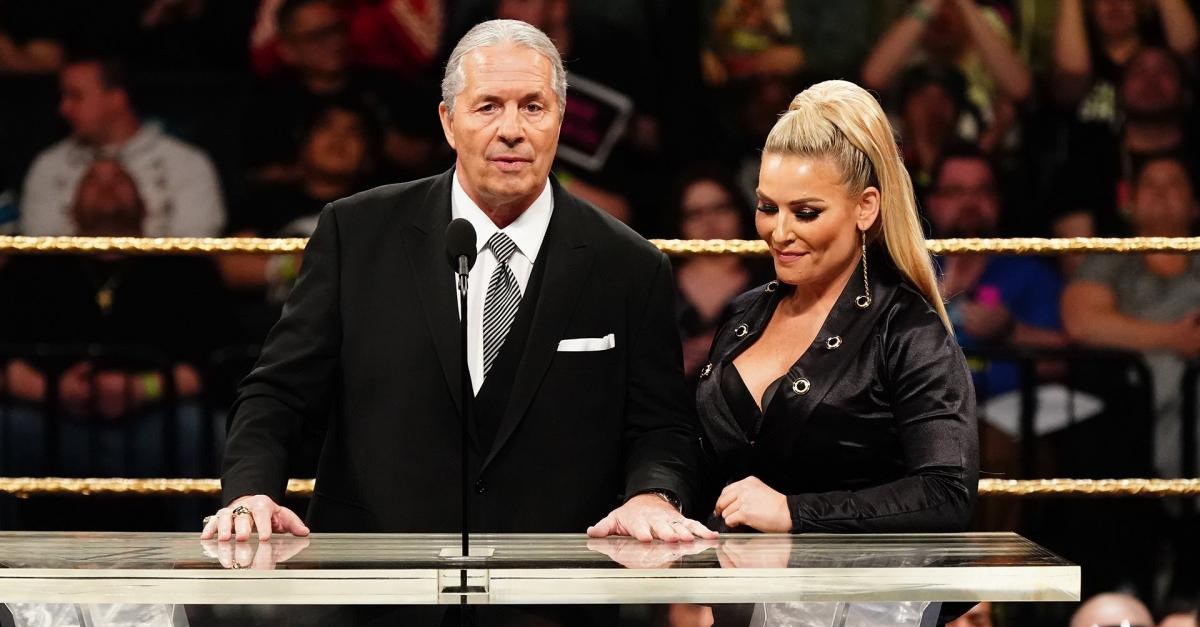 Credit: WWE.com
Bret "The Hitman" Hart is one of the greatest wrestlers to ever step into a ring. The five-time WWF World Heavyweight Champion and the only two-time King of the Ring winner was inducted into the WWE Hall of Fame for the second time during the annual ceremony prior to WrestleMania 35. His first induction was as a single's wrestler in 2006. This time, he joins his late tag team partner Jim "The Anvil" Neidhart who made up the stable known as The Hart Foundation.
During his WWE Hall of Fame induction speech in New York City, Hart, who was joined on stage by Jim Neidhart's daughter, WWE women's division wrestler Natalya, 26-year-old Zachary Madsen rushed into the ring and tackled the 61-year-old Hart to the ground. The fray didn't last long as Madsen was instantly swarmed by security guards and WWE wrestlers who took a few shots at the coward before he was dragged out of the Barclays Center and arrested.
When Madsen rushed the ring, the live feed of the WWE Hall of Fame ceremony instantly cut to black before returning, but the fiasco was captured from numerous angles by fans and spread like wildfire on social media late Saturday night.
https://www.instagram.com/p/Bv7yV9EDxM_/
Here is the how the WWE production team handled the live feed of the fight as fans rained boos down from the crowd.
RELATED: The End of an Era: Why Kurt Angle Will Retire from Pro Wrestling
You can see Madsen and his dumb ass hat being dragged away while security and WWE stars beat him to a pulp. Most notably, Ronda Rousey's husband and MMA fighter Travis Browne connected with a few shots. Also, Shane McMahon was one of the first into the ring, while Dash Wilder, one-half of WWE tag team The Revival, blasted Madsen with a clean right hand as he's dragged out.
"An over-exuberant fan surpassed our security at ringside and made his way briefly into the ring," WWE said in a statement obtained by ESPN. "The individual has been turned over to the proper authorities."
Madsen was arraigned on assault and criminal trespassing charges in Brooklyn criminal court and held on $1,500 bond.
Why'd Madsen do it?
"It just felt like it was the right moment," the dumb ass said in court. The New York Post reported that Madsen was also caught allegedly stalking MMA fighter Haris Talundzic back in September.
Well, I hope "the right moment" was worth coming all the way from Lincoln, Nebraska to do. When 15 to 20 grown men who fight for a living come to the defense of one of their profession's most-beloved icons, you should've known the whooping of a lifetime was coming.
Bret Hart, a stroke survivor and prostate cancer survivor, remained on stage and finished his Hall of Fame speech like the legend he is.
WATCH: