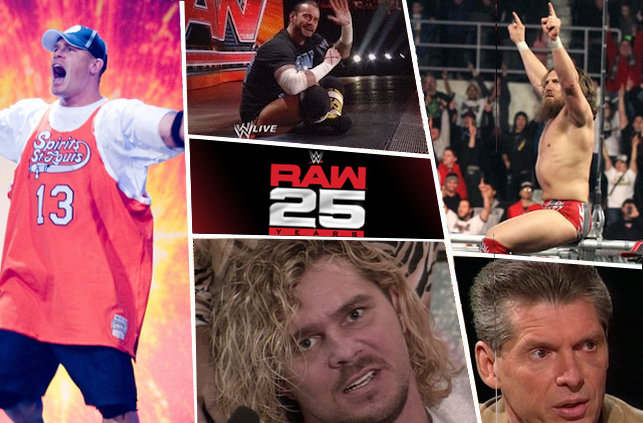 WWE
WWE
WWE Monday Night Raw will celebrate 25 years on the air on Monday night in a special three-hour simulcast from the Manhattan Center and the Barclays Center.
From the beginning of Raw in the Manhattan center to Mike Tyson causing all hell to break loose live on the air and eventually The Miz winning his first WWE championship, Monday Night's have been home to some of the most memorable moments in history.
Ahead of the 25th anniversary, we lay out the best moment from every year of Monday Night Raw action:
1993 — WWE Monday Night Raw debut
The premiere episode of Monday Night Raw had everything we've come to expect from WWE's flagship show — Bobby Heenan (rest in peace) hilariously attempting to sneak into the Manhattan Center, the Undertaker winning the main event in dominant fashion and plenty of quality wrestling.
A launching pad for the Monday Night War with WCW, WWE's venture into weekly episodic network television was the top moment in 1993.
1994 — Bull Nakano vs. Alundra Blayze
Before the recent boom in women's wrestling, there were sporadic high-quality matches. This was one, with a monster heel — Bull Nakano and the obvious babyface — Alundra Blayze battling it out for the women's championship.
There weren't a ton of notable moments from 1994, with the debut of the Heartbreak Hotel and a coin toss to determine who would wrestle Yokozuna (rest in peace) first at WrestleMania X coming in a close second and third.
1995 — The Heartbreak Kid collapses
"The Heartbreak Kid" Shawn Michaels was attacked outside of a night club weeks prior to his Monday Night Raw matchup against Owen Hart (rest in peace). He had been hospitalized with cuts on his face and apparently post-concussion syndrome.
He was forced to relinquish his Intercontinental title when he couldn't compete at the In Your House pay-per-view, so his return the ring was well hyped. In the middle of the match, Michaels showed off to the crowd, grabbed his head, stumbled and hit the ground.
The announcers went silent and medics attended to him as they stopped the match. Wrestling got incredibly real as WWE planted seeds for Michaels to return from "injury" and win the Royal Rumble in the coming weeks.
1996 — Pillman's got a gun!
The Attitude Era was just getting going in 1996, with Goldust's debut, Vader attacking WWE commissioner Gorilla Monsoon and WWE blurring the lines between real and fake.
That led to the "Brian Pillman's got a gun scene", escalating his rivalry with Stone Cold Steve Austin. The idea was that Austin had injured Pillman and Stone Cold was coming to Pillman's home to continue his beatdown.
This led to Pillman pulling a gun on Austin, who had just cracked his front door window and broke into Pillman's home. The screen went black as Pillman raised the gun toward Austin and Raw went off the air with men holding back Pillman.
1997 — "Bret Screwed Bret"
As the Monday Night Wars heated up, as did Monday Night Raw's pushing the lines between real and fake. All of a sudden, there was more violence and realness to storylines. Gone were Fake Razor and Fake Diesel, instead replaced by wars between Canada and the United States.
The common denominator in the biggest rivalries over the year was Bret "The Hitman" Hart. The night after losing the WWE title at the infamous Montreal Screwjob Survivor Series pay-per-view in the most controversial moment in WWE history, Vince McMahon embodied the heel character he had become in real life, blaming Hart on television for costing himself the belt against Shawn Michaels the night prior in Canada.
1997 would be the build to something massive, with Stone Cold Steve Austin beginning to find his footing, Degeneration-X forming, Dude Love (one of the three faces of Foley) debuting and much, much more.
1998 — Mike Tyson meets Stone Cold Steve Austin
With Bret Hart gone, Austin would take the ball and run with it as the go-to guy for WWE. His one-finger salute to Mike Tyson would make national headlines, as Austin and the boxing legend would get physical in the ring.
Mankind's visit to McMahon in the hospital comes in a close second, as this would lead to the creation and implementation of Mr. Socko. Austin ending the visit by attacking the owner of the WWE only was icing on the cake.
Other notable moments from 1998 — DX invades WCW, Austin driving a Zamboni into Raw and filling McMahon's Corvette with cement and Kai En Tai attempting to cut Val Venis's penis off.
1999 — Mrs. Foley's baby boy wins the title
1999 would be instrumental in WWE's long-term success, as Mick Foley's first WWE title win helped the program take the lead in the Monday Night War against WCW and eventually run them out of business.
As a runner-up to that incredible moment, it's difficult to find a better moment in '99 than Chris Jericho's debut. Standing toe-to-toe with The Rock on the mic instantly put him in the top tier at WWE as a main event caliber wrestler.
Other top moments from 1999 included Vince McMahon unveiling himself as the greater power, Triple H and Stephanie McMahon's Vegas wedding and the Undertaker and Kane's inferno match.
2000 — Mae Young powerbombed off the stage
If you were on the WWE roster in 2000, you probably took an insane bump. For Mae Young, hers came at the hands of the diabolical Dudley Boyz, who had an odd infatuation for putting women through tables in 2000. Bubba Ray powerbombed poor 77-year-old Young off the stage through a host of tables.
2001 — Monday Night Raw/WCW Nitro simulcast
Another key moment in WWE history came in 2001, when Shane McMahon showed up on the final episode of WCW Nitro to announce he had bought the promotion. This led to an awkward nearly year rivalry of WCW and ECW castaways attempting to step toe-to-toe with some of WWE's finest.
It was a bit of a disaster what would happen in the following months, but no moment was bigger than Shane-O-Mac showing up on WCW television.
A solid runner-up was Milk-A-Mania running wild, as Kurt Angle doused Stephanie McMahon, Shane McMahon and the entire WCW/ECW group by firing a hose of milk from a truck.
2002 — Eric Bischoff announced as Monday Night Raw general manager
Who would have thought a year after closing up shop on WCW that Eric Bischoff would appear on WWE television, much less hugging Vincent Kennedy McMahon?
Well, that's what happened and the story built fluidly as Bischoff took the on-air general manager job after spending much of the prior seven years or so attempting to run WWE out of business.
2003 — Goldberg's debut
Only two years late for the WCW invasion, Goldberg's debut took the WWE by storm. He was an instant hit and showed he belonged from the get-go, battling the likes of The Rock and Triple H.
Other contenders for the top moment in 2003 were Kane's unmasking and Triple H putting together Evolution with the help of "Nature Boy" Ric Flair, Batista and Randy Orton.
2004 — Lita and Trish Stratus main event Monday Night Raw
Years before the women's revolution in WWE, Trish Stratus and Lita gave young girls the courage to chase their dreams and pushed against the idea that women should be eye candy in wrestling.
The veterans put on a classic match (check out the re-creation in a video game), with Lita nearly breaking her neck on a suicide dive before winning the women's title against Stratus.
It would set the stage for years later, when Charlotte, Bayley, Sasha Banks and Becky Lynch tore barriers down at arguably the height of women's wrestling.
2005 — Batista turns on Evolution
One year after kicking Randy Orton out of evolution, Batista would finally step out of Triple H's shadow in his run to the World Heavyweight Championship. After winning the Royal Rumble, Batista would give the thumbs up, thumbs down before attacking his former mentor. Batista would go on to win the World Heavyweight title at WrestleMania.
A close runner-up was John Cena jumping from Smackdown to Monday Night Raw as the brand's No. 1 draft pick. The two main championship titles would change brands in the shocking WWE draft.
2006 — Degeneration-X mocks McMahons, soils Spirit Squad and the McMahons
Degeneration-X rejoined and caused utter chaos in the WWE against the McMahon family. Shawn Michaels and Triple H dressed up as Vince and Shane, mocked them, then dumped poo all over the McMahons and their henchmen, the Spirit Squad.
Other notable events in 2006: Edge's live sex celebration with Lita. Not a whole lot happened in 2006.
2007 — Vince McMahon appreciation night
Remember that time Monday Night Raw ended by Vince McMahon climbing into a limousine, which proceeded to explode on live television? Oh yeah, and national media thought McMahon had actually died.
That's what happened in 2007, when Vinnie Mac ended a truly bizarre show by shaking hands with talent before his limo went up in flames.
Santino Marella's shocking debut, which included winning the Intercontinental championship against Umaga comes in as a notable event from 2007, but it didn't quite crack the top spot.
2008 — Ric Flair's retirement
Really wish this would have been it for Ric Flair, as his "retirement" from professional wrestling took the top Monday Night Raw in 2008. The emotional sendoff for Flair was a perfect way to end his career. He would return, however, with TNA wrestling in the coming years.
Another notable event from 2008: CM Punk cashed in to win the World Heavyweight championship, Chris Jericho threw Shawn Michaels threw the Jeritron and Jeff Hardy hit a Swanton Bomb off the side of the titantron on Randy Orton.
2009 — Triple H returns to Raw with Vince and Shane
This was a weird year for Monday Night Raw, with weekly guest hosts and a handful of over-the-top storylines. One moment stood out in 2009 though, which included Randy Orton's rivalry with Triple H.
Orton had taken out Vince McMahon, Shane and Stephanie in recent weeks leading up to WrestleMania. As Orton was gloating about winning the WWE title at 'Mania, Vince's music hit, then Shane and eventually Triple H. The three family members took the stage and ran down to beat down the members of Legacy, Orton, Cody Rhodes and Ted Dibiase Jr.
2010 — Nexus destroys the Monday Night Raw roster
John Cena was easily the top star in WWE at this time, but the young, hungry NXT guys were ready for a fight and took it to the Monday Night Raw roster. Nexus, led by Wade Barrett, laid out Cena, tore apart the ring and destroyed everyone and everything in their path. Daniel Bryan would be fired for choking Justin Roberts with his tie (he would eventually be re-hired, returning at Summerslam that year).
The message was clear and obvious to the locker room — Nexus was there to take over.
Other notable events from 2010: The Miz won his lone WWE championship by cashing in Money in the Bank, Bret Hart returned to Raw and Shawn Michaels said goodbye.
2011 — CM Punk pipe bomb promo
Arguably the top moment in Monday Night Raw history, Punk captivated the audience and rushed in the reality era with a promo unlike anything we'd ever heard on WWE television.
Punk tore into WWE, Vince McMahon, Triple H and Stephanie McMahon, airing out real-life issues in what came off as a shoot promo all while he wore a "Stone Cold" Steve Austin shirt.
Other top moments from 2011: The Rock returned, Edge retires and Undertaker-Triple H stare each other down, making their WrestleMania match.
2012 — Brock Lesnar returns to Monday Night Raw
For the first time since WrestleMania XX, Brock Lesnar returned to Monday Night Raw in a big way.
As John Cena was cutting a promo, Lesnar's music hit, the beast made his way to the ring and as Cena extended his hand, hit him with an F-5.
2013 — Dolph Ziggler cashes in Money in the Bank
Dolph Ziggler finally reaching the top of the mountain was one of the biggest moments of the year when he cashed in Money in the Bank against Alberto Del Rio.
The former Spirit Squad member emotionally celebrated the win, but his reign would be cut short thanks to a concussion.
Mark Henry's fake retirement came in a close second for the top moment in 2013 thanks to his fantastic acting, salmon suit and picture-perfect heel turn on good-guy John Cena.
Other notable moments in 2013: AJ Lee's Diva pipe bomb promo, Cody and Goldust uniting with Dusty Rhodes and Brock Lesnar hitting Vince McMahon with an F-5.
2014 — Daniel Bryan turns on the Wyatt Family
Bryan's 2014 run to the WWE championship was propelled thanks to fans' refusal to let the Yes Movement die. While the Occupy Raw move by Bryan launched him into the WWE championship picture for WrestleMania, the turning point in fans' backing of Bryan came when he turned his back on the Wyatt family after being seemingly brainwashed for many weeks.
Other notable events from 2014: Seth Rollins turns on the Shield
2015 — Kevin Owens answers John Cena's US title open challenge
John Cena's United States championship open challenge was one of the bright spots of 2015. His matches gave guys like Cesaro and Sami Zayn the opportunity to work quality matches, and it also showed Cena's ability to keep pace with some of the better technical wrestlers in the world.
Kevin Owens' debut was on another level though, as the NXT champion hadn't suddenly shown up on Monday Night Raw before. Owens showed up, beat down Cena and instantly jumped into the conversation as a contender for WWE's top title.
Other notable events in 2015: Sting showing up on Monday Night Raw.
2016 — Shane McMahon returns to Monday Night Raw
When Vince McMahon announced his legacy award to Stephanie McMahon, the Monday Night Raw audience certainly thought it was in for yet another long-winded segment. Instead, Shane-O-Mac made his long-awaited return to the ring, eventually setting up for him to take over Smackdown.
The reaction from the audience and tension in the ring with Vince and Stephanie really made it a memorable one.
Other notable spots in 2016: Sasha Banks and Charlotte Flair main event Monday Night Raw.
2017 — First women's Royal Rumble announced
In 2017, it wasn't necessarily the best moment as it came off a bit awkward on television, but for the pure reasoning as what it means for women's wrestling, the announcement for the women's Royal Rumble takes the top spot. After a year of main eventing shows and putting on their first Hell in a Cell match, Stephanie McMahon announced a 30-woman over-the-top battle royal to take place in January.
Other contenders for 2017's top moment: The Shield reuniting, Chris Jericho's classic Festival of Friendship with Chris Jericho, Roman Reigns' cocky post-WrestleMania appearance and Braun Strowman collapsing the ring with a suplex on the Big Show.
2018 — Raw 25 is sure to impress
Raw's 25th anniversary is sure to have plenty of memorable moments.
Here's the current list of stars expected to appear:
Stone Cold Steve Austin
The Undertaker
Chris Jericho
D-Generation X
Ric Flair
Scott Hall
The New Age Outlaws
Christian
The Dudley Boyz
Jerry Lawler
Jim Ross
Trish Stratus
Torrie Wilson
Jacqueline
Maria Kanellis
The Bella Twins
Terri Runnels
Michelle McCool
Kelly Kelly
Eric Bischoff
Ron Simmons
JBL
The Godfather
The Million Dollar Man
The Brooklyn Brawler
Brother Love
Boogeyman
Teddy Long
Sgt. Slaughter
John Laurinaitis