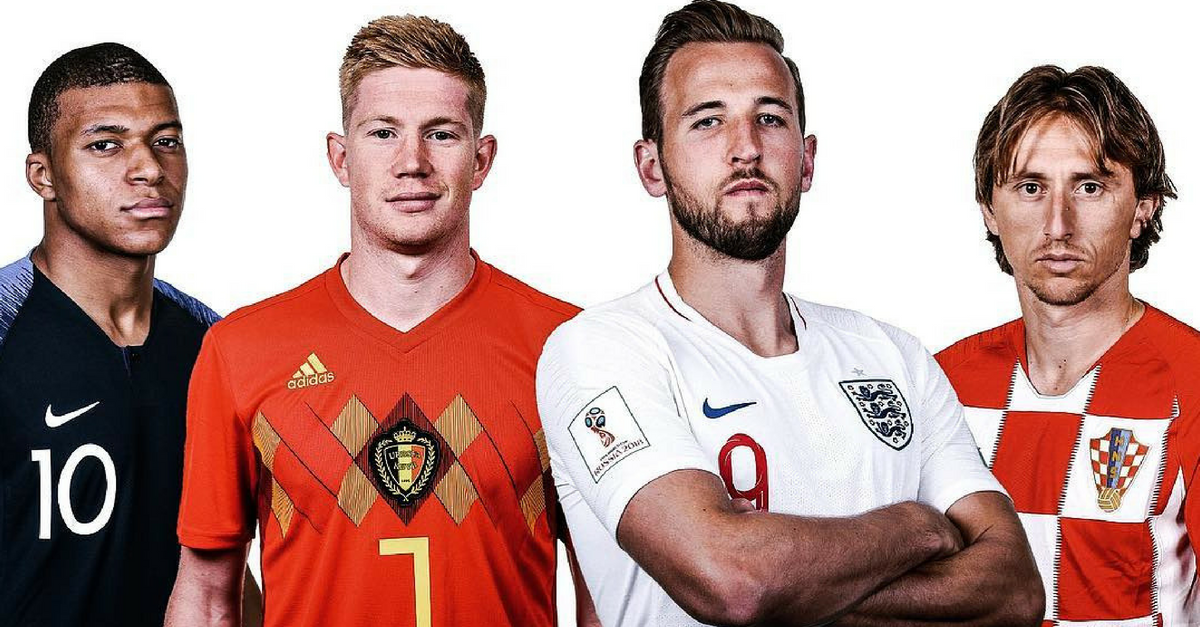 @Visubal via Instagram
@Visubal via Instagram
And then, there were four.
On June 14th, 32 nations began this tournament in Russia with dreams of bringing the World Cup title home to their country. Early favorites Germany, Argentina, Spain, Brazil and Portugal are gone. Crowd favorites like Iceland and Mexico are out of the picture. Now, only four teams and four matches remain; two semifinals, one third-place match, and the 2018 FIFA World Cup Final on Sunday July 15th at 11:00 a.m. EST.
If you haven't been paying attention, you're missing out on one of the greatest FIFA World Cup's of all-time, but it's not too late to get involved, pick a squad, and cheer them on to 2018 World Cup gold. Here's a breakdown of every facet of the games and teams left:
The Best Players
1. Kylian Mbappé, France
At 19-years-old, Mbappé isn't close to his prime, which is a terrifying thought for anyone not playing alongside the Frenchman. OddsShark.com is giving Mbappé the best chance to take home the Golden Ball, given to the tournament's best player. Despite not scoring in France's quarter-finals win over Uruguay, the striker's two goals in four minutes to beat Lionel Messi and Argentina in the Round of 16 is going to be remembered as one of the best games of this tournament.
2. Harry Kane, England
FIFA's World Cup 2018 goal scoring leader, and Golden Boot frontrunner, didn't net one in England's 2-0 win over Sweden, but Kane's six goals so far is two more than Belgium's Romelu Lukaku, and three more than Mbappé. It's Harry Kane's team for the first time, and the Tottenham Hotspur is carrying England to it's deepest World Cup run since 1990.
3. Luka Modrić, Croatia
Croatia had the worst odds of winning among the remaining teams to start the tournament, and the same remains now. Modric earned Man of the Match honors in Croatia's group stage wins over Nigeria and Argentina. The diminutive midfielder is the heart and soul of Croatia's run and will be the reason behind The Blazers winning the World Cup.
4. Eden Hazard, Belgium
Belgium's captain is often overlooked for the team's top goal scorer Romelu Lukaku and All-World midfielder Kevin De Bruyne, but Hazard sets the pace for Belgium, and is proving to be one of the world's best midfielders in possession and passing at his second World Cup.
The Goalkeepers
1. Thibaut Courtois, Belgium
Chelsea No. 1 Courtois is one of the best keepers in the world, and he proved it during Belgium's 2-1 win over Neymar and Brazil. At 6-foot-6, his size and length offer him an advantage over the remaining keepers. Behind Belgium's high-powered offense, it would take beating Courtois more than a few times to keep pace and knock off this team.
2. Danijel Subašić, Croatia
Twice in the knockout stage Croatia has made it to a penalty shootout, and twice Subašić helped Croatia advance. Allowing only four goals in regulation through five matches is impressive for the Croatian keeper, and if his team faces penalties again, expect Subašić to be ready for the task.
3. Hugo Lloris, France 
Lloris will be playing in his 103rd match for France when they take on Belgium on Tuesday afternoon in St. Petersburg. At 31, Lloris is as solid a fixture as you could ask for in France's net. Lloris' Achilles heel? His 10 percent save percentage on penalty kicks is the lowest of any of the remaining net minders.
4. Jordan Pickford, England
Pickford is the youngest, and most untested, of the remaining goalkeepers. Playing most of his professional club career against lower competition, Pickford made his mark on England's fan base when he helped carry England to their first World Cup shootout win since 1990. Expect Pickford to ride that wave into Wednesday's World Cup semi-final against Croatia in Moscow.
The Final Four Teams
1. Belgium
With five straight matches without a loss, Belgium is loaded up for a chance to win the country's first ever World Cup; their best finish was fourth in 1986.
2. France
Didier Deschamps French side is talented, fast and looking to win the country's first World Cup since 1998. Their semi-final versus Belgium has the makings of the best match of the tournament.
3. England
England hasn't won a World Cup since the 1966 final. It's the oldest international football club in the world, and its fan base is itching for a chance to be the World No. 1 once again. Then again, no one left parties like the English:
4. Croatia
Before the tournament, FIFA's World Rankings had Croatia No. 20 in the World. It's been 20 years since Croatia's first World Cup appearance, and you can guarantee that this year's underdog isn't finished yet.