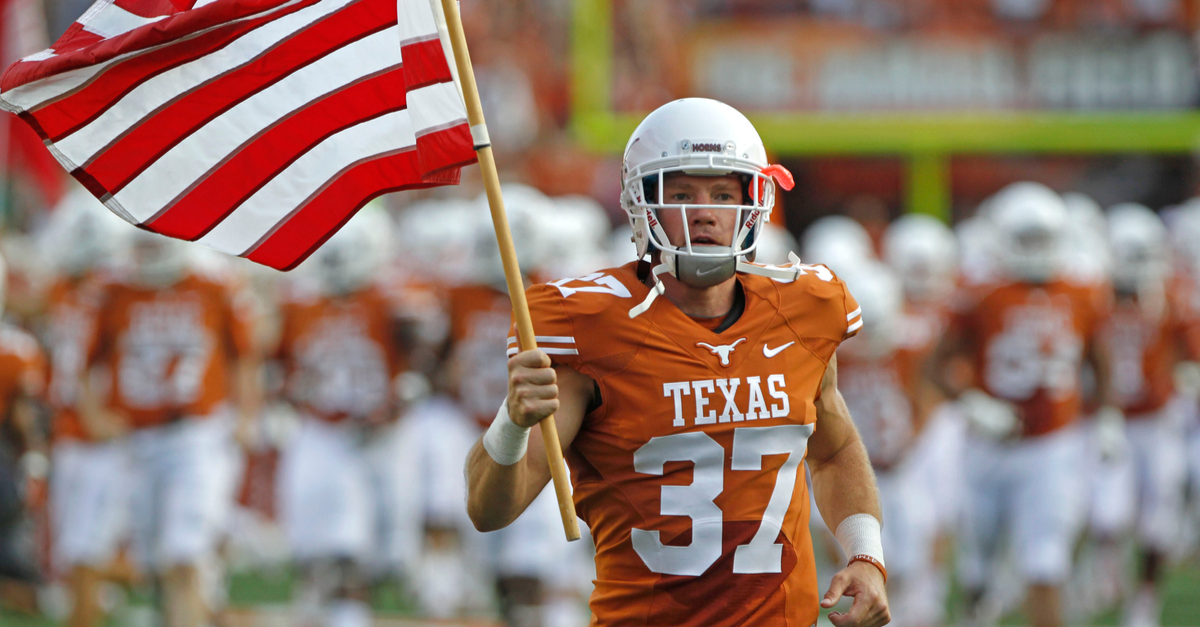 AP Photo/Michael Thomas
While every United States Army veteran deserves applause and praise, former Green Beret Nate Boyer is one of the few who received national recognition. After serving several tours in Iraq and Afghanistan, Boyer became a walk-on long snapper for the University of Texas Longhorns at age 29 despite never playing football before. That didn't stop Boyer from playing in 39 games for the Texas football team, earning a scholarship, three times being chosen First-Team Academic All-Big 12, and being named Big 12 Sportsperson of the Year in 2012-13.
After going undrafted, Boyer briefly signed an NFL contract to play with the Seattle Seahawks, but was released prior to the start of the 2015 season. Now 38 years old, it appears the former Special Forces member is taking one last shot at professional football.
The XFL Draft is set to begin in mid-October. Leading up to the new spring football league's debut, hundreds of players were announced as potential picks in the new and improved XFL. Among them are former NFL players and college football legends like Landry Jones and Trent Richardson, but tucked among the madness was one name in particular: Nate Boyer, long snapper, Texas.
Boyer's NFL career may have been short, but his impact on the game sent shockwaves through the country in other ways.
In fact, it was Nate Boyer who suggested that, rather than sit on the bench, former San Francisco 49ers quarterback Colin Kaepernick take a knee during the national anthem to protest racial injustice and police brutality.
"We sorta came to a middle ground where he would take a knee alongside his teammates. Soldiers take a knee in front of a fallen brother's grave, you know, to show respect. When we're on a patrol, you know, and we go into a security halt, we take a knee, and we pull security."

? Nate Boyer, via Real Sports HBO
Former Army Green Beret Nate Boyer won't be making the Hall of Fame or winning MVP awards on the football field, but his legacy as a true American, and someone willing to start a conversation rather than destroy it, means so much more.
I'll be watching the XFL when it launches in the spring of 2020. Hopefully, I'll get to see Nate Boyer run onto the field toting an American flag, too.