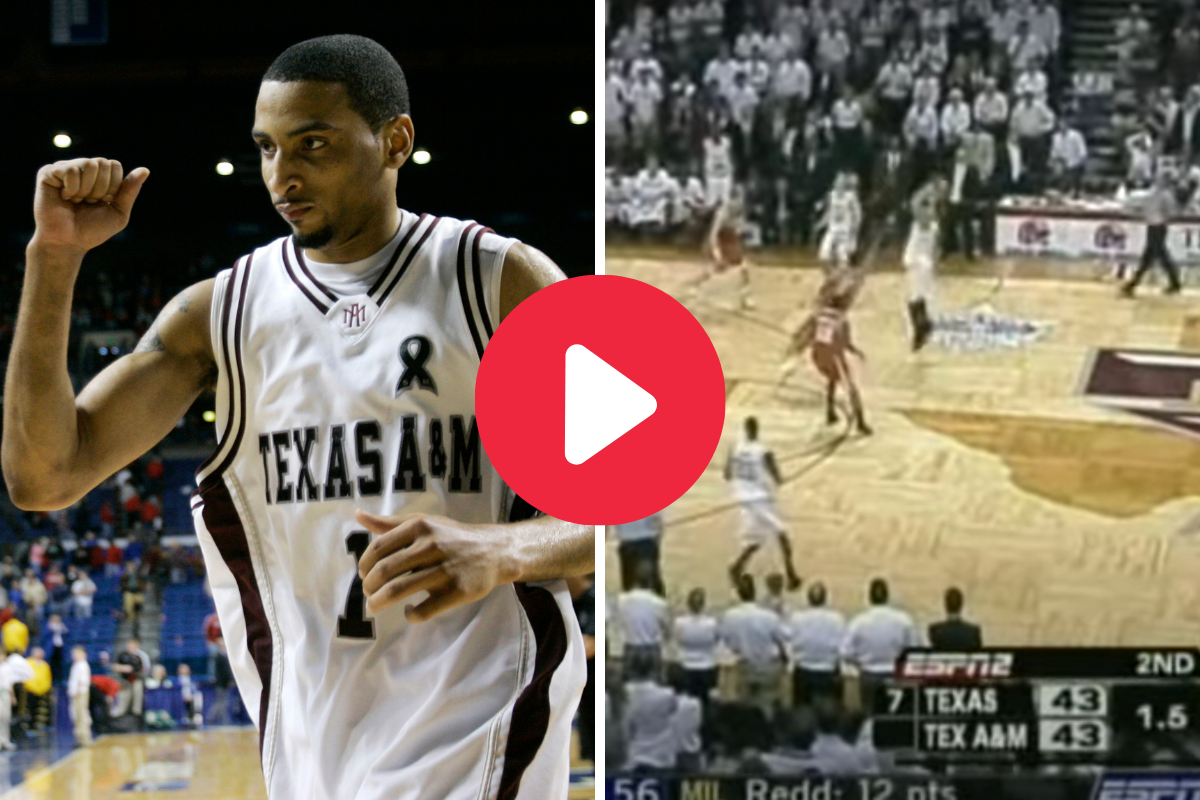 AP Photo/Ed Reinke (left), Screenshot from YouTube
Some college basketball buzzer-beaters win championships, while others simply spoil one team's bus ride home. But some late-game heroics help cement a player's legacy and create a moment that is forever etched in a school's basketball history. And no one had a greater impact on the Texas A&M Aggies men's basketball program than Acie Law IV. When Law touched down in College Station, the 6-foot-3 guard joined a team that finished 0-16 in Big 12 play and 7-21 overall his freshman year during the 2003-04 season.
The Dallas, Texas, native grew into a leader and prominent All-American scorer in the coming years and took the Aggies to its first NCAA Tournament Sweet 16 appearance in 2007 since 1980 ? The 27 wins under head coach Billy Gillispie were the most in program history until that point. After that dismal freshman year, Texas A&M rolled to seven straight 20-win seasons.
Law was drafted in the first round (11th overall) in the 2007 NBA Draft by the Atlanta Hawks, and he played for a handful of years on the Golden State Warriors, Charlotte Bobcats, Chicago Bulls and Memphis Grizzlies before playing in Euroleague for the Olympiacos from 2012-14.
"Captain Clutch" still holds the distinction as the only Aggie player to have their jersey hanging in the rafters at Reed Arena. One moment in particular solidified his status as a legend in Aggieland: The Shot.
Texas A&M Basketball's 2005-06 Season
The 2005-06 Aggies put together a pretty magical season.
Texas A&M finished 22-9 and 10-6 in the Big 12, earning their first trip to the NCAA Tournament in nearly 20 years. Much of the team's success depended on the play of Law, who averaged 16.1 points per game.
"You can argue that no four-year player has ever had a bigger impact on the basketball program and the university," former head coach Mark Turgeon told My Plainview. "Acie helped the program become respected in the state of Texas and on a national level."
Their run in the postseason ended in the second round of March Madness, but TAMU fans may remember the season for one single shot.
Acie Law's "The Shot" Beats Texas in 2006
RELATED: ?The Aggie War Hymn? Was Written During a World War I Battle
Texas A&M University has featured numerous iconic football moments, such as Sirr Parker's Big 12 Title Touchdown, The Bonfire Game, Quentin Coryatt's "The Hit" and anything Johnny Manziel did on the gridiron, but "The Shot" may very well be the basketball team's most unforgettable moment.
The No. 6 Texas Longhorns traveled to College Station on March 1, 2006, to take on the unranked rival Aggies, in a game broadcast on ESPN 2. Little did the team coached by Rick Barnes and led by LaMarcus Aldridge and P.J. Tucker know they'd be leaving broken-hearted.
With 3.6 seconds to go in a 43-43 game, Law took the inbound pass. He made one move and pulled up from beyond the arch. Captain Clutch sunk it for a game-winning buzzer beater. The crowd at Reed Arena erupted and spilled onto the floor.
"That shot is something I think about all the time and it comes up very often. I think that shot means the most to the school and Texas A&M basketball. With what we were trying to accomplish, it was a big shot. For me, I made a few big shots so it is hard to call it my best ever. The ball wound up in my hands, and I had the confidence to believe that I could make that shot every time," Law told TexAgs.com in 2017.
Law had a penchant for buzzer beaters. He wasn't wearing the maroon anymore, but he hit a half-court buzzer beater for the Warriors in 2011. As of 2018, he was working in the NBA as a basketball operations associate in New York City. The 36-year-old also has a son and a daughter who live in Texas.
Acie Law will always be an Aggie legend, and "The Shot" is a big reason why.