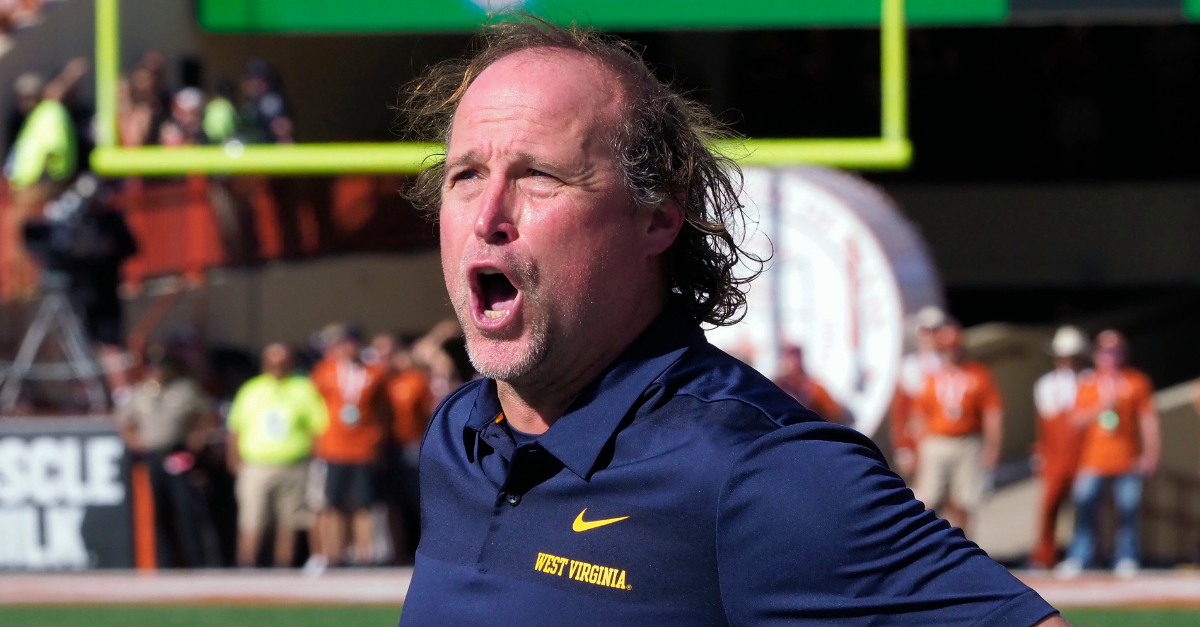 AP Photo/Michael Thomas
The late, great Rodney Dangerfield once joked, "My psychiatrist told me I was crazy, and I said I want a second opinion. He said 'Okay, you're ugly too.'" According to a group of West Virginia University researchers, if the king of no respect was a football head coach, chances are he'd likely make a whole heck of a lot of money with that face.
It's a common belief that good looking members of society have it made. Over the years, research suggests that if you look good and have "desirable characteristics," you're more likely to get jobs, your employer will notice you more often, and ultimately, you climb society's financial ladder easier. However, the team at WVU consisting of economics professor Brad Humphreys and associate professor Guodong Guo discovered an interesting trend among college football coaches that puts everything you've ever known about beauty to shame.
Using USA Today's coach salaries data for every leader in college football between 2014 and 2016, pictures of all those FBS-level coaches, and more than 10,000 facial photos from The Massachusetts Institute of Technology Adult Faces Database, these champions of the plain-faced used science to determine that coaches with lower "attractiveness scores" and higher "aggressiveness scores" actually make MORE money than their nicer-looking, handsome counterparts.
"Controlling for coach success, age, and experience, less attractive coaches earn higher salaries," the team's research claims. Rather than handsome coaches getting what Humphreys calls the 'beauty premium' that's found almost everywhere else in the workforce, they found that "attractive head football coaches do not earn a premium."
Instead, unattractive coaches are out there rolling in the big bucks.
Not only that, but the research suggests coaches with the most aggressive features also earn more money than coaches that don't scare you to death.
Sadly, the researchers didn't release their complete "NCAA Football Ugly Coach Power Rankings" because social media would explode and completely miss the point of this first-of-its-kind research. They did, however, include a few names in their research paper with corresponding scores.
Tracy Claeys, the former head coach of the Minnesota Golden Gophers and current defensive coordinator at Washington State, received one of the lowest attractiveness scores. Sorry, Tracy.
Michigan Wolverines head coach Jim Harbaugh scored 8.97 out of 9 in terms of aggressiveness because, well, John Harbaugh is scary as shit.
RELATED: Study Finds Experienced, Old Men are Actually Baseball's Worst Umpires
Even more curious is that research suggests winning ACC, Big Ten, Pac-12 and SEC football titles, or even NCAA national championships, aren't the only factors in fans coming to games. In fact, WVU's research found that home game fan attendance is actually higher at schools where the head coach falls lower on the attractiveness scale or higher on the aggressiveness scale.
Check out the 15 highest paid football coaches of the 2018 season and see if WVU's findings make sense to you. How many of these guys are ugly? How many are scary? How many double-down as both ugly and scary AND they make more money than both of us?
Salaries for College Football Coaches – 2018
1. Nick Saban – Alabama: $8.307 million
2. Urban Meyer – Ohio State: $7.6 million
3. Jim Harbaugh – Michigan: $7.504 million
4. Jimbo Fisher – Texas A&M: $7.5 million
5. Gus Malzahn – Auburn: $6.7 million
6. Kirby Smart – Georgia: $6.603 million
7. Dabo Swinney – Clemson: $6.205 million
8. Dan Mullen – Florida: $6.07 million
9. Tom Herman – Texas: $5.5 million
10. Scott Frost – Nebraska: $5 million
11. Mike Gundy – Oklahoma State: $5 million
12. Willie Taggart – Florida State: $5 million
13. Lovie Smith – Illinois: $5 million
14. Gary Patterson – Texas Christian: $4.840 million
15. James Franklin – Penn State: $4.8 million
From Stanford's David Shaw to Manny Diaz down in Miami, coaching salaries are about more than just looks. But if West Virginia University's research is to be believed, then maybe it's time to buyout those contracts and get some ugly, scary S.O.B.'s into the mix.
I mean, have you seen Ed Orgeron down at LSU?