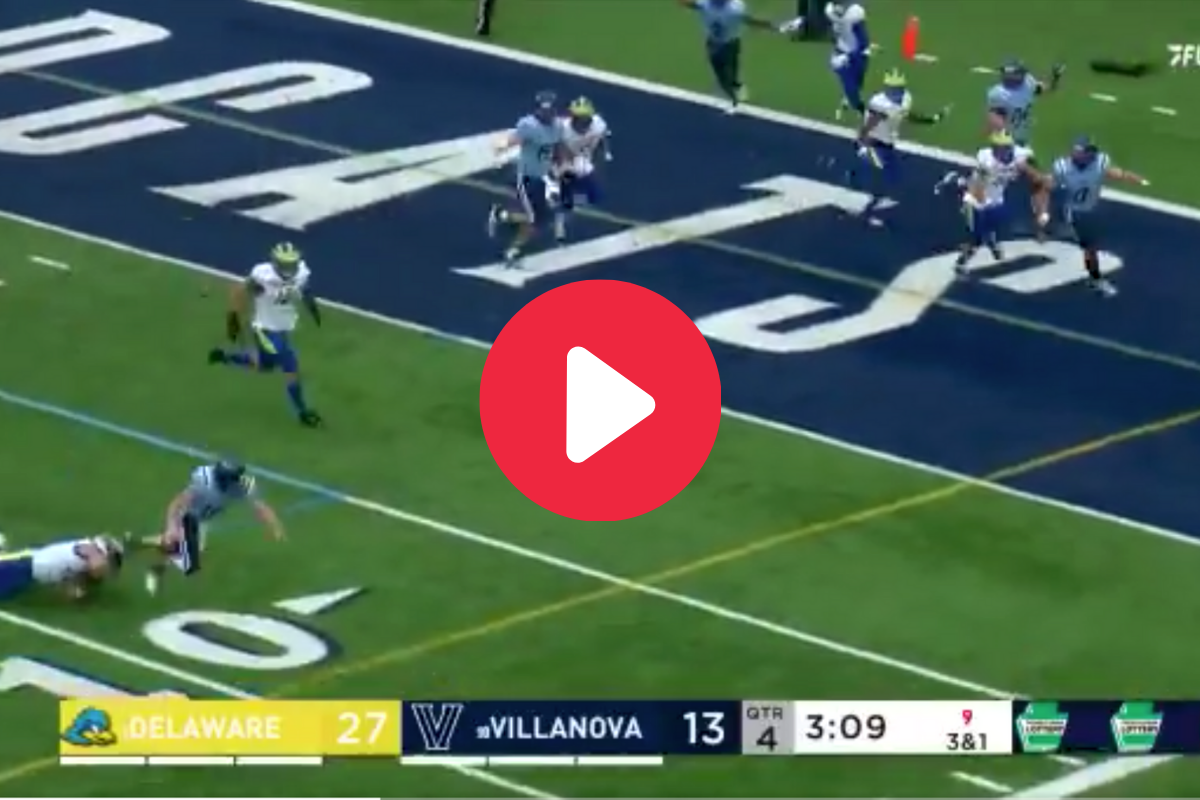 Screenshot from Twitter
It doesn't hurt to take a page from the Patrick Mahomes playbook.
That's exactly what Villanova quarterback Daniel Smith did last Saturday against the Delaware Blue Hens.
Smith has seen the Kansas City Chiefs signal caller toss left-handed passes, he's seen him toss bombs outside of Arrowhead Stadium, he's seen him toss no-look throws through the tiniest of windows.
The Wildcats QB decided to try his hand at a Mahomes special.
Villanova QB Daniel Smith's Crazy Touchdown Pass

RELATED: Bikini Girl?s 40-Yard Football Throw Goes Viral
Villanova spread it out on the goal line down 27-13 in a must-convert play. Smith does play action and rolls to his right.
A Delaware defender is on his heels and dives at his feet. Thinking he tackled him, he bounces up and roars in victory. The celebration before the whistle blows is one of my favorite in sports. The look of pure disbelief after he realizes the result of the play is something you can't teach.
Smith tripped, corkscrewed, and tossed a soft TD pass to his tight end Charlie Gilroy crossing the field. 'Nova head coach Mark Ferrante nodded silently. The play worked out exactly how he drew it up. I could tell the extra reps paid off in practice.
Watching it over and over again reminds me of several glitches during the old NCAA Football video game days. One second your quarterback would be sitting in the pocket eyeing his targets down field. The next he would get sacked from behind and the ball would fly 50 yards to a double-covered receiver who would take it for six.
My favorite part of this glitch was how often it happened when I squared off against the computer in dynasty mode. I can't have a fluke play ruin my 54th-straight undefeated season. My finger would slip and hit the restart button a lot for some reason.
Although the Wildcats fell 27-20, the wild touchdown pass was undoubtedly the highlight of the game.