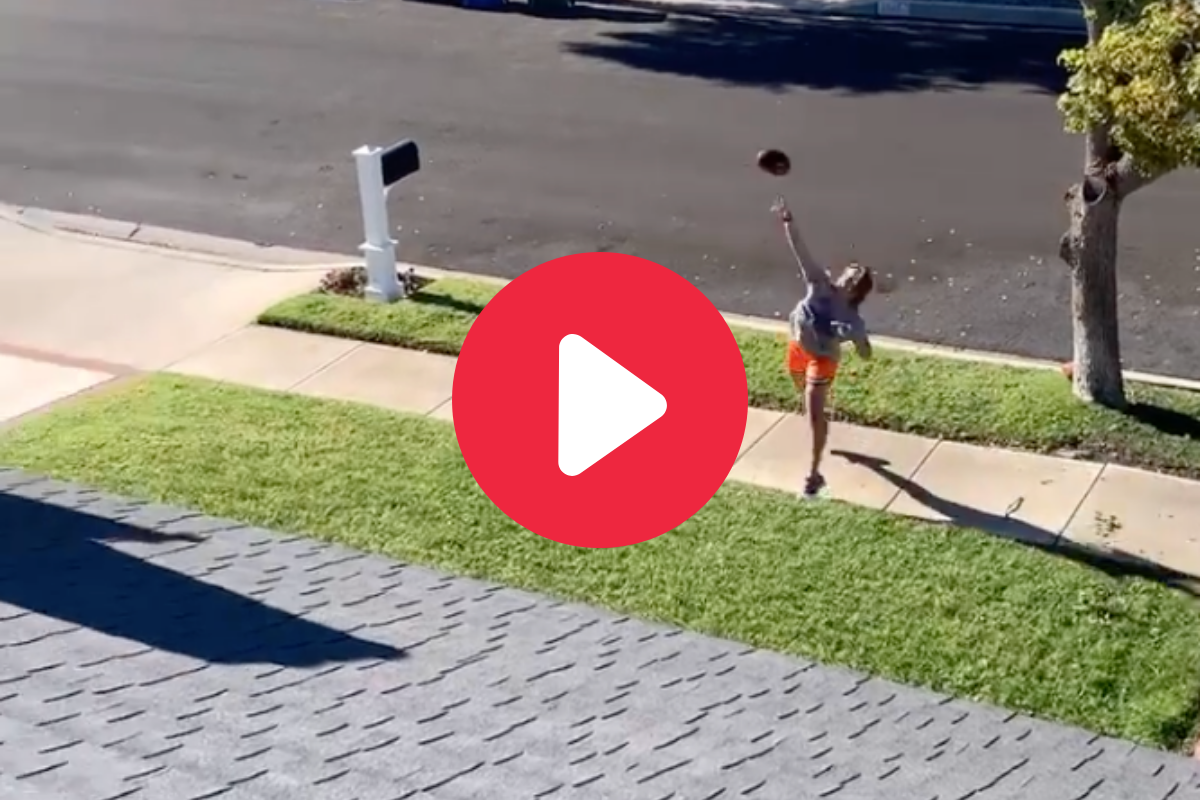 Screenshot from Instagram
Jenna Bandy's athletic gifts know no boundaries. With more than 340,000 followers on Instagram, the former women's college basketball player has become a social media star because she can throw footballs with pinpoint accuracy and perform Harlem Globetrotter-esque basketball moves.
Make no mistake. Softball was Bandy's first love. That's obvious considering she has a rocket arm and holds a world record because of said arm. One of her brothers, Jett Bandy, is an MLB player who called her the most athletic member of the family.
Maybe he saw the video of Jenna throwing a football over a house into a basketball hoop.
Girl's Throw Over House
RELATED: Volleyball Player's 50-Yard Tailgate Throw Earns Her Marriage Proposals
Jenna set out to give her fans a trick shot on World Trick Shot Day, and it didn't disappoint.
The 28-year-old launched a football completely over a house (with plenty of air beneath it to spare) and into a pool basketball hoop. The throw must have been a good 30 yards from the sidewalk she was standing on.
Considering Jenna is already the world record holder for farthest football throw into a target by a woman, a record she set a month prior to the house throw, I think it's time an NFL team give this chick a look.
You can't tell me she's less accurate than Chicago Bears quarterback Mitch Trubisky.
What's wilder about Jenna's throw is that she didn't even put her full power and body into it. She almost finesses it a bit so she can aim in the direction of the hoop.
Jenna Bandy isn't the only girl we've seen launch the pigskin. This softball player's parking lot toss earned a pro football contract, and this girl's tailgate throw made dudes want to marry her.
Something tells me Jenna can throw it farther than they did.