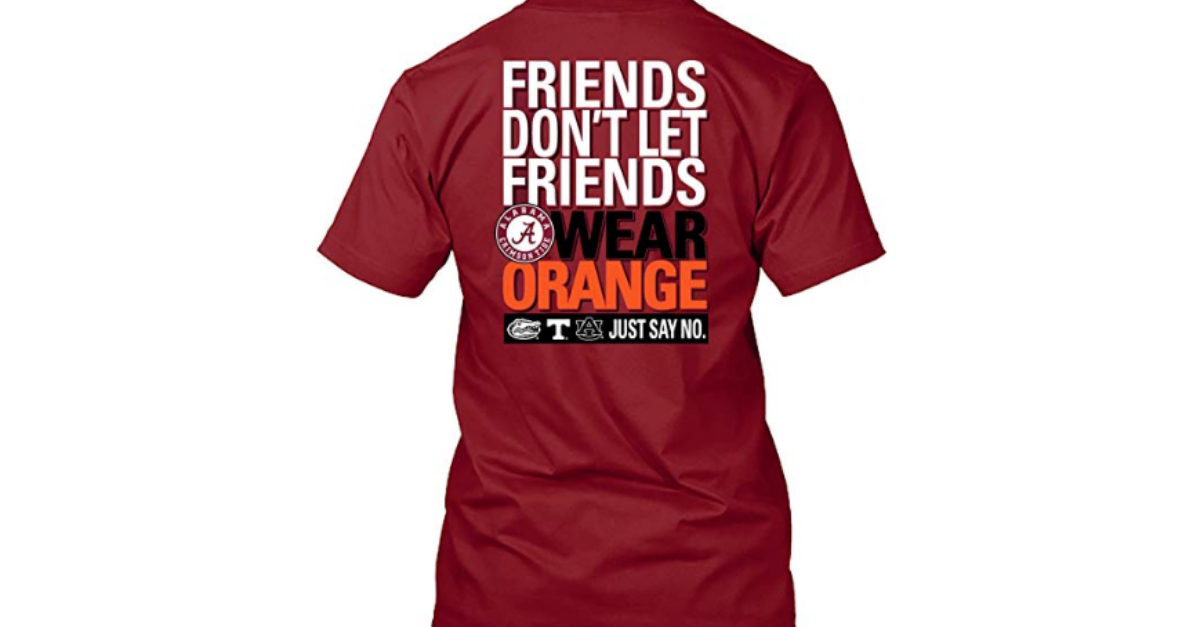 Amazon
Try as they might, rivals don't fare well against the Alabama Crimson Tide. 'Bama owns the edge over Auburn in the Iron Bowl. The Crimson Tide have won twice the number of games as the LSU Tigers in their 124-year rivalry. Even after getting thumped by Dabo Swinney and the Clemson Tigers in the College Football Playoff National Championship game last year, Alabama still leads the all-time series 14-5.
There aren't too many serious rivals for Alabama football fans to worry about, so reminding those rival fan bases who's the boss is just good, old-fashioned fun.
In the name of great college football rivalries, I present to every University of Alabama supporter the well-known truth that the only colors that really matter are crimson and white.
This NCAA "Friends Don't Let Friends" T-Shirt comes in every size up to 3X-large and is the perfect reminder that orange will always be the ugliest to everyone who loves Tuscaloosa, Alabama.

The Third Saturday in October is one of college football's longest-running games since the first time it was played in Birmingham in 1901. However, the Tennessee Volunteers haven't made this much of a rivalry in recent years; Alabama's won 12-straight games and (shocker) lead the all-time series 56-37-8. Aside from Auburn, this might be Alabama's biggest rival.
Don't believe me? Just ask lifelong Alabama fan Irvin Carney.
The Florida Gators have lost six-straight meetings and haven't beaten head coach Nick Saban and the Alabama Crimson Tide since the 2008 SEC Championship game. Going back to these programs' first meeting 1916, Alabama leads this all-time series 25-14.
Auburn fans, well, I mean, at least you have The Kick Six?
RELATED: The Ultimate Gift Guide to Impress Your Favorite Crimson Tide Fanatic
Case in point: there are "rivals" and then there are "SEC teams that pretend like Alabama is their rival."
Do yourself a favor, Crimson Tide fans. Get this Friends Don't Let Friends Wear Orange T-Shirt and proudly show off your bragging rights that not a single team in college football can hold a candle to Alabama's long-tradition of domination.
For as long as Bryant-Denny Stadium stands, every team from the Georgia Bulldogs to the Oklahoma Sooners can only hope to knock off the perennial national title contenders wearing the Crimson and White.