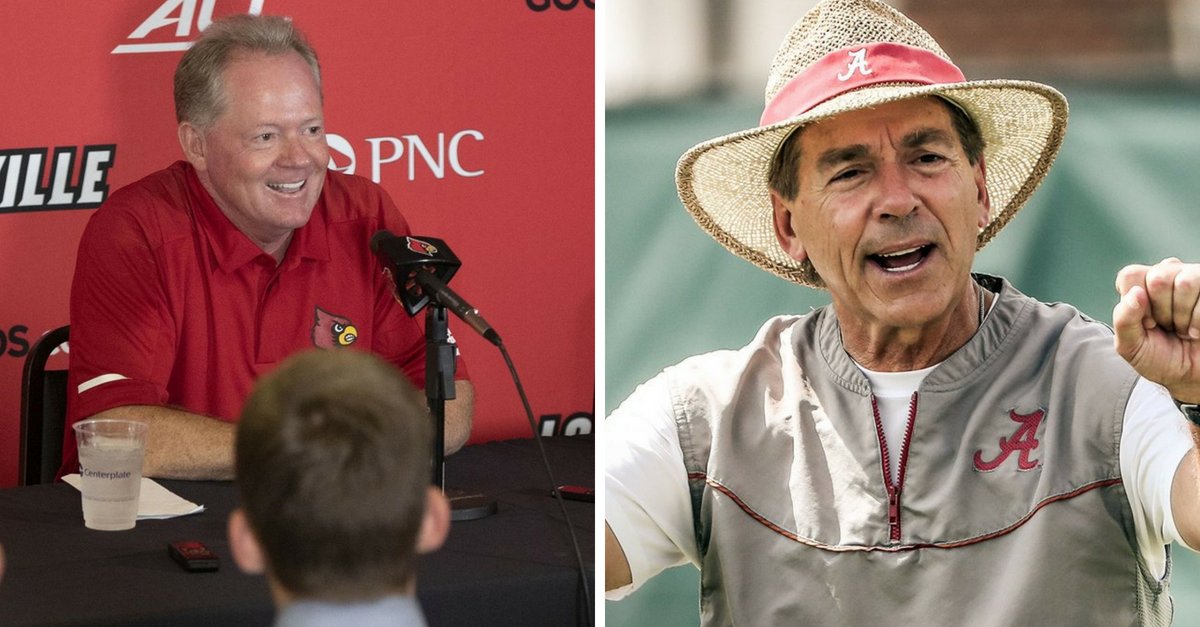 GoCards.com, Twitter: @AlabamaFTBL
GoCards.com
Twitter: @AlabamaFTBL
The top-ranked Alabama Crimson Tide kick off their regular season in primetime at Camping World Stadium in Orlando, Florida on Saturday at 8 p.m. EST. Their opponent, the unranked Louisville Cardinals, aren't shying away from Nick Saban's juggernaut.
In the weeks leading up to opening weekend in college football, Bobby Petrino and Louisville have continued to poke the bear in Tuscaloosa. They've fired off enough bulletin board material to last a lifetime, but if you really think Alabama is listening to the noise, you're sadly mistaken.
Louisville finished the 2017 season with an 8-5 record, didn't beat a single ranked opponent and lost the TaxSlayer Bowl to Mississippi State, 31-27, thanks in part to Lamar Jackson's four interceptions.
The former Heisman Trophy winner is gone, but the Cardinals don't lack confidence entering this season. They've made it a point to call out Alabama on several occasions, but they might be digging their own grave.
Bobby Petrino's second stint as Louisville's head coach has been moderately successful, though certainly isn't in the upper echelon of college football powerhouses. The Cardinals are 75-27 over the last four seasons, but none have yield more than nine wins and have produced just one bowl victory in four tries.
The 57-year-old head coach isn't going to let his program be intimidated by Alabama.
?They?re a very good football team,? Petrino said earlier this month. ?They?ve got a great tradition. We?re excited to play them. It?s a great challenge, and we know that.
?But I?m going to tell you this: If we can get where we have every single guy on our team, every single coach on our team, to believe like I believe ? because I believe we?re gonna go beat ?em ? so I need everybody else to believe that. And we will go beat ?em.?
The Cardinals bring only one Preseason All-ACC selection to the table: wide receiver Jaylen Smith. The 6-foot-4 senior was named First-Team All-ACC last season after grabbing 60 passes for 980 yards and seven touchdowns.
Don't remind offensive lineman Lukayus McNeil of that, though.
The versatile redshirt senior has made 34 career starts at both guard and tackle spots for Louisville. He had a chance to make the jump to the NFL last season, but decided to return for one more year with the Cardinals and take on Alabama's vaunted defense.
"I understand that they have a good d-front, but we've gotta great o-line," McNeil told reporters on Tuesday. "So if we can dominate up front then we're not worried about that defensive front at all."
Does McNeil think Louisville is capable of handing Alabama's defensive front?
"Definitely. I definitely think we're capable of going out, starting fast and dominating that defensive line."
I respect Louisville for this. If you go into a game expecting to get dominated, then you're going to get beat.
Problem is, there is no team in the country like Alabama. Their depth chart is so deep with talent, it'll make your head spin. Dominating that defensive front seven means handling four preseason All-SEC selections, and two preseason All-Americans.
Despite Nick Saban's caution about the Louisville offense being explosive, don't think for a second the defending College Football Playoff national champions are sweating the Cardinals.
Good luck Louisville. You're going to need it.