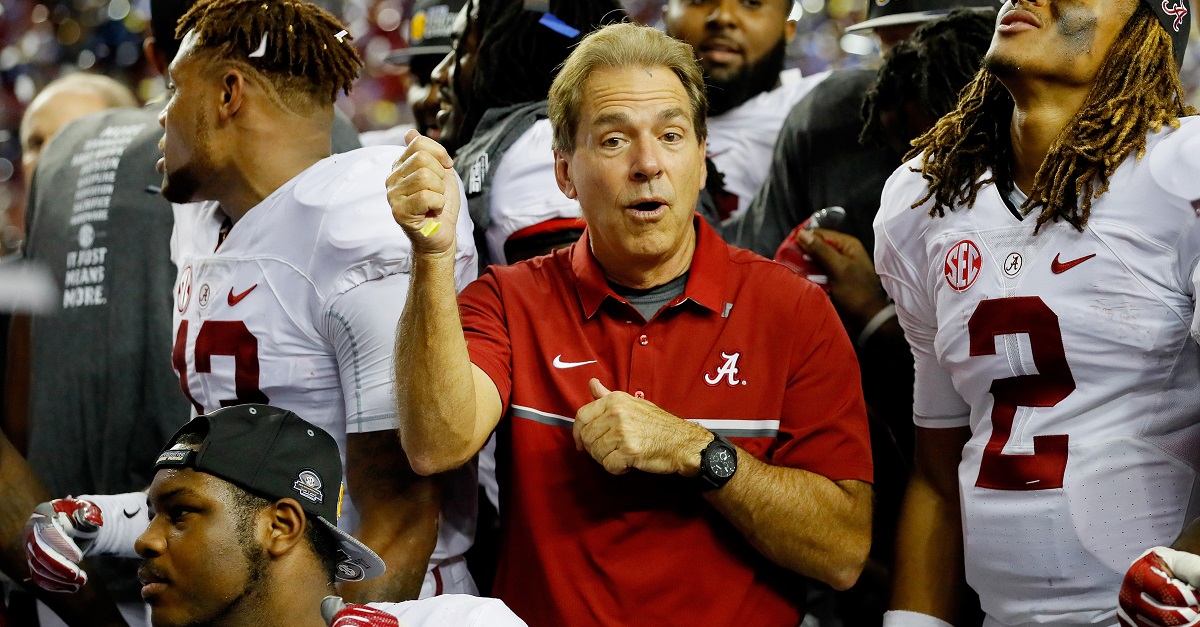 Photo by Kevin C. Cox/Getty Images
Alabama head coach Nick Saban is a living, breathing recreation of The Mad King. The man reads his opponents like a book, finds their weaknesses, and exposes them. He lures only the finest high school football players in the country down to Tuscaloosa with promises of success and riches. When one of his "loyal" subjects disobeys him, well, the split usually gets messy.
Saban is all about power, which is why he's sustained success for so long and captured multiple national championships. Naturally, the man who's only a few years away from having a permanent Iron Throne built for him inside Bryant-Denny Stadium is a huge fan of HBO's hit show, Game of Thrones. As you'd expect, he's analyzed the show beginning to end and has a prediction on how it'll ultimately end.
Speaking with the JOX Round Table radio show during the Regions Tradition Pro-Am golf tournament at Greystone Golf and Country Club, Saban revealed that he's waist deep in Game of Thrones' final season just like millions of people around the world.
"I love it," Saban said on WJOX 94.5 FM Radio. "It had to come to this. Somebody's going to win, somebody's going to lose. That's the way it always goes. Everybody's probably got somebody that they're rooting for, which is how it goes, too. So, it'll be interesting to see how it winds up."
Most importantly, who is the Alabama Crimson Tide's leader picking to win The Last War and finally sit on the Iron Throne?
"I think, some kind of way, Jon Snow is going to wiggle his way in there, even though he won?t try," Saban said. "It?ll just end up that way."
Now, all I can imagine is Nick Saban wearing a long-haired black wig, jumping up onto the couch, and wielding a gigantic sword whilst screaming, "I'M KING IN THE NORTH!"
RELATED: You Can Visit Arya Stark's Famous Dagger Down in Texas
For a college football coach who's notoriously criticized for being too cold and cruel (Wait, is Nick Saban actually the Night King?), seeing him loosen up during the offseason and reveal his human side is honestly refreshing. Saban even joked that the show's main bad guys would make great additions to his always-loaded Alabama football recruiting classes.
"The White Walkers were the bad dudes, man," Saban said. "I mean if we were recruiting, we'd go north and try to recruit some of those guys."
Would the 67-year-old head coach ever use the events of the show in motivational speeches to his team? He's thinking about that one, too.
"Oh, I think there's a lot of lessons to be learned in [Game of Thrones]. I know it's a fictional-type show, but you sort of get attached to the characters and some of the perseverance that they go through and some of the things that they do because they are actually competing with all the wars and things that go on. So, it is kind of interesting.

"I haven?t thought about it from that perspective, but I will now that you mentioned it."

? Nick Saban, h/t The Roundtable
If you've made it this far and still don't know what in the hell Game of Thrones, the Iron Throne, or the White Walkers actually are, it's high time you borrow your neighbor's HBO account and start watching. Immediately.
The penultimate episode of Game of Thrones airs on May 12, and I'm sure Saban will be on the edge of seat just like the rest of us.