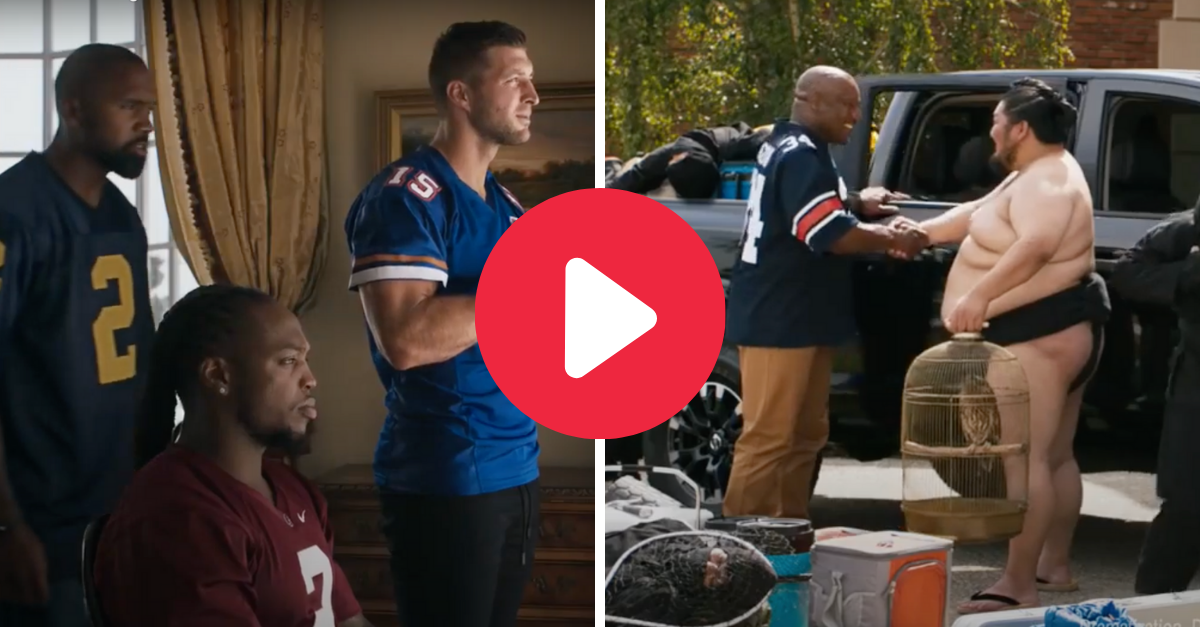 Screenshot from YouTube
Bo Jackson was an incredible athlete. He knew it. His wife knew it. We all knew it. Trucking Hall of Fame defenders on the gridiron and slugging 475-foot home runs in a Kansas City Royals uniform looked like a walk in the park for him.
The 1985 Heisman Trophy winner was always a threat to pull off some sort of amazing feat. Blink and you might have missed missed him rip off 80-yard runs or shoot apples using a bow and arrow.
Naturally, fellow Heisman winners couldn?t take their eyes off of Bo Jackson in a classic Nissan Heisman House commercial. Why? Because they didn?t want to miss his greatness.
Heisman Winners Go ?Bo Watching? In Commercial
RELATED: Johnny Manziel Hilariously Rooms With Roger Staubach in Heisman Commercial
Bird watching is out. Bo watching is in.
In this Nissan hilarious ad, former Florida Gators quarterback Tim Tebow informs ex-Alabama running back Derrick Henry of the art of Bo watching.
At any given moment, the Auburn Tigers legend could do something spectacular. Take your eyes off him and you might miss it.
"Watch him long enough and he does something incredible," Tebow says while watching Jackson load up a truck.
Henry asks him how long it takes, during which he misses Jackson apparently getting finished with some sort of helicopter excursion. Henry then misses some sort of wizardry and Jackson being congratulated by a sumo wrestler holding a caged owl.
Charles Woodson joins them and Henry misses yet another feat of greatness.
There are countless of these terrific commercials. Numerous college football stars like Oklahoma Sooners' Baker Mayfield and Kyler Murray, Ohio State's Eddie George, Oregon's Marcus Mariota, Notre Dame's Tim Brown, Louisville's Lamar Jackson and Texas A&M's Johnny Manziel have acted in them.
To me, though, this Bo Jackson spot will always stand out. He's been in plenty of iconic Nike commercials throughout the years, but I'm not sure any are as funny as when a couple Heisman winners discover the great hobby of "Bo watching."